"Sometimes you just have to climb a mountain…"
by Noelle
May 18 – 21
To think, this stop was a "maybe" for several weeks (based on weather and other itinerary possibilities). The powers that be knew better, and we found ourselves on a train from Pisa to Cinque Terre for 3 days of Italian coastal exploration. For those who haven't seen the picturesque views frequently associated with this 5-town coastline, here is a snapshot:
It's view after view like this. As we deboarded the train and emerged from the long tunnel into the town of Manarola, we looked at each other and smiled. Love at first sight. It was as if we stepped back in time to a small Italian fishing village with no cars and miles of green that seemed to bleed into the blue skies, interrupted only by the bold colors of the buildings built into the sides of the mountains. During our 3-day stay, we were able to visit all 5 towns that give it the appropriate name of "Cinque Terre:" Monterosso, Vernazza, Corniglia, Manarola and Riomaggiore.  (EDITOR'S NOTE: The phonetic wiz that is my wife pronounces the last one "Rigmarole." I've come to learn that her interpretation of foreign languages has absolutely no rhyme or reason. We'll get to more of this later.) While each had it's own allure, we would absolutely recommend staying in Manarola. It's quaint and one of the smaller towns, but it just feels authentic. The rest of the towns are easily reachable by train, bus, and depending on the time of year/weather, a hike, so you can experience them all in a day or two. Our outdoor space was a highlight, with spectacular views of the water past the town, giving us the perfect opportunity to do what we do best…eat bread/cheese (and in this case, local pesto) and drink wine as the sun sets. Seriously? A mental image that will no doubt become a highlight of the whole year.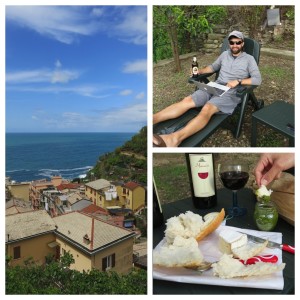 Sadly, the area experienced pretty devastating landslides in late 2011, which has forced the hiking trails connecting the five towns along the coast to close while they rebuild. The ones still open included the promised incredible views we had seen in pictures (most notably, the descent into Vernazza from Monterosso), and gave us an opportunity to get the workout we'd both been aching for (I see that reads like sarcasm, but I assure you, it was not – almost a month of bread, wine, pasta and olive oil give you an appreciation for a good metabolism burn). We opted for the "panoramic hike" from our home base in Manarola to Corniglia, and 2 ½ hours later, we arrived with a memory card full of photos and the sweat stains to prove it. Seriously, all views here point to awesome.
Added bonus? We ran into my sorority sister, Erin, and her husband Phil on the trail from Monterosso to Vernazza. Literally bumped into them on the side of a cliff. Then naturally celebrated with pizza and local beers/wine.
Oh and one small p.s.? Italy charges a COVER for sitting at a restaurant. As much as 3 € a person. What's that you say? You asked for no bread or water in hopes that would reduce the fee (as that is what the menu claims it covers)? Ah, silly Americans. You still pay. Plus you let that delicious basket of bread sit untouched, sending your plate full of pasta sauce drippings back to the kitchen instead of mopping up every last drop with that crusty Italian bread? Sigh.
And yet, you forgive them, because everything is SO DELICOUS that you want to kiss their hands, versus start a one-sided argument (because of course, you don't speak Italian, and suddenly, their English isn't so good). Then you order more wine and all is forgotten.
This place is incredible, and satiated our need for both physical activity and beautiful coastal views after much city roaming. As overheard from our 70-year-old dinner neighbor to his wife at an incredible restaurant nestled near the top of our town, overlooking the water, "Sometimes you just have to climb a mountain to find a place like this."'