Exactly What You Think Tuscany Wine Country Would Be
by Noelle
May 31
With a few days left of our time in Tuscany, we'd be remiss not to venture out a bit further into the hills. So, full of meat (for context, check out our post about dinner the night before here – otherwise, ew) we piled back into the trusty Panda and set off for a road trip to our top two destinations – selected after much deliberation (Because seriously? There are dozens, and no wrong answers). You know how they say sometimes it's about the journey? The vistas proved this may be one of those times. (EDITOR'S NOTE: You know how they say sometimes curvy roads can cause nausea for passengers? No? Ask Noelle.)
A short stop in Montepulciano gave us breathtaking views, melty pizza and prosciutto and truffle sandwiches near the church of Santa Maria delle Grazia. Sitting high on a limestone ridge, the medieval and Renaissance hill town is mainly car-free, and it's quaint vibe had us regretting our quick progression. (Cool side note: Twilight's New Moon Volturi scenes were filmed in Montepulciano as a stand in for the Italian City of Volterra. I KNOW! NOW you care.).
Next, we made our way up to Montalcino, where we wandered the streets of this walled city, quickly making our first stop at the ever-convenient Enoteca Di Piazza, with over 100 wines from area vineyards available for sampling. Their signature? Brunello di Montalcino.,. of course. After fighting the clerk for one last pull a few sips of different varieties, we made for our next stop: the largest vineyard in the area, Castello Banfi.
Screw the journey, this destination rocks
Traveling down winding dirt roads to the palace-looking estate we stepped into an episode of Gossip Girl, where I was told we'd be summering with my rich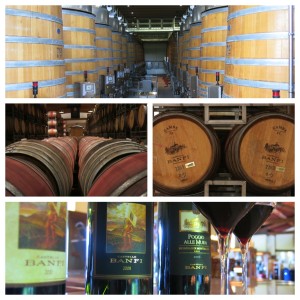 great-uncle who lived in the former medieval fortress. After tossing my hair and adjusting my pearls, I told them I'd only be comfortable in their largest suite and I'd expect a room temperature glass of red and strawberries upon settling in. Waking from my daydream by a shake from Dave (EDITOR'S NOTE: Just to clarify, I do not shake my wife.), I emerged from the dusty Panda and adjusted my jammies from the night before fresh attire before heading inside. Upon arrival, we were ushered to the sprawling mahogany bar, where their vineyard coat of arms decorated the back wall, we sampled their signature wines (Dave's favorite, the "Super Tuscan;" mine, the Brunello Di Montalcino), followed by a tour of the incredible grounds. The Mariani family established Castello Banfi in 1978, with over 7,100 acres of property – the vineyards only cover a third.
Our favorite part of the tour was a walk down the hall where they store their largest barrels, each holding 16,000 bottles of wine. So obviously we hoisted one on Dave's back and made for the hills politely took a photo opp next to the giants.
Bottom line – nothing NOT to love. The drive through the endless rolling hills truly was amazing, living up to everything we had expected. There were moments where to one side, we'd see a storm rolling past, and to our right, spotless blue skies. Memories, made. Time to head south.