Bauers' Greatest Hits – May
by Noelle and Dave
Due to all the amazing moments we seem to be racking up, we figured we'd track our favorites each month as to not forget what most captured our hearts along the way. We'll compile our lists independently, only sharing with each other when we're ready to post (this should be interesting). Here's what tops the list for May (yes we realize we're a month behind, but we've been IN AFRICA – more on that later – so cut us some slack. kthxbai):
She Says:
10. Our long-awaited meal at  quirky Quimet y Quimet in Barcelona. The fourth generation of the Quim family works behind the counter in a space about the size of a standard living room, and with over 100 montaditos, we had to pace ourselves. After sampling more than half a dozen (including the pâté, per Mr. Quim's recommendation), the smoked salmon, yogurt and honey won our hearts (and stomachs!).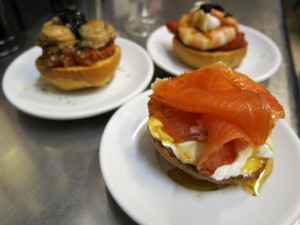 9. Hiking the panoramic hiking trail from Manarola to Corniglia in Cinque Terre. It was a three hours of endless steps, winding forest paths and INSANE coastal views. While originally mourning the easy coastal path that was swept away in the 2011 landslides, we realized this gave us the opportunity for a whole new set of views.
8. Enjoying a bottle (or 2) of sparking pink champagne and, well, whatever they served us, at "La Champaneria" – a hidden gem in La Barceloneta, Barcelona's beach neighborhood nestled on the Mediterranean. Standing room only (with orders being shouted in every direction), you couldn't help but make conversation with strangers each way you turned.
7. Watching the Lucca sunset from the top of the grassy city walls. After watching Dave struggle endlessly to open our bottle of wine with our teeny-tiny travel corkscrew (and pouring our reward into the verysame plastic coffee mugs from our flight to Europe – thanks Iberia Airlines!), we settled in for the stunning views. Our spontaneous trip to the Medieval town gave me confidence in the rest of our time – and helped me remember that sometimes it's okay to deviate from "the plan" – it could lead to many more sunsets like these!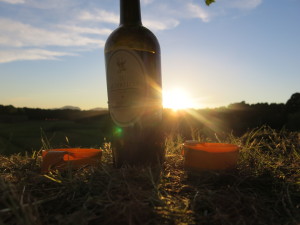 6. Spending an afternoon reading on the benches in the sprawling Plaza de España in Seville. Perfect weather, the quiet buzz of a sleepy city  and my handsome husband by my side set the scene.
5. Skyping with my mom from our outdoor deck in Cinque Terre. Chatting face-to-face with one of my very most favorite people ever halfway across the world, all while taking in breathtaking views of the Italian Riviera, made me realize I could make it through the year away.
4. Our date with The Butcher in Panzano. That meal-of-many-meats in Tuscany will go down as one of the most memorable eating experiences of my life. As will the night's sleep in the car, but that goes on a different kind of list.
3. Watching the sun set over Florence from Piazzale Michelangelo with Dave was one of the most romantic moments I've ever had. The meal that I'd been waiting 6 years to have again at La Giostra that followed was just icing (or rather brie-filled ravioli) on the cake!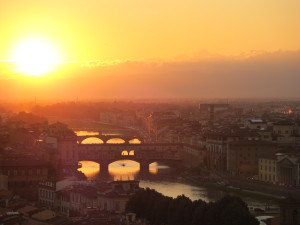 2. Soaking in the sun over a bottle of  red wine, cheese and bread on a blanket in Barcelona's Parc de la Ciutadella during our first week away. Realizing this is really real.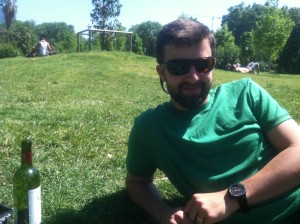 1. Looking at Dave as we headed to the airport on May 1. Despite wearing a backpack that was about the same size as me, I couldn't stop smiling at him. I couldn't believe we were starting the adventure it seemed like we'd been planning since we met. IT WAS HERE. And I was on it with the only person in the whole world I could imagine.
He Says:
10. Growing out my beard. Because duh.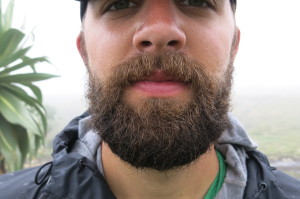 9. Our road trip to Ronda, Spain. It was our first time in a rental car so the drive though Andalucia alone was worth it, but Ronda turned out to be one of our favorite cities and was a perfect place to spend a day.
8. Reading our books and having beers at Plaza del Salvador in Seville. We lucked out with our apartment rental and were right above a bustling local bar that seemed to be hosting countless bachelor and bachelorette parties on this sunny day, providing great people watching and entertainment between sips and page turns.
7. Hiking from Manarola to Corniglia in Cinque Terre, Italy. In between dry heaving catching my breath and sweating profusely, this hike offered breathtaking views of the Italian coastline on our first full day of exploring what became one of our favorite stops in May.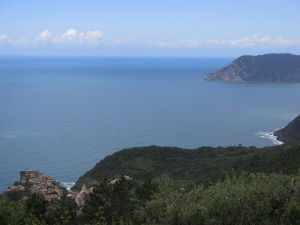 6. Buying local meat, fruit and veggies at the Siena farmers market for a homemade dinner. After indulging at plenty of Italian eateries, it felt great to go out to sample and buy some delicious local food and then come back to our rented apartment for a nice night in for a much needed attempt at making it feel more like home.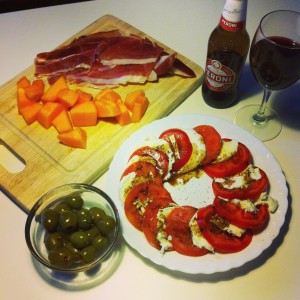 5. The food in Barcelona – more specifically our meals at La Champaneria and Quimet y Quimet. Apparently eating while standing and holding a glass of cava is our thing. Both spots (along with many others around our favorite city so far) paired unique ambiance with their delicious foods.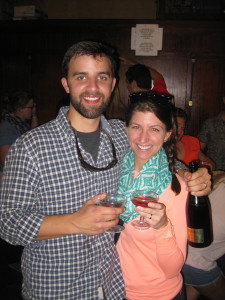 4. The steak dinner  we had in Panzano, Italy that trumps all other steak dinners. I could go on forever about this…. oh right, I did already. Read more here.
3. Going to a FC Barcelona match at Camp Nou. This was on my sports bucket list, and it did not disappoint. It was 50/50 whether or not Lionel Messi was going to play as he recovered from an injury, but lucky for us he made a dramatic second half entrance and netted two goals to secure a 4-2 victory.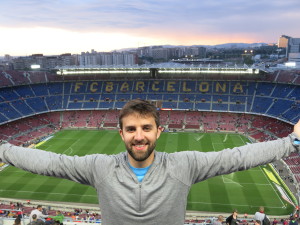 2. Wine, cheese and bread in Parc de la Ciutadella in Barcelona. This combo quickly became a staple of our first month, but this first time stands out as one of the first times it really started to sink in that me and m'lady would be doing things just like this for an entire year together.
1. The, surreal, terrifying and nerveracking excitement before our first flight May 1st. It was a familiar commute I'd done many times, but never before while wearing two backpacks and watching Noelle do the same. While part of me was wondering what the heck we were getting ourselves into,  I couldn't wait to get started to see what we had ahead of us.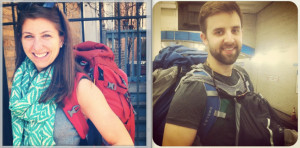 Well, looks like keeping our tenets of food, wine and views a priority will serve us well! The rest of the year certainly has its work cut out for it. Hope it can handle the pressure.
xoxo,
The Bauers