Emerging from the Wilderness for Oysters
 by Dave
July 4-7
If someone told you, "I'm going to Wilderness," you'd likely either think, "Man, that guy needs to be learned how to talk English," or "That sounds like a nice place. I want to go to there." Well we went, and you should also want to go to there. If we're talking technicalities, this was technically our first Garden Route stop (since the official starting point is in George, just a bit west of Wilderness), and a place we were really looking forward to seeing. I knew it was right on the ocean, it had a huge beach and it was named Wilderness. That was more than enough to pique my interest.
We arrived at our accommodation, Xanadu Guesthouse, under the cover of darkness (a more interesting sounding way of saying the last two hours were pitch black and it seemed like the drive would never end).
As it were, it wasn't until the next morning when the sun had come up and we awoke in the most comfortable bed we'd slept in since leaving home that we realized what a gem we stumbled upon for our brief 1-night stopover. The guesthouse backs right up to Wilderness beach. As in, right on top of it. After finishing up our coffee while watching the waves crash in front of us, we set out for a few hours in Wilderness National Park.
It was the 4th of July – the first time during our travels where serious homesickness kicked in. After donning our red, white and blue attire the same clothes we'd been rotating between for the past two months, we decided to celebrate the motherland's birthday with some canoeing and hiking in the wilderness of Wilderness.  Despite the overcast skies, the paddling was just as relaxing as we'd hoped.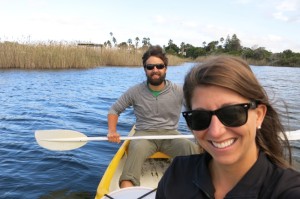 After heading inland a ways on the Touw River, we pulled ashore to hike a few kilometers further to the Touw River Waterfall and had our own classic 4th of July meal of grilled brats, burgers, potato salad and red, white and blue iced cookies all washed down with a few cold beers a block of cheddar cheese, some bland crackers and a granola bar all washed down with a bottle of water. Please, keep your jealousy to yourselves. (EDITOR'S NOTE: It wasn't even good cheese. That's important here.)
Once we returned the canoe, it was on to Knysna (pronounced like nigh-snuhh), a town about 45 minutes further down the coast that was we caught just as it was holding its annual Oyster Festival. We love us some oysters, so we had to check it out. Opting to make the drive in the daytime, we left ourselves enough time to explore the town the first afternoon we arrived. With rolling hills of coniferous forest as its backdrop, Knysna welcomes the Indian Ocean onto its shores through an inlet that keeps the waters calm and relaxing. The scenic surroundings were good to have when, to our surprise upon arrival, we found out our accommodation was a 40 minute walk into town. But walking along the water made it a bit more bearable. And there were baboons all over the property, including a pack that ran along the roof above our room. So there was that.
After building our expectations up to high-but-not-unattainably-high levels, we set out on the town that night in search of some fresh oysters. After walking toward the main tented area of the festival, we were told that a comedian was having a show that was for ticketed customers only that evening. But all was not lost. The security guard told us to head up to Main Street where "there was a lot happening." So up we went and found (drumroll please)… a dead quiet main street. This was unfortunately a sign of things to come, as our hopes for a 3-day oyster binge were quickly dashed. We settled on a local food and craft fair with live music (on the top floor of a parking garage of all places) where a few cold, local beers and some mussel chowder washed away our frustration, and it soon became apparent that we'd have to put in some effort on our end to find the best of the Oyster "Festival."
Days two and three found us going for our first run in a while and checking out the Knysna Craft Beer Project ("project" being a fitting word as it seems like they could still use some work on putting it together for next time, the first step might be finding a location that's not a 20 minute drive through a private subdivision on a golf course with minimal signage to find it). (EDITOR'S NOTE: The PR event planners in us make us very judge-y.)
We also found a good bar that served nachos, cheap drinks and live music, which found us singing along to favorite tunes (EDITOR'S NOTE: HO! HEY!) from home. The simple things, I tell ya. Seeking out oysters became our Olympic sport. We had a map identifying Oyster Fest "Hot Spots" (thank you, Tabasco), and we'd hunt them down for the chance to enjoy just a taste of the half-shelled goodness. So. Much. Effort.
And on the final afternoon before moving to our next stop on the Garden Route, we did finally hit the oyster jackpot, downing more than a dozen oysters for less than $3 bucks.  Glorious, cold, salty, fresh oysters. So in the end, while Knysna was a bit of a let down overall, we got what we came for and found ways to entertain ourselves to make up for the town's overhyped festival buzz. (EDITOR'S NOTE: Quit cutting the town a break. We SHAPED our trip around OYSTER FEST because we LOVE OYSTERS. And there were NO OYSTERS. This was not cool, Knysna, not cool.).
Plus, we still had the back half of the Garden Route to look forward to, and it was on to our entertaining commune-like hostel in Nature's Valley and MORE ANIMALS.