And at the end of our South African road…Stellenbosch!
by Noelle
July 10 – 12
Stellenbosch is synonymous with wine; the mediterranean climate of the region providing hot dry summers and cool wet winters, giving grapes a perfect place to grow. Dozens of cozy vineyards nestle in the mountains, helping form part of the Cape Winelands. So we start on a high note.
Known for these picturesque vineyards and incredibly tasty vintages, we were stoked to make our last stop in South Africa here. As we entered wine territory, we were blown away by the beautiful rolling topography and the GREEN of it all.
Despite the car fatigue of our long drive back from the Garden Route, we couldn't help but make a stop at a vineyard that has long been on my to-do list, Warwick Wine Estate. Known (to me, and I'm sure, female honeymooners everywhere) for its tradition of the Wedding Cup, I didn't want to miss it.  Legend has it that a beautiful Princess lusted after a handsome blacksmith, while her father was busy arranging a more suitable marriage, refusing her pleas to choose her own husband. Devastated, she began to starve herself, falling very sick. Her father, in fear for her life, finally issued a challenge he was sure he would win. If her beloved blacksmith could create a wine chalice that two people could drink from simultaneously without a single drop spilled, she could marry him instead. The young man, lovesick for the princess, put his heart into his task, and low and behold, succeeded in a creation modeled after his one true love. Making use of a hinge to ensure the second sipping vessel wouldn't spill when both took a drink, the challenge was met! Now, they invite couples visiting the vineyard to drink from the cup, claiming that whoever finishes their wine first holds the power seat in the relationship. Guess who won? (EDITOR'S NOTE: Guess who pretended like he had already conceded victory before it started?)
After sampling some of their delicious Sauvignon Blanc, Cabernet and Pinotage (and I finished enjoying the sweet, sweet feeling of victory), we made our way to the heart of town. Late to arrive, we dropped our bags quickly and wandered the streets with the agreement to stop for dinner at the first place that looked good. We ended up at a freaking-unbelievable Lebanese restaurant (EDITOR'S NOTE: The first of four visits we made to the same place. Seriously.), solidifying our love for this tiny Dutch-influenced town.
The next day, I surprised Dave with a visit to the Stellenbosch golf course. Driving through hundreds of miles of green hills, blue skies and golf courses had lent to a broken record commentary from my husband on how sad he was to miss golf season back home this year. We hit the driving range (me, excited to rock my brand new scarf and cute golf attire, him, to actually play), and hopefully put a pause on the tired refrain.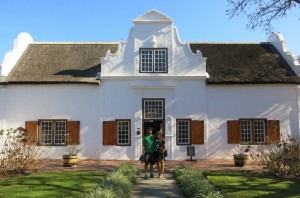 We made haste back into town to meet Hanli, our guide for a Bites & Sites tour, for which we were totally excited. Plus, we were the only folks on the day's tour, giving us a private escort of one of the quaintest places I've ever had the privilege to visit. History, artisan food and a sampling of local wine and beer? Right up our alley. As part of the walking tour, we also got a historic look at Stellenbosch. Like Chicago, they suffered a tragic fire (theirs in 1710) that wiped out the majority of the city, so they rebuilt as they could, leaving a mismatch of architecture in its wake. The second oldest European settlement in the province, after Cape Town, the town has now found it's sweet spot as a wine region that provides a haven for South Africans yearning for a quiet countryside, and students looking for a storybook locale for 4 sweet, sweet years.
Then there was the food. We likey. We likey a lot. From a taste of their local biltong, droewers, cheese and olives, to freshly baked bread from the ONE bread bakery in town, gelato and thimble sized sweets (featuring some sort of hazelnut/coriander/chocolate flavor combo) and coffee, we were in heaven. Hanli was fabulous and left us planning a way to come back through Stellenbosch before leaving Africa.
Also making its way into our hearts was Brampton's, a wine shop with its own wine label. Inexpensive and delicious with a hip, cool vibe (plus free INTERNETS!) we spent a majority of our evening there after parting ways with our guide.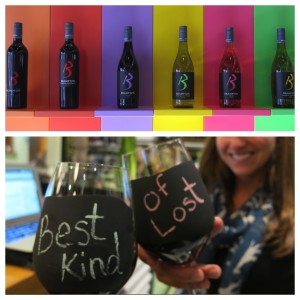 Bottom line, we loved it. And our stay was much too short. So? We actually DID come back through town for a few days before closing the book on our time in Africa…so yeah. Basically the same, except enter all college students back from summer vacation.  What's that Lebanese restaurant? You can't take us until 11:30 pm? Wild, rabid horses couldn't keep us away.