The Mane Event
by Dave
July 23-25
Bypassing the popular safari destinations of Kenya and Tanzania, it may seem like we "settled" for the national parks in Namibia for our safari animal viewing. But really, we really did anything but. The national parks of those border-sharing animal havens along the east coast of Africa get much of the attention (and deservedly so) from around the world when it comes to safaris. But we were committed to doing a self-drive instead of a guided safari, and Namibia was the best way to go. And as we quickly found out, Etosha National Park in central Namibia is not to be overlooked for animals.
Out of the entire two weeks in the truck, our 3 nights in and around Etosha accounted for at least 80% of our animal sightings. I was in heaven. During our stops in the Caprivi strip, with a few exceptions, we had to really be looking in order to see animals. In Etosha, it was the opposite – the animals quickly seem to find you if you don't see them right away.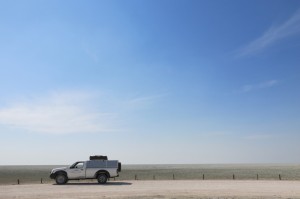 Etosha means "great white place of dry water" in Ovambo (a local language), alluding to the 5,000 sq meter salt pan that the park is named after. The salt pan meets the horizon with only mirages and cracked earth in between. Very few animals spend time on the pan, and no cars are allowed to drive it. But the surrounding 22k+ sq km of the park are filled with just about every animal you'd picture in Africa – lions, cheetahs, elephants, zebras, giraffes, even the endangered black rhino, just to name a few.
Once we entered the park gates and familiarized ourselves with the clearly marked map of roads around the edge of the salt pan, we were on our way. For those of you who no comprende how a safari works, these days in the park were solely for game drives. In any other circumstances spending a full day of sunlight in a truck driving anywhere from 10-25mph with minimal breaks sounds miserable. But when you're doing it on dirt and gravel roads while scanning the scenery for animals of all shapes and sizes it's pretty awesome.
After spending our first night just outside the park limits, we logged a solid 8 hours touring the waterholes around the park in search of animals. Thanks to extensive research coincidence we were in the park during dry season which is the best time of year to see animals at the water holes since they have limited options to stay hydrated. As you can see from the pictures below, we saw plenty of animals on day 1.
But one of the highlights for animal viewing came from our campsite. Just a short walk from where we set up camp was a waterhole surrounded by fencing and stone-and-mortar walls with plenty of benches to watch the animals visiting the waterhole.
This waterhole also happens to boast floodlights at night, so when the animals that prefer to keep their drinking habits to late nights (I see you, rhinos), we were lucky enough to still see them despite the blanket of star-filled night skies above us.
So the first day and a half seemed to be more than we could have imagined, but there was still something missing. Lions. Big, mean, living, breathing lions. We saw one lioness way far off the road the first morning in the park, but that wasn't enough for me. Definitely cool, but I wanted to find something closer. After speaking with some park rangers and guides, we found out that the waterhole at our campsite was a lion hotspot in the park, and that they typically wait to visit the waterhole until the middle of the night. Perfect. So all I had to do was wait at the waterhole at night and they'd appear. Easy as that. Welp, those elusive sons-a-bitches didn't show. And the second night at the campground waterhole I sat at the waterhole. For almost 4 hours. Until 2am. By. My. Self. (EDITOR'S NOTE: Listen, he knew what he signed up for when he married me. Sleep > Animals. This particular circumstance may not have been discussed specifically, but pretty sure it was in the fine print.)
Up at sunrise earlier that day to take full advantage of touring the park, we caught the incredible sight of the sun peeking over the saltpans. We won't discuss what I didn't catch sight of this day. (EDITOR'S NOTE: Let's just say I'm the only one in this relationship that has seen all of the Big Five. Dave still wakes with night sweats over the truck that blocked his view as the crafty leopard made his one leap over the thick foliage. And let's never speak of it again.)
We had to be out of the park and on our way to the next destination before noon the next day, so it was lion or bust. A park ranger mentioned one area where someone reported seeing a pride of nine lions the day before, so we headed that way. Two hours later we'd just seen a lot of springbuck (snooze), zebras (over 'em) and giraffes (hard to be bitter toward them, but just get out of my way). Still no lions. Finally, we were about to reluctantly call it a day as we approached a paved road toward the exit. Then we saw a few cars pulled over, their drivers staring intently into the nearby bushes. And then it happened. Trip. Made.
Mufasa himself was pacing back and forth in the same area for a good half hour. We saw him hiding in the trees and didn't get a good head-on look for the first few minutes, and then when we thought we missed him, I heard some snorting behind us and then saw him in my side view mirror, a mere 15 feet away, before he walked by the truck, all "you like what you see?"-like. So cool.
While some other cars came and went, we were not leaving. For a few of the previous animal sightings in the park we had not positioned the truck that well to follow the animals' movement (EDITOR'S NOTE: See: Leopard. See Also: Bitter.). Whether that meant a tree, bush, another vehicle or anything else obstructing our view, it was just the reality of driving around the park. This time was different though. The animal sighting gods looked down on us and gave us a perfect half hour of lion stalking.
And I'm prettttty sure I even saw Mufasa wink at us at one point to let us know we earned it. It was either a wink, or the dust from our truck got in its eye. Regardless… And with that, all was right with the world. Two-plus days in Etosha and we saw pretty much everything we'd hoped to see. It was a fitting end, and we were ready to head to the desert and dunes of central Namibia.