Danube Dreamin'
by Noelle
August 26 – 28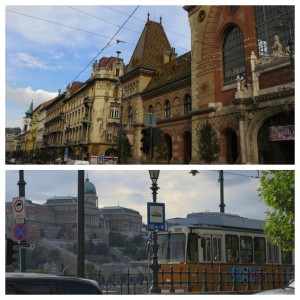 First lesson in our Hungarian crash course…this small Eastern European city responsible for the Rubix Cube, bendy buses, mass production of soda water (long story, but to hear them tell it, it vaguely has to do with them "inventing" wine spritzers…hmmmm…), the ball point pen and Zsa Zsa Gabor is actually pronounced "Buda-pescht." Take note and avoid ridicule. You'll thank us later.
Arriving in the early morning hours due to our dependency on the local train schedule, we stopped first quickly at our Budapest accommodation to drop our bags. We scored BIG with this place, finding a new posting on Airbnb that included a living room, kitchen and bathroom all SEPARATE from the bedroom and steps from St. Stephen's Basilica…all to ourselves. A welcome respite in our recent "who's who" in cramped-European-room history. Did I mention the mode of transport to this mythical land?
The hosts, Edina and Mark, were awesome, and we spent some QT with them getting tips on their hometown before heading out to explore. They live with their kids outside the city but had been in town to catch the Pink Floyd concert the night before. Like I said, awesome.
We immediately ventured out and after first fueling up with coffee (priorities. it's better for EVERYONE involved), we hit up Central Market Hall, the largest and oldest indoor market in the city, pedaling everything from clothing and handmade tablecloths to meats, cheeses and local wines. Our research prior to arrival had encouraged us to pick up a Lángos from the second floor, and this fried piece of dough topped all sorts of awesome (the local favorite including cheese and sour cream) proved secondary to my happiness after coffee. Taking it a step further on this rainy day, we ponied up to the cozy bar nestled in a far corner of the market, the lone patrons aside from two eighty-year-old men, whose loud, clunky (to our ears) Hungarian, empty beer glasses and playful winks sent my way pegged them as regulars who did as they pleased. Naturally, Dave immediately wanted to befriend them.
After a few hours and short venture down the popular pedestrian shopping street, Váci utca, in the rain, the promise of a comfortable couch in a spacious room that didn't include a bed, led us to the decision to make it an early night, bringing snacks and wine back to our place.
As an aside, something that continued to catch my attention throughout Europe was the dedication to details on bathroom and street signs. Perhaps we have the Renaissance to thank for this creativity? It became a habit to snap shots of my favorites as we went along, and Budapest didn't fail to add to my arsenal.
Back to Buda. With only a few days to enjoy this former Roman/Ottoman/Austro-Hungarian city (although I wouldn't mention that description to anyone over the age of 20), the next morning we took advantage of our favorite trip discovery – the ever-popular free walking tour. Joining our local guide and a handful of eager travelers we quickly traversed the easily-walked city, checking out the major sites including Vorosmarty Square, St. Stephen's Basilica and Parliament on the Pest side and crossing the Danube to the Pest side via one of the many bridges to complete the tour of the older monuments, like the Fisherman's Bastion, Buda Castle and Matthias Church.
After tipping our guide, we took off to explore a bit on our own. Splitting an obligatory bowl of Hungarian Gulash (spicier than it's relative in Prague) to stave off any h-anger (EDITOR'S NOTE: Traveling with Noelle is like a never-ending quest to avoid the Hanger Games, and the odds are never in my favor), we were once again ready to rock.
Our favorite spot quickly emerged as the elaborate Chain Bridge (known locally as Szechenyi Bridge) stretching across the Danube River. Stunning at day or night, the bridge seemed to be the unofficial center of the city, pulsing with energy at all hours, and providing a beautiful place to lounge and take in both sides of the river.
The remainder of our day included an exploration of the other side of interest in this city – the infamous Ruin Pubs. These pubs, housed in dilapidated buildings that were abandoned since the 1940's, have come to popularity recently. Eclectic and funky décor (using otherwise forgotten items like a broken lawnmower or headless dolls…very retro-trash-turns-art…), with cheap beers and hipster vibe, we loved every minute, wishing we could stay forever, getting lost in the Jewish quarter where these pubs run rampant.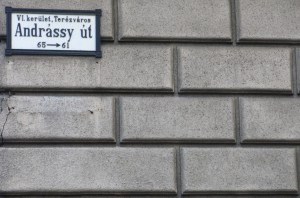 A long walk down the iconic boulevard of Andrássy Avenue, lined with lush trees, neo-renaissances mansions and high-end boutiques, led us to the final corner of the city left to discover. Heroes Square showcases statues of famous Hungarian figures, including the seven tribe leaders that founded the country in the 9th century and is surrounded by the never-ending City Park. Over 300 acres of picturesque and peaceful spaces, we could have passed days reading and wandering the grounds.
Plus, WE FOUND HOGWARTS.
And so you don't think I've forgotten to address the fact that this city is built on world's largest thermal water cave system, no, we did not visit a bath house. Although they rank high on every Budapest "must-do" list, we skipped this particular activity, as shared bathwater creeps me out. Plus our tour guide said he'd heard of many-an-orgy taking place in these places. So, no. Just, no.
Stagnant water aside, Budapest, although a last minute decision based on the fortunes of train powers that be, proved to be an excellent detour, leaving us yearning for more time.  However, with a flight to Turkey already booked from Vienna the next morning, we hopped the train back and waved goodbye to the Hungarian skyline.