Getting Our Greek On In Santorini
by Noelle
September 7 – 9
IT'S FINALLY TIME! THE OVERLYS DECEND ON GREECE FOR A VISIT!
Sorry, I seem to have gotten ahead of myself.
I don't usually like to mix business with pleasure, but our Greek Island time was an exception. Dave and I spent a few days on Santorini playing honeymoon redux before my family joined us for a long week exploring that other Greek Island you've heard of, Mykonos.
First things first: Santorini.
After a 7-hour sunrise ferry ride from Athens, Dave and I found ourselves gazing upon the sun-soaked shores of an island that had tantalized us from the photos of friends who had ventured here before us. The clusters of white buildings so identified with the Greek islands dominated the landscape, and we were anxious to hit land.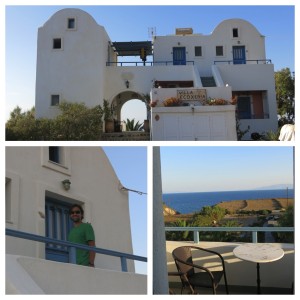 Our room at Ecoxenia was everything you want in a Greece respite. A small patio overlooking the sea with sunset views that make you wish the sun would hover permanently just above the horizon, and a small, cozy, lofted bedroom with a window that allowed you to wake with the sunrise. Sigh.
Our itinerary included this: nothing. We were content to sit and soak in the scenery, with quiet hours spent reading and perhaps poking around the island. And yet, after one day of exquisite relaxing, we found ourselves eager for activity. So we spent our second afternoon making the hike along the caldera rim path from one end of the island (the more tourist-heavy, Fira) back to where we were staying (the slightly quieter, Oia), taking in views of the infinite stretch of sea on both sides.
We continued the adventure the next day, renting an ATV and logging miles as we cruised the bus-clogged main roads and empty back streets. Starting the morning on the quiet seaside spot of Amoudi Bay, we lazily sipped our frappe (Dave) and freddo (me) while listening to the water lap against the sides of the fishing boats.
I had lined up a couple surprise destinations for Dave, the first starring the new Santorini Brewing Company. A Greek, a Serbian, an American and a Brit walk into a bar started the operation that makes only three brews…Yellow Donkey (bitter) and Red Donkey (fruity and full bodied) and our favorite, Crazy Donkey (IPA). I knew with Dave's obsession with these misery-loves-company mules it would be love at first sight (EDITOR'S NOTE: The Crazy Donkey was probably the best beer I've had since we left, and there was a donkey on the label, so what's not to love?). We sampled all three with glee, as craft beers had been gone with the days of Prague. After a post-Donkey lunch of pan-fried crusted feta cheese, baked white eggplant, pomegranate salad, grilled octopus and strawberry cheesecake bites at a spot hidden behind a church atop one of the many hills, we rolled ourselves out set off to get lost on the winding roads.
We found ourselves whiling away the afternoon roaming the unique black beaches and getting lost in the small streets of the traditional village of Megalochori, enjoying the perfect, cloudless day. After capping off our 4-wheeled joyriding with a stop at the Santo Winery for some local (average, if I'm honest) wine and snacks before heading back to our love nest, we were well on our way to chugging the Greek Island kool-aid.
The only thing that had us hopping a plane away from this paradise was the upcoming event that I had been anticipating for 5 months…a visit from home.