Taking Istanbul by the Horns
by Dave
August 29 – September 2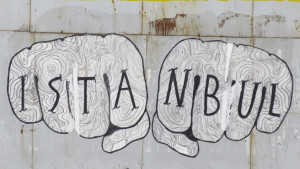 Istanbul is a giant global intersection. The city where east meets west… Where Europe meets Asia… Where mustaches are in fashion above the lip and above the eyes… Where cliché meets cliché… The list goes on and all are the descriptions are fitting (at least the ones I didn't make up), and help convey the abundance of diverse and cultural riches it keeps in its arsenal. And even after just five days in this city where old meets new (as another popular name/saying goes), we were hooked and couldn't help but leave while still wanting more.
We've had shorter stays in previous cities (both on this trip and other weekend getaways in years past), but I can't remember another place we've gone that I've been more bummed about leaving than Istanbul – even despite the fact that we barely took a break to catch our breath (unless the shortness of breath was induced by shoveling food into our mouths) during our five days.
While much of what we loved about this city centered around food, I was Istanbullied by Noelle into sticking to the sites, while she dedicated an entire separate post to the mouthwatering offerings we tried (check it out here). But there was more to the story than what we ate. The city has many unique and interesting neighborhoods scattered across the shores of the Bosphorus strait. The majority of Istanbul is in Europe, but a handful of its neighborhoods stretch into Asia, helping Turkey lay claim to being one of only a handful of countries in the world that straddle two continents. One of the more popular and well-known (for visitors at least) neighborhoods is Sultanahmet. Its notoriety comes from, among other things, its major landmarks which include the Blue Mosque, Hagia Sophia and Basilica Cistern.
We rented an apartment in a quieter corner of Sultanahmet, a steal that came complete with views of the Blue Mosque and the Bosphorus Strait pouring into the Mediterranean from the bedroom windows. It provided a good central base to see as much as we could both on and off the beaten tourist track. After a very necessary nap upon arrival, we decided to take a lap around our neighborhood to catch a glimpse of the history in our backyard. We would save the visits inside each landmark for another day, but our tour around the area helped us fully wake up after the fog we were living in from a brutal 24 hours of planes, trains and automobiles (we'll spare you the details).
Once we got our legs back under us we set out on the town for the first of many mouthwatering meals. I found a hole-in-the-wall seafood restaurant about 10 minutes away from our apartment with local fish that garnered some rave reviews (and rightfully so), and chased that down with martinis at a rooftop overlooking Hagia Sophia and the Blue Mosque.
The next morning we game planned how we would divide up days to see each area of the city before we left. We began with the two well-known bazaars the city boasts – the Grand Bazaar and the Spice Bazaar.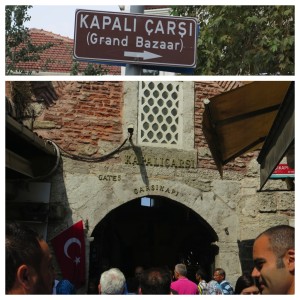 Holding claim to being the oldest mall in the world, the Grand Bazaar offers up everything from touristy t-shirts to Turkish rugs and jewelry in its seemingly endless aisles. We had heard a lot about it and expected a bit of madness, so we took our time taking it all in. Every stall we walked by was staffed by respectfully aggressive sales people – meaning all of them would absolutely do everything in their power to get you to make a purchase, but they were more likely to let us keep going when they knew we weren't serious customers (unlike many other hawkers we've encountered across Europe). It was a cool experience, even if the only thing we purchased there were two kebabs for lunch.
A few more passes through the aisles later, we found ourselves trying to figure out where the heck we were spit out on the other side. After about 20 minutes of walking around hoping we'd find something marked on our map we happened to stumble upon the Spice Bazaar. Not quite as large in size as the Grand Bazaar, but what it lacks in size it makes up for in sensory overload. As soon as you walk in your hit with a wave of smells that beckon you to brave the shoulder-to-shoulder foot traffic to come in and explore.
Next up were the three major landmarks we were anxious to see – Hagia Sophia, the Blue Mosque and Basilica Cistern. We were especially looking forward to these after reading about how our boy Bobby Langdon navigated his way in and around all three in Inferno. And since Bobby (or Dan Brown) did such an amazing job of describing all three in the book, we were our own tour guides. (EDITOR'S NOTE: If by "were our own tour guides" you mean "shouted, 'look, Medusa!' in the Cistern," – the location of the most important scene in the book – then suuuuure we were.)
The Hagia Sophia, complete with its "floating" dome ceiling, has served as a Christian church and a Muslim mosque since it was built in the 6th century. Confused? So were we. Originally built as a church, it held Christian services for over 900 years until Mehmet the Conqueror came along and was all "I'm here for the conquest… no seriously, it's part of my name." After doing what his last name indicates, Mehmet converted the Hagia Sophia to a mosque to remain a symbol of the conquest. Finally, in 1935 the landmark was ordered to become a museum and to recognize both its Christian and Muslim background. Today you can still see signs of both, with distinct mosque features such as the minarets surrounding the exterior that are paired the frescos of Jesus and the Archangels painted across the walls.
Just a stone's throw away from the Hagia Sophia is the Blue Mosque. It's another visually impressive building, and is one of the most well known mosques in the world since it's the only one other than the Grand Mosque in Mecca that has six minarets.
The name comes from – you guessed it – the colors in and around the mosque. The domes and minarets are distinctly blue and the interior is adorned with intricately designed blue tiles on the walls.
The Blue Mosque was hard to miss since it was right out our window every morning. That, and the five times daily call to prayer we would hear over the loudspeakers at the mosque. Ezan, as it is called in Turkey, was actually heard throughout the city at sunrise, sundown and in between.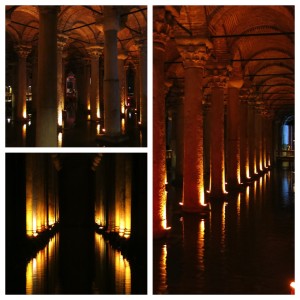 And finally we found ourselves in the Basilica Cistern. Although it's practically sandwiched between two significant religious buildings, it once served as nothing more than a water source for the city. But what it lacks in historic and religious significance, it makes up for with mesmerizing visual appeal. Set beneath the streets, there are over 336 columns that reflect on the pools of water with red-shaded spotlights. The whole setup gives off a very ominous and eerie feel. But I'll stop wasting time describing it when the pictures do a much more justice…
When we weren't checking out the main tourist sites, we were walking. A lot.
We crossed the Galata Bridge to weave our way around the Beyoglu neighborhood on more than one occasion. The Istiklal Caddesi always has something to offer, and many times for us that meant exploring to see what coffee shop, kebab stand or bar we would come across to take a load off.
This wide pedestrian street climbs the hill all the way up to Taksim Square. The same Taksim Square that dominated headlines coming out of Istanbul earlier this year due to some violent clashes between protesters and local police. Being very cognizant of the recent history, we treaded lightly on our way up, but there was nothing stirring so we felt safe enough to check out the area. Even though there wasn't any "action" to speak of, the police definitely let you know they were there.
One of the days happened to be International Peace Day we were told, and there was a small group of peaceful demonstrators with signs who were flanked by what looked like bulletproof, fire hose-weilding police tanks surrounded by groups of officers decked out with helmets, shields and the full riot control get-up. Not like any of that was intimidating or disconcerting or anything.
We continued even further north to explore the Ortakoy neighborhood after reading about its famed kumpir – basically the most loaded baked potato you can ever imagine. The neighborhood also happens to be just below the Bosphorus Bridge, providing some nice waterfront real estate to take in that we used to distract ourselves from the fact that we were eating about 5 lbs of baked potato for dinner.
Speaking of the Bosphorus, we felt obligated to take a ride up and down one of the most trafficked trade routes in the world to view the city from the water. The Bosphorus strait connects the Black Sea to the Mediterranean, and hosts non-stop boat traffic between ferries, cruise ships, oil tankers and other watercraft of all shapes and sizes.
So we did it. A relaxing couple hours on the water, to be certain, but not necessarily the first thing we'd write home about.
And finally, we made a point of exploring some of the less-frequented Asian side of the city in the Kadikoy neighborhood.
We could have gone over just for the brunch and back and I would have been satisfied (mouthwatering photos and prose to spare here), but we spent the entire day lazily walking around, taking in the waterfront walkway with views out into the Mediterranean and zig-zagging through the streets in search of some local markets and eats. We found both in more than one location, and also found ourselves a quiet bar for some beers to rest our legs. After the first round we ended up being joined by a drunk local who was excited to see Americans visiting this side of the city. So excited in fact, that he picked up our tab. Jury's out on whether he a) remembered or b) regretted this decision when he sobered up later. Either way, a nice way to wrap the day up across the water before we ferried back to Europe while the sun set over Sultanahmet.
And to think we were this close to not even coming here. We fit a lot into our short time, and still felt as if there was so much more we weren't able to cram into our time. Here's to hoping we meet again soon, Istanbul.