A Week in Nepal's Capital
by Noelle
October 12 – 17
While our arrival into Nepal's capital of Kathmandu was actually reminiscent of our first moments in Ethiopia, there were some early indicators that this would be an obvious upgrade (to start with, there were no flowery leis upon arrival in Africa…it's in the DETAILS PEOPLE!).
The dirt roads are pocked with potholes every few feet and the oppressive dust kicked up by the never-ending line of motorbikes and cars keeps visitors and locals alike covering their noses and mouths with face covers sold at every corner. Every available building surface is covered with advertisements for any number of  guesthouses and products, the most popular including beer, cell phones, Pepsi and Coke and the skies are absolutely choked with power lines (good news for development, bad news for scenery).
Like Ethiopia, Nepal is an incredibly poor country (I think it's the second or third poorest country in South Asia at the moment), and that's evident everywhere you look, from the rock bottom menu prices to the state of public places and roads and the disrepair of buildings to the hungry families begging in the streets. However, after you get past the depressing weight of that realization, you see that the people here are full of hope, happy to help strangers and eager to ensure you're enjoying your time in the country they're proud to call home. The smiling faces show how diverse the country is, with features ranging from Asian, Indian and Tibetan.
Our first up-close-and-personal experience of the friendly and generous nature of the Nepalese people was with our sherpa (you remember NIMA don't you??) and his family. The day before we departed on our trek, he invited us into their home to have dinner with his family.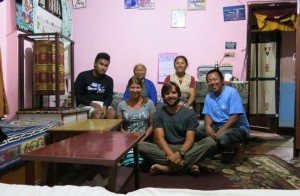 The wife and mother-in-law prepared dal bhat, the local cuisine featuring rice, lentil soup and vegetables while the son shared stories of his love of basketball and his studies at school, and their dog, Gasper, pretty much just sat around being adorable. We gathered in the family's living/dining room (where Nima and his wife also slept) and were helped to seconds…and thirds…before insisting we were stuffed (EDITOR'S NOTE: Note to self: must learn "While this is absolutely delicious, thank you, I am stuffed to the rafters and can no longer breathe," in Nepali before visiting a local home again. Then again, if this is the only type of "problem" we have to deal with, we're in pretty good shape.). The room was filled floor to ceiling with Buddhist religious symbols, giving indication of just how important faith is to the family. The kindness of Nima's family gave insight into what we would encounter during our 3 weeks on the road trail.
After the trek (read more about it here and here), we returned to Kathmandu to spend a week awaiting our Indian visas (we had to wait out one of the country's many Hindu festivals when all schools and business were shut down) and explore more of the city.
We visited the Swayambhunath Temple, nicknamed the Monkey Temple because who in the world can pronounce Swayambhunath for, well, these guys…
We spent time roaming the Boudha neighborhood (a less touristy neighborhood where we stayed for most of our time), walking the dirt roads that ringed the city and, of course, continuing our rampage of dal bhat and tea consumption (EDITOR'S NOTE: Still going through dal bhat withdrawal more than a month later…).
But the highlight of our week-long recoup week in Kathmandu had to be the Momo cooking class from – you guessed it – Nima and his family. We headed over one rainy afternoon to learn how to recreate the tasty steamed dumplings and while we won't share ALL our secrets (because how else can we impress you unless we get home and cook you MOMOS??), here's a small glimpse into the day's adventure.
After the much needed laundry, rest and recouping, we were off to India. Namaste, Nepal, and thanks for the memories!