Sweet, Sweet September
by Dave and Noelle
We continue to separately mark our favorite moments of each month, as an exercise to remember all the incredible things we are experiencing. It's fun to read them to each other before sharing them with you all, and seeing how many match up and how many are vastly different (rewind to the Hawks winning scoring Dave's #1 position in June).
This month, we spent a few remaining days in Turkey, frolicked through Greece, had a visit from the Overly family and began our trek through Nepal, so there was lots to consider.
So, without further ado, we bring you September's Top 10 highlights.
She Says
10. Getting lost in Northern Greece. Our day spent in Larissa after incorrectly hopping off our train a stop early led to unexpected exploration of an adorable town that would have otherwise been missed. We made lemonade.
9. Catching the sunset from Meteora gave us a stunning panoramic view that I won't soon forget. We got there a bit early and lay on the rocks overlooking the jagged horizon. You literally can't get a view like this anywhere else.
8. On one of our last days in Turkey, we headed across the Bosphorus to spend a day on the Asian side of Istanbul, in the neighborhood of Kadikoy. We hopped a ferry with little plans outside of breakfast and exploration. We ended up at a tiny bar, enjoying drinks with new friends for the better part of the day. Anytime we have an audience outside of each other, we triple in chattiness (and funniness, depending who you ask. Ask us? We're a regular Johnny Carson and Ed McMahon).
(Of course, our answer for who the star vs hype guy is may differ..)
7. The joy of experiencing a home cooked meal is something we didn't realize we'd miss so much during our year on the road. So dinner at Nima's home (our sherpa) in Kathmandu with his wife, mother-in-law and son, was a treat.
6. With the pace and limitations of our travels, the opportunity for consistent good workouts is hard to come by. The pure physicality of the trek through the Himalayas made me happy. Feeling healthy and strong amplified the positivity of the whole experience.
5. Our hike from Fira to Oia in Santorini was beautiful, and as you may know by now, I'm a sucker for sea views.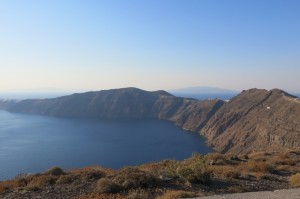 4. Surprising my mom and dad up from the airport was like a shot of adrenaline straight to the blood stream. Seeing their smiles as we stood waiting at arrivals was irreplaceable!
3. Cruising the winding streets of Santorini on an ATV with Dave was both romantic and exhilarating. The sun soaked views as we streaked through the small towns made for a day to remember.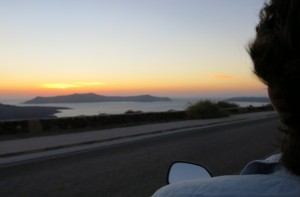 2. As promised, Turkish food has once again earned a spot on my "Top 10" list as we continued our pursuit of really letting ourselves go into the first days of September. This time? The breakfasts. We spent two separate mornings agonizing over breakfast spreads of cheeses, veggies, dips and carbs, deciding which bites earned the spot of being last.
1. There was no doubt what would score my #1 spot this month, but only how to frame it up. Spending a week in Greece with my family was unbelievably heart-filling and relaxing. The visit from home was more than we could have asked for, and will be a memory from the trip that I always treasure.
He Says
10. Sitting in on a prayer ceremony in Bagarchap, Nepal for a family's fallen loved one. It's traditional for families to invite monks into their home once a week for seven weeks for day-long prayers for spirit of the recently passed. We passed countless monasteries, prayer wheels and other religious sites and symbols in Nepal, but this was the only time we got first-hand exposure to a traditional ceremony for a taste of the local customs and culture that we had not expected to see.
9. Doing Istanbul right. While we haven't had any places we've visited and fully disliked, it's still somewhat rare to feel like you did absolutely everything you wanted. Istanbul was an exception. Between exploring the many neighborhoods, seeing the major sites and successfully eating our way across the whole place, we left Istanbul with a sense of satisfaction that would be tough to match for future destinations.
8. Our bed at the Athens Marriott. When you've been sleeping on hard springs and other poor excuses for mattresses for 4+ months, these sorts of things stand out.
7. Dinner with our sherpa's family in Kathmandu before the start of our trek. Our first exposure to dal bhat was not only delicious, but it was a rare moment we've had on the trip so far where we've been welcomed into a family's home to get a peak into what life is like for locals.
6. Our Turkish Breakfast at Piraye in Kadikoy won't soon be forgotten. Our first exposure to this genius breakfast spread was an overwhelming mix of honeys, jams, breads, fruits, veggies and eggs. All this while sitting on a sunny patio with some Louis Armstrong playing and m'wife across the table and I was in my happy place.
5. Exploring the clifftop monasteries of Meteora. The pictures don't do it justice, but they'll have to suffice for now.
4. Our surprise pick-up of Noelle's parents at the Athens airport. Our excitement for their arrival was understandably high. They had no idea we'd be there, and their reaction was exactly what we had hoped for.
3. The changing scenery during our first week of trekking in Nepal. We didn't know exactly what to expect until we really got going, but the first week saw us moving from valleys dominated by rice paddies to views of snowcapped peaks. The higher altitudes were still to come, but it was a good way to ease into things on the trail.
2. Family dinners with the Overlys in Mykonos. Beautiful beach views, delicious food and unbeatable company. It was a great combination that made us feel like we'd never left home… if, you know, we lived on a beach at home. Not to mention the dinners typically were followed by a long, relaxing day at the beach with said company.
1. Exploring Santorini on an ATV. Noelle planned a pretty stellar day around the island, complete with a frappe right on the water, an amazing lunch, a stop at a local brewery, and a quick stop at a local winery to take in the sunset above the caldera. Did I mention we were doing all of this on Santo-friggin-rini?