The Air Up There
by Dave
October 4 and 10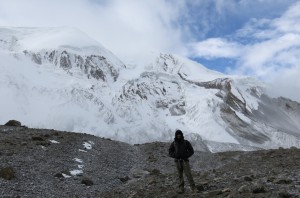 I've always been more of an aspirational outdoorsy person than an actual outdoorsy person, a fact that hasn't been lost on my significant other (EDITOR'S NOTE: I'm totally for "supporting your man in his dreams" but when those dreams put my comfort and accessibility to a hot shower at stake, a spade must be called a spade.). I love me some browsing at REI, Patagonia and other outdoor stores back home, even though I rarely actually buy anything. (EDITOR'S NOTE: That -20°C sleeping bag he's been eyeing? Would sit in our attic for the remainder of our marriage.) My camping, hiking and wilderness creds pretty much begin and end with my beard. But my brother and sister both led camping trips throughout college and have all sorts of certifications, so I'll just keep clinging to that association for now.
So, where was this going? Ah, right – now that we've done the Annapurna Circuit, I'm pretty sure I've earned some sort of… something. For a couple that resides at sea level in a plains state, this was a big deal. We'd already done a few days and nights of trekking and camping in Ethiopia, but nowhere near the heights and length of time we had in Nepal. We started and ended at lower elevations in the valleys surrounding the Annapurna region (read: sweating profusely), but the temperatures dropped as the elevation rose to provide some of the most stunning views and scenery either of us has ever seen. Period.
So now that Noelle has explained what a typical day on the trail looked like, we can talk about some of the high points (literally) of the hike.
Just past the halfway point, on day twelve, we crossed Thorong La Pass. Being the highest point we'd step foot on during the trek, you might think (like us) that we'd reach the Pass at or near the end of the trek. But, like us, you'd be wrong and the downhill afterward would force your joints to say "uncle" to the Himalayas while littering the trail with your dignity. But I digress…
Thorong La sits at just over 17,700 ft above sea level, which means it's pretty effing high it just so happens to be at a higher elevation than Everest Base Camp (excuse me while I finish putting that feather in my cap). Most days followed the routine Noelle outlined in her post, but the day before and the day of the Pass were an exception. The day prior we had a relatively short hike up High Camp, where we'd set off from early the next morning. However, we had to deal with a bit of earth rain, wind and fire fog. Which wouldn't be a huge deal, except for the fact that we were walking up steep switchbacks of crushed-stone trails while trying to avoid the unpleasant land mines the passing donkeys left us to deal with. And as soon as we did get up to our room at High Camp, rain turned to snow (EDITOR'S NOTE: But not before the sleeting rain played Space Invaders with us as targets during the steep climb. PEW PEW! PEW PEW!). Which almost never happens there in October. Even Nima – our wise, trusty, all-knowing Sherpa – couldn't recall the last time he'd seen it when we asked him about it. Either that, or he didn't fully understand our question. Either one is plausible.
The next morning we got started up the trail at 4:30am, guided by the long line of headlamps from everyone making the ascent. For the first hour, it remained pitch black from the overcast skies, and the trail was swept under an almost eerie silence with everyone too focused on their own breathing and making sure they didn't make a wrong step. Once the sun started to peak out we could finally put the camera to use, so I'll give up trying to describe it with words and let these pictures explain the rest.
After the pass we had six days of excessive downhill trails and our knees were begging for mercy (EDITOR'S NOTE: Seriously? Whoever said 30 is the new 20 never talked to my knees). But on our second-to-last day of trekking we had another 4:30am start to catch the sunrise and magnificent views from Poon Hill lookout point. Unlike at Thorong La, our hike this morning was under a blanket of star-filled skies. Not a single cloud to obstruct our view in any direction.
From Poon Hill you can see an impressive panorama of peaks, highlighted by Annapurna 1 (26,545 ft), Dhaulagiri (26,795 ft) and Fishtail (22,942 ft, considered a holy mountain that is prohibited from being climbed).
It goes without saying that the views and scenery throughout the trek were pretty stellar, but these two spots set themselves apart.