These Boots Were Made for Walking
by Noelle
September 21 – October 12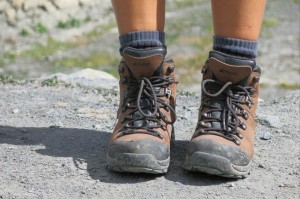 And that's just what they did. For 3 weeks and 165 miles.
Our trek through Nepal will remain one of the most visually stunning parts of our round the world adventure. With a grueling schedule that included several hours of hiking along the Annapurna Circuit each day and an insane amount of rice, we loved every minute (okay maybe not every minute…but more on that in Dave's next post).
Our sherpa (or guide) is named Nima Sherpa. Because that's how Nepal rolls. The name you attach to your first is your caste. Nima is from a small town in the Everest region, and is part of the Sherpa caste. He has a family name, but rarely uses it. Just a nugget of "stuff you should know if you ever go to Nepal." AND YOU SHOULD. And? You will call Nima. Because he just may be the nicest man on the planet. We nicknamed him 'Man of the People' early on due to the fact that he KNOWS EVERYONE. And if he doesn't, he gets to know them. Because he's, you know, interested in peoples' traditions, families and feelings. We love this man.
We also brought along not one, but two porters. These are the rockstars that carry our bags. Because we are wusses. The second was added after one picked up our bags and realized we PACKED FOR A YEAR, and not a 3-week trek. Oops. The first earned the nickname Hollywood because when he smiled, he rocked a gen-u-wine movie star megawatt smile. Hottie. The second? We called him Talkie. This got confusing, because it was originally meant to be ironic due to his mute-like tendencies, but then he got all chatty mid-trek. It was too late to go back.
This was our posse.
To give you a better idea of what this three-week chunk of our lives looked like, I've provided "A Day in the Life" look below.
5:30 am: Alarm goes off. Noelle ignores it. Dave springs out of bed like a freaking tiger from his cage of sleep. WTF.
5:45 am: Dave reminds me patiently that it's time to get up. He's all rolling up his sleeping bag.
6:00 am: COFFEE! I'm convinced the in-room delivery is a veiled attempt to make sure we're awake for our 6:30 am breakfast time. They don't know about Springs McGee.
6:45 am: We actually arrive at breakfast. Nima is all smiles despite his confusion on how our clocks in America must run 15 minutes behind. (In fact, they actually run 9 hours and 45 minutes behind. What's the 45 minutes about, Nepal? Seriously.)
6:45 – 7:30 am: BREAKFAST! And more coffee. Or black tea in Dave's case. Breakfast ranges based on where we are and what is locally available (because you'll remember, we're in THE MIDDLE OF THE HIMALAYAS, so there's no Jewel truck making daily deliveries of groceries). We eat what God gave them. Or ramen. There's always ramen. And Snickers or Mars bars. So that's cool.
7:30 – 9:45 am: We head out into the great beyond. The scenery changes, and it's stunning in each phase it takes. The rolling rice paddies change to lush forests of pine and then again to a rocky terrain that tears up your knees, and finally to the barren mud hills as elevation peaks. And back down again. The weather also varies based on the elevation, so some days it's shorts and a tank top (Dave especially loves these days), other days it's a down jacket. Right. And while at times we were the only people for miles (literally, as we came on the heels of rainy season's end and before the rush in November), there is undoubtedly always some sort of path, which while at times was disappointing (who doesn't want to feel like Marco Polo?), was also deeply comforting.
9:45 – 10: 15 am: Tea Break! We have become addicts. From the sweetness of Milk Tea, the strange salty flavor of Tibetan Tea, the puckering tang of Ginger-Honey-Lemon Tea to the plain comforting warmth of Black Tea, we couldn't get enough. And Nima was the anti-sponsor. He was at every turn, offering us tea, feeding our addiction. It's just what's done.
Sometimes you veer from the path to taste the local offerings, like in the case of Seabuck Thorn Juice (the SCHNOZBERRIES tastes like SCHNOZBERRY!), and you regret it, wistfully thinking of your old friend, Milk Tea.
10:15 am – noon: Back on the road for about two hours, where we make our way through more of the beautiful terrain, and sometimes smaller villages and are able to catch a glimpse of daily life for these mountain dwellers. The smiles are abundant and a friendly "namaste" comes readily (although usually only after first offered by us). Kids look after one another while women work in the fields and the men….well, not sure what exactly they do, except sit around and chat. Seriously. Not sure why this is the custom, but it is.
Noon – 1 pm: LUNCH! MY FAVORITE. This is where we try the local dal bhat. Which we each have 46 times during our time in Nepal. This rice-based dish is always paired with a lentil soup and curried vegetables, but from there, it depends on the place. We have it for lunch and dinner (customary for the Nepalese), taking the occasional greasy break for a change in routine (which we almost always regret). Lunch takes place at a picturesque tea house along our route, run by a local family who is always incredibly friendly. As busy season has yet to ramp up, we are usually the only diners in the place, allowing for lazy lunches with plenty of time for reading or chatting (because really, there aren't enough hours in the day to tell Dave all the things I'm thinking. Never.).
Sometimes there'd be a surprise with our meals, a la Nima. Something to keep our energy up. That could mean a Snickers bar, sliced long ways to look like a fancy dessert, or perhaps some more apple pie or it could mean YAK CHEESE! Apparently, it's full of protein and while the first bite is a little waxy, you learn to love it. Crave it. Most people go on this hike and lose weight. We see your weight loss and raise you YAK CHEESE.
1 – 3:30 pm-ish: Our final leg of this daily journey is always meditative. Full of rice (and tea), we each settle into the peaceful sounds of our own footsteps and fall contemplative. It's glorious. And the views continue. (EDITOR'S NOTE: Depending on the elevation change during this portion of the day, it's not uncommon for my "meditative" state to be replaced by thoughts of "I immediately regret that decision to ask for seconds" or "I think I just threw up in my mouth.")
Mid-Afternoon: We arrive at the Tea House we'll be spending the evening in. And if not by tea, we're greeted with fresh crushed apple juice (the small village of Marpha is known for it's apple orchards), which blows our minds. It's like Granny Smith and marshmallows had a love child (EDITOR'S NOTE: Yup. Let that mental image really settle in…). After settling into our room, where Hollywood and Talkie have so kindly put our heavy bags already, we spend hours reading in the cozy rooms or porches of these modest houses nestled in the mountains. It becomes a ritual I long for most of the day, since there is nothing better than curling up with a good book after a shower (if, of course, there is running and/or hot water…both absences are risk factors) and a hard day of physicality.
When we still have the energy, after settling in, we wander the towns and explore the hillsides, catching the daily lives of the locals and learning that each village has its own personality.
Between 6:30 and 8:30 pm: We eat dinner slightly later than my Naples-living grandma does, and we rarely change it up. Dal bhat for 2. However, to keep the home cooks guessing, we at times add a side of Tibetan bread, which is basically a funnel cake without the powdered sugar. Afterward, we lounge around letting our rice and carnival food settle, play cards, toss dice or catch each other up on our respective days fall into silence as we eagerly delve back into our books. We also make friends along the way, as you tend to do when you're 2 of 20 people making their way miles through the wilderness. Our favorite tagalongs were a foursome from Down Under (with one kiwi in the bunch) and we loved the shiny distraction of other people to fill the long hours each evening.
9 pm: We're in bed. For reals. It's Dave's grandpa-like dream come true. I usually pout and stay up reading past bedtime, but after realizing how much a day of trekking takes a toll on both your mental and physical stamina, my eyelids get heavy and I nod off, dreaming of tea and dal bhat.
And it all begins again the next day.
I tell ya. One of these days these boots are gonna walk all over you.