A November to Remember
by Dave and Noelle
With two birthday celebrations, PLUS marking the one-year milestone since tying the proverbial knot, November will always be a very memorable month…and taking the show on the road this year just made it all the more special.
Here is a peek at our favorite moments of November. And don't think we don't know who uses this as CliffsNotes (Monty) instead of reading our hard-won blog posts. Seriously. Just remember, taking short cuts will only hurt you in the long run.
She Says:
10. BBQin' at Lao Lao Garden. This Luang Prabang restaurant lets guests cook their own meals over coals in the center of the table. Dave and I finally got the chance to try it out toward the end of our stay and loved it. The cozy, tree-draped gardens of the restaurant provided an intimate dinner while the heat thrown off the grill kept it real as we sweat through our meal. We loved it so much, we ended up back there for our final dinner in the city.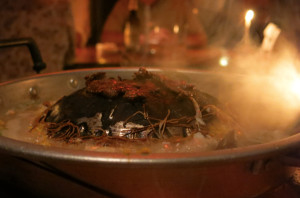 9. Bia hoi! Before a visit to the Hanoi Temple of Literature, we found ourselves restless. Mid-day, we settled in for 15 cent bia hois at a nearby hole in the wall (literally, a hole in the wall). These unpasteurized beers served fresh from the keg to the table were exactly what we needed, and we spent hours sipping and talking as we watched the local people going about their daily lives, realizing how special this time in our life really is.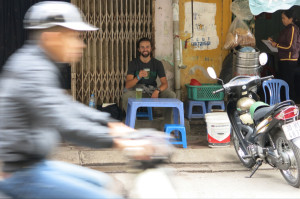 8. Front porch sittin' in Nong Khiaw. Our bungalow overlooked the river, and we spent some lazy hours with our feet up, watching the world go by. It was exactly the type of SE Asian moment I pictured us having when we set off on this crazy adventure.
7. Hopping a motorbike for our ride to and from the Kuang Si Waterfalls in Laos was awesome. Cruising through the green countryside villages, untouched by time, was an incredible way to see what makes this country really special.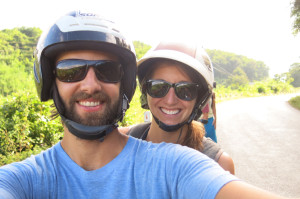 6. Our slow boat ride from Luang Prabang to Nong Khiaw. We rarely get the chance to actually get on the water, and our cruise through the river provided incredible views and a fun way to spend a day.
5. Strolling through the night market in Luang Prabang became our nightly ritual. The cacophony of vibrant colors assaulted the senses as you strolled the stalls filled with homemade goods made by local women.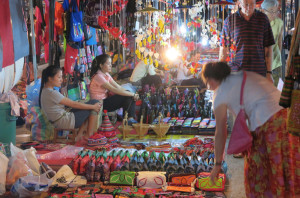 4. After exchanging emails with our fellow round-the-world travelers, it was fun to finally meet Charles and Kate in Luang Prabang! We spent the first evening non-stop chatting about our respective travels and realized this was the beginning of a beautiful friendship, as they say.
3. We were so so lucky to be able to coordinate meeting up with our friends Carrie and George halfway around the world as they stopped through Luang Prabang on their belated honeymoon. Our evening spent with them filled with great wine, incredible food and even better company is something I'll remember forever.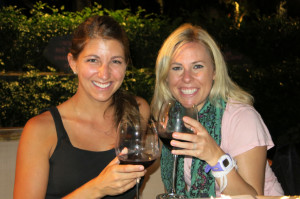 2. Dave and I spent a lot of time in search of delicious Vietnamese street food during our time in Hanoi. One day, we literally dedicated a day to a food crawl through the city, eating anything that caught our fancy as we roamed the crowded streets. Spending a whole day in a bustling foreign city trying new foods and chatting while lounging leisurely curbside in teeny tiny plastic chairs provided a realization that we were in for a rude reality check when we headed home in a few months.
1. Celebrating one year of marriage with the love of my life. As we ate dinner by candlelight on the Mekong River, I realized that my life ahead with Dave is the best adventure I could have asked for.
He Says:
10. Booking accommodations on the fly throughout the entire month. Our first attempt at doing this was pretty much a nightmare way back in Lucca, Italy, but we rebounded nicely through Laos and Vietnam. It helps that each place we go has endless guesthouse options that max out at $20/night (and that's if you really want to treat yourself), but we managed to find good, reliable room options upon arrival across the board. Go us.
9. Coming out unscathed from our bus rides in Laos was an accomplishment in and of itself. In hindsight I'm glad we rode them since it was all part of the experience. That being said, there are a lot of things I'd rank ahead of taking sharp turns at high speeds in rickety buses atop mountains while being forced to watch the same Laotian "R&B" (if you can call it that) artist's music videos on loop.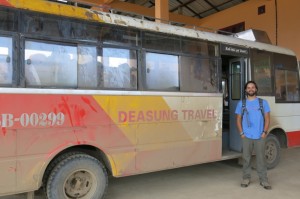 8. As the weather got hotter while we travelled, we didn't struggle to find cheap options for a cold beverage. Beerlaos through all of Laos seemed exceedingly cheap at less than $2 for a liter, then we got to Hanoi and discovered bia hois all over the city for less than a quarter. Neither was anything to write home about taste-wise, but at those prices with the surroundings we had them in (from calm shores of the Mekong in Luang Prabang to the sidewalks of bustling streets in Hanoi's Old Quarter), they were just what the doctor ordered (ya know, if a doctor were to prescribe drinks).
7. Our excursions outside Luang Prabang for the nearby waterfalls. Hiking, motorbiking and swimming proved to be a great combination on our two days of trips to the falls with Pat and Brenda.
6. DIY BBQ at Lao Lao Garden in Luang Prabang was our most hands-on meal of the month. Buffalo, pork and chicken strips grilled on a hot plate surrounded by noodle soup with veggies and eggs. It was as good as it sounds.
5. Our dinners at Deen's Indian Restaurant in Nong Khiaw. It's not an exaggeration to say that it was as good as (and better than, in some cases) as the Indian food we ate in India.
4. Getting to see friends, old and new, in Luang Prabang. We've enjoyed the time with just the two of us more than we could have imagined, but in-person communication with friends is at a premium on this trip and we were spoiled with being able to spend time with three great couples during our 12 days in Luang Prabang.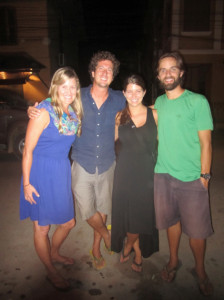 3. Our porch and hammock of our bungalow in Nong Khiaw. Or just Nong Khiaw in general. We loved this place, and our time winding down each day reading riverside on our porch was heaven.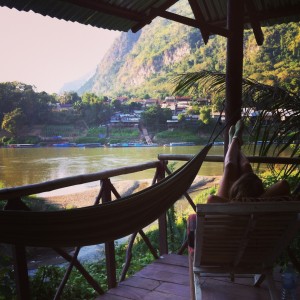 2. Hanoi street food and our self-guided walking tours. Simply put, Hanoi is one of my favorite places we have been all year. The food did not disappoint, and it was a fun city to explore on foot. And not shockingly, the two of us were quick to pick up on the routine of walk, eat, walk, have a beer, walk… repeat.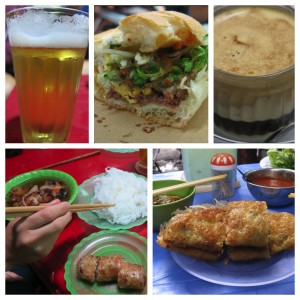 1. Easy winner for November: celebrating our 1-year anniversary with my bride. This trip wouldn't be nearly as fun, fulfilling and enjoyable without Noelle by my side. It's hard to believe it's already been 1 year, but what a year it's been.