Best of October
by Noelle and David
We spent October in Asia, finishing up our time in Nepal and exploring that crazy little place called India. Wrapping up by kicking off our tour through SE Asia, we spent the last few days of the month in the capital of Laos, Vientiane. Below are some of our favorite memories of the month!
She Says:
10. Despite the blood, sweat and tears (I'll let you guess which 2/3 of those actually happened), our trip to the highest peak of our Annapurna Trek – Thorong La Pass – was a brutal 2-day affair that paid off in spades upon the summit. Beautiful, albeit snowy, 360°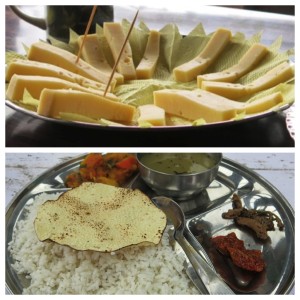 views gave the impression we were alone in the world.
9. Dal Bhat, Tibetan bread and YAK CHEESE! A diet I would have never chosen, but one I find myself missing on a daily basis.
8. Playing doctor in Laos. A once-in-a-lifetime chance to scrub in on a spinal surgery led to one of the most memorable days of our trip, let alone month. Fascinating and nauseating, it was an experience to remember.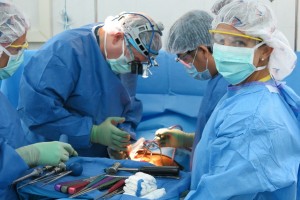 7. My first glimpse of the Taj Mahal is burned into my memory. The remaining tour of the grounds was actually quite anticlimactic, but the demanding presence of that impressive mausoleum as we first walked through the gates knocked me off my feet.
6. Cooking momos with Nima's family during our last days in Nepal was a special experience. Not only did we learn how to make one of our favorite Nepali foods, but we did it side-by-side with experts in their home over some tasty milk tea. Plus, watching Dave make dainty folds in the fragile dough was entertainment in and of itself!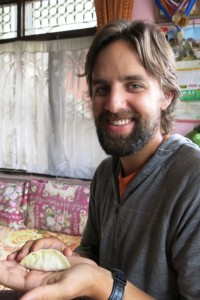 5. Waking up before the sun to make the trek to Poon Hill was magical. Cheesy as it sounds, the single-filed silent ascent amidst dozens of other travelers, with the only light emanating from the stars above and the scattered flashlight pinpoints was really something.
4. Indian food. Yes, more food. This will likely always make my list. From our first meal (eaten standing up at a bare, no-nonsense aluminum table) of chole bhature (spicy chickpeas spread on a fried bread), I was in love. The love affair continued with dozens of spicy masalas, curries, breads and sweet desserts we devoured eagerly as we made our way quickly across the northern part of India (making sure to dine at southern Indian restaurants…you know…to make it fair).
3. The adrenaline rush of zip lining across the massive fort in Jodhpur was incredible. Sailing above the beautiful cluster of blue houses with nothing but a cable keeping you afloat made my pulse race. Pretty cool experience.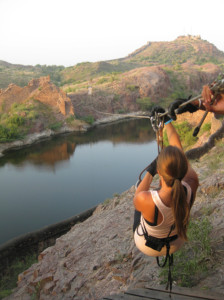 2. Spending time with Nicole and Ryan in Vientiane gave us the taste of home we were craving. Who knew the boy I met in SRT our freshman year would be my dinner companion halfway around the world 17 years later?? Our Beerlao-filled evening that ended at a local dive karaoke bar was one of the best moments of October.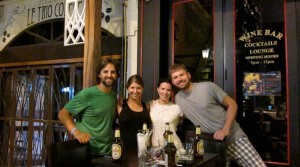 1. Dave planned a fun cooking class date with a local Udaipur woman who spent the afternoon teaching us how to prepare our favorite traditional Indian dishes. After 15 minutes of "taking notes" we realized we'd never be able to recreate the 14-spice dishes she was tossing together nonchalantly, but we sure took pleasure in enjoying them that day.
He Says
10. Skyping with family after returning from our trek. Three weeks without a consistent Internet connection was the longest we've been fully unplugged. It was a good feeling to go off the grid for a bit, but it also made it all the more fun to catch up with our parents and siblings once we got back to Kathmandu.
9. Hiking up to the lookout point at Poon Hill under the stars before sunrise. It was the last big stop on our trek, and even before the sun came up and shed light on the high peaks, we enjoyed a memorable walk up the trail guided by our headlamps. It was only a 45 min hike up, but we still stopped a couple times just to see the clear skies blanketed with a bajillionty (all figures approximate) stars overhead.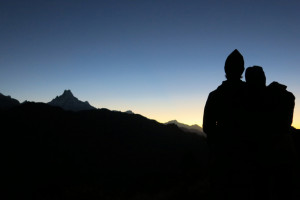 8. In a city that threw a dozen memories per second in our direction, the hospitality and delicious food we were treated to by my dad's colleague Mohan and his family will always stand out. Between touring the city comfortably in their car and joining the family for two amazing home-cooked meals, we had an incredibly warm welcome to Delhi.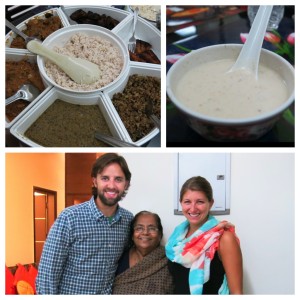 7. For those that know me, I'm not much of a book reader, but that's changed during this trip and especially so during our trek in Nepal. Before last May, just finishing a book in three weeks would have been an impressive feat, but I managed to cruise through four of these book thing-a-ma-dos while we were in the mountains. Consider me converted (much to the pleasure of my wife who routinely goes through 2-45 books per week).
6. Our momo cooking with Nima and his family was not only a learning experience, but gave us an excuse to spend some extra time with our favorite Sherpa. And the finished product was better than many of the momos we ordered at restaurants (despite my best efforts to butcher the assembly process), if I do say so myself.
5. Getting to see some familiar faces in a faraway place with our friends Ryan and Nicole in the Laos capital. We had a blast catching up with them over dinner, drinks, and spinal surgeries (read more here if that last one threw you off). While their trip to Vientiane was more of a work/volunteer trip that took up most of their time, we loved every minute of hearing about home and getting to see friends when we were still so far from heading home ourselves.
4. Ziplining behind Mehrangarh Fort in Jodhpur just before sunset. The imposing fort sits ominously above the Blue City and you can't miss it from just about anywhere, but we got to see a cool perspective as we cruised across six ziplines set up on and around the lake behind it. We were this close to talking ourselves out of doing it, but definitely were happy we opted to give it a shot.
3. Reaching Thorong La Pass on the Annapurna Circuit Trek marked the highest up I've ever been. Ever. While it was no Everest, it was something we won't soon forget. The snow and wind made for minimal visibility of the snowcapped peaks surrounding us, but all and all a very cool experience. And Nima was there, so….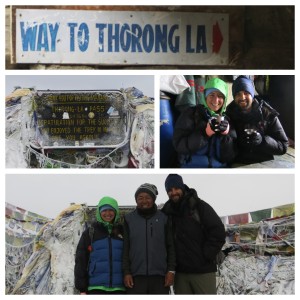 2. The Taj Mahal was the rare tourist site that fully lives up to the hype. It almost doesn't even look real when it's right in front of you. I don't know if it was the light hitting it just after sunrise or what, but it practically looked like a mirage. Perfectly constructed, it's the type of place you can (and should) just sit down and stare at for a while.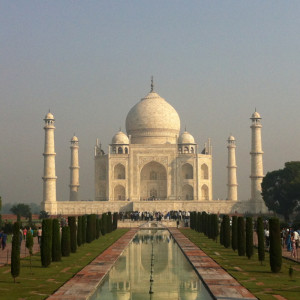 1. I can't say enough about how much we loved all the food in India, but our cooking class in Udaipur was the culinary highlight of our 11 days in the country. We sliced, we diced, we wore aprons… the whole nine. Mary, our teacher, was very patient with us and it was fun to get to know her and her family as she held the class in her home kitchen. Oh, and the food was delicious, so there was that.