Hoi An: Quite Possibly the Most Adorable City in Vietnam
December 4- 8
By Noelle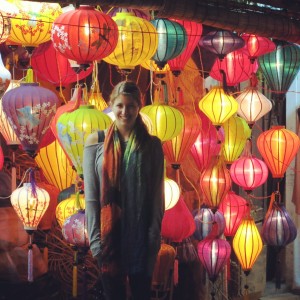 Ah Hoi An…a tremendously atmospheric city filled with brightly-colored lanterns, amazing regional Vietnamese food and custom-made clothing. Where the smell of leather wafts from every other shop front, and the noodles are made lovingly with the water brought up from the ancient Ba Le Well at the center of town. And our four-day stay was plenty of time to see it all.
First of all, we found a place with a pool! Which we never used! But yay – a pool! That aside, the in-room breakfast delivery was enough to lock these weary travelers in, and we spent our lazy mornings on the balcony as we plotted our daily attack of this centuries-old city.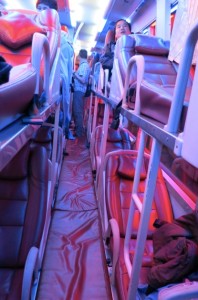 To back up a moment, we hopped an overnight bus from Hanoi (where we had begrudgingly returned to from beautiful Halong Bay…well not completely begrudgingly, as we chose to snag one more night of Hanoi's street food paradise by pushing our bus to Hoi An back another day…but you get the sentiment), our first foray into the world of Vietnamese overnight buses. We would soon qualify for their frequent rider card as we made our way overland across the country, but for now, it was "fun!" You mean we get to lounge on these comfy red seats and basically LAY DOWN ON A BUS!?! How unique! How kitschy! I could do this forever! (Let's just say it only goes downhill…but more on that later.).
Hoi An, the skinny waistline of Vietnam, is an excellently-preserved example of a Southeast Asian trading port (where it reigned between the 15th and 19th centuries) that oozes old world charm. Basically forgotten as other ports gained prominence (and the river basically silted up), the streets of Hoi An are stuck in time, making it a shoo-in for the coveted UNESCO World Heritage site status (we can't escape these things). One of the wealthiest towns in Vietnam, it claims a cosmopolitan feel with its pristine maintenance still making you a believer in time travel.
Our time here consisted of roaming the quaint narrow lanes, exploring the endless shops, strolling along the Thu Bon River and basically continuing our quest to eat our way through Vietnam. And an added bonus? We caught back up with Brenda and Pat (who we enjoyed some adventures with in Luang Prabang) for a couple epic meals.
The main meal to note is Ba Le Well Restaurant. We thought India knew how to force-feed us at the speed of light. This was before we met our attentive (bordering on stalker) waitress for the evening. Not only does food arrive before you can even ask for a menu (it's assumed you want the preset menu unless you speak up fast…and forcibly), but she insisted on basically helping the food into your mouth, all while touching it with bare hands…because THAT'S HOW IT'S DONE HERE AND YOU JUST HAVE TO GET OVER IT. Ahem, sorry, it's a mantra I've repeated for myself and I thought it might help here. (EDITOR'S NOTE: By "your mouth" she means "Dave's mouth." I was the only (un)lucky one in the bunch who had skewers of pork and a rice paper wrapped roll shoved into my mouth by our waitress. The awkwardness was compounded by the fact that there were no smiles to spare while she placed the food in my mouth. Which, yeah.). Anyway, after a few beers, this seemed like pretty much the funniest evening we'd ever had and I must say, will be a dining experience I treasure forever.
Back to the city's culture…because that's why we're here…the traditional Vietnamese architecture, with splashes of Japanese and Chinese influence, is evident in the buildings that line the narrow streets. The peeling yellow walls give an impression they're striping away layers of history before your eyes. A favorite stop is the Japanese Covered Bridge, built by the – you guessed it – Japanese in the 1590s. Even after reconstructions over the centuries, the ornamental design remains faithful to the original. Its beauty has established the bridge as an icon of the city.
But my favorite? The lanterns! They're everywhere and they're so PRETTY. As if Hoi An at night could get any more precious, these colorful, bulbous accessories hang from every tree, every lamp post and every awning in the small downtown area.
After getting our fill of the town, we hopped on the hotel's free bikes (Seriously, a pool AND free bikes? We heart you Grassland Hotel! Write soon.) and headed out of the city limits for the beach. The first time we were joined by Pat and Brenda, and after finding a wind-whipped spot on the sandy beach, we lounged as we watched the waves lap the white sand. And we couldn't resist some fresh crab, so we ordered as best we could and kept our fingers crossed for what would make it to the table. Upside? It wasn't still moving when it hit our plates. Downside? We all spent about 30 minutes decimating our shelled critters. Fruits of our labor? About a pinch of meat. Sigh. But it was, indeed, fresh.
And no, we did NOT have anything custom-made, which will make Hoi An fanatics freak. This is THE PLACE to have custom dresses, suits, pants, shirts and leather briefcases or shoes made on the cheap. But honestly – we just couldn't lug anything around for the remaining 5 months of our trip…and even more honestly, MORE MONEY FOR FOOD! Luckily, Pat and Brenda were heading home soon, so they indulged and we got to partake in the results and a second-hand experience of how fun the process can be. Picking your own textiles and being measured for something that fits you perfectly? Pretty amazing stuff. Next time, Hoi An. Next time.
And of course, I must give a shout out to the local food specialties. Because that's what we do. Eat. And this place offered some incredibly delicious local fare. First up: Cau Lau. The steamed, chewy noodles made locally with water from the Ba Le Well sport bits of flat crispy "croutons" (made from the same dough as the noodles), crunchy greens, juicy pork and just a touch of pork broth at the bottom. Topped with a spritz of lime and a dash of chili paste, it quickly became a Bauer favorite. Sadly, it's availably primarily in this area and we've been hard pressed to find the dish as we moved south.
Next are the apps. And Dave and I love us some apps (we've never met a plate of nachos we haven't liked). First, we have White Rose dumplings, made from translucent white dough and filled with spiced minced shrimp or pork. It's incredible (try Ms. Ly's – it was our favorite spot for this dish). Fried Wontons was the final mouth-watering dish to cross our table, and these oversized tortillas stuffed with pork and shrimp and topped with a tomato roulade put Chicago's Duck Walk wontons to shame. (Side note – please don't tell Duck Walk I said what I did. Because we plan to go back to eating there once a week upon return. Thank you.)
Overall, Hoi An scored big in our book, but no need to allocate more than a few days to this historical spot. And while the streets are definitely filled with travelers from around the world, something about the volume of locals and the laid back atmosphere exempts it from having that ever-feared "touristy" feel. And now we board another overnight bus…where we learned first-hand the lack of personal boundaries in Vietnam.