Same Same, But Different
by Noelle
November 20 – 25
In our quest to reach Vietnam overland, we lazily made our way through two Northern Laos towns, which, like the popular SE Asian saying, were the "same same, but different."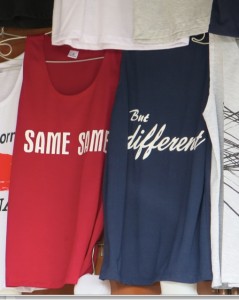 This phrase is conveniently used by vendors to try and sell you a product or service that they insist is the "same same" as what you were actually looking for. Westerners have since added, "but different," since it's never really the same. Looking for a tuk-tuk ride across town? The guy on a bike will offer you the "same same" that will find you standing on his spokes as you risk your life on the road. Want a bowl of fresh noodles? The corner street vendor has the "same same," in the form of packaged ramen. It's actually quite funny to seek out these "same same" opportunities when you get into the spirit.
Anyway, the two northern Laos towns, Nong Khiaw and Sam Neua, were both nestled along the river in the lush green Laos countryside, but the vibe of these towns couldn't be more different. The first, Nong Khiaw, was incredibly rustic (like straight out of an American Western movie), with few cars and limited electricity, but totally comfortable for travelers, with lots of guesthouses, restaurants and cafés. Bottom line? We fell in love.
The next, Sam Neua, was very developed, with a bustling city feel and hundreds of locals on motorbikes, but we were among the only westerners stopping through (for very good reason, as the only thing the town offers for travelers is a convenient stopover before crossing into Vietnam), and for the first time in our travels, failed to meet ONE person who spoke English. Which of course, is part of the charm of venturing outside of the "bigger" cities, and illustrated how this quaint town has so far avoided the tourist plague. Our feeling as we left the town was, "this couldn't come fast enough."
But I get ahead of myself. In this case, our experiences were very much about the journeys, as well as the destinations. We started by departing our beloved Luang Prabang for Nong Khiaw, catching a 5-hour slow boat that I assumed would be, you know, slow. Our driver didn't get the memo and we cruised through the Mekong at record speeds and reached our destination about two hours ahead of schedule. We had opted for the slow boat (versus bus) as an opportunity to get on the water, reputed for it's incredible views of local life along the shores, and we weren't disappointed. We cruised by incredible rock faces, rice fields tended by local farmers and green peaks nestled beyond the water's edge.
Nong Khiaw was as sleepy as sleepy towns come. We grabbed a bungalow facing the Nam Ou river and put our feet up to spend a few days communing with nature. We ate at the same Indian restaurant for dinner each night (appeasing the withdrawal of all things curry we'd been experiencing since leaving India), sipped Beerlao on our porch and enjoyed some delicious coffee and muesli at local cafés, including our favorite, Delilah's (which was run by a friendly John Malkovich look-a-like).
Come to think of it, has anyone seen John Malkovich recently?
Let me start over. We enjoyed some coffee and muesli at local cafés, including our favorite, Delilah's, run by John Malkovich.
The rest of our time was filled with roaming the little town and soaking in the scenes.
We hiked to the top of the town lookout for some incredible views back down toward the city. The hike was brutal after our lack of consistent exercise (EDITOR'S NOTE: Brutal. And hot. Really, really hot. You know those times when you sweat through your shirt and it fully soaks through your backpack, and your shorts, and… wait, no? Nobody else?), but as we've found is typical, the payoff is worth it once you reach the top.
We reluctantly caught our bus to Sam Neua a few days later for what would prove to be the worst bus ride of our travels yet. I was utterly convinced we were going over the edge as we barreled perilously around mountain curves at top speeds. Gravity proved to be a loyal friend as we stayed ground-bound, but her sister, Inertia, sure is a bitch. Eight hours later, we walked (on unsteady legs) into Sam Neua for what would be two days filled with….nothing.
No really, we sat at the only hotel with wifi for an entire day. We're talking breakfast, lunch and dinner. We ordered all three as we sat furiously blogging and catching up on emails as the rain came down steadily outside. Not only is there pretty much nothing to do in the town otherwise, it was the only menu we could understand a lick of. We hit up the local market where we saw many furry, 4-legged friends prepared to star in someone's dinner spread. Reason #3 for our monotony.
However, we are so, so glad we didn't miss out on some of the more authentic stops in our tour of Laos, despite the long stretches of numb butt cheeks and bruised tailbones it took to get there. Now? Time to hop our 18-hour bus to Hanoi, Vietnam.
Just like taking the CTA bus from Lincoln Park downtown. Same same, but different.