We Like It. We Like It Dalat.
by Dave
December 9-15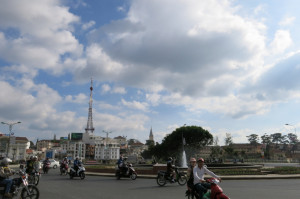 Perched around 5,000ft above sea level in the Central Highlands region, Dalat has been called "the Switzerland of Vietnam." It's also been referred to as "La Petit Paris" (mainly due to a cell tower that bears only a slight resemblance to the Eiffel Tower and the fact that it's a favorite spot of Vietnamese honeymooners). Snowcapped mountains and wide, café-riddled boulevards it does not have, but the cooler climate and more European feel was a welcome change. There's a lot on offer here, including the many spectacular waterfalls in the area, the trekking opportunities, the numerous palaces and pagodas and lakes, and other excursions nearby. But if you've come here looking for recommendations on any of that, you've come to the wrong place.
Before diving into what we did and didn't do in Dalat, let's talk about how we got here. As Noelle mentioned in her Hoi An post we have taken up the habit of traveling via overnight bus, and our trek to Dalat was a doozy. We got jobbed on our seats in what ended up being an oversold bus, I was stuck in a man sandwich on the upper level in a seat that isn't typically installed on buses that, you know, usually only sell as many tickets as there are seats, and I slept approximately 17 minutes on a 12 hr bus ride due to legs, arms and other body parts of strangers knocking into me throughout the night. But at least I'm not bitter. Definitely not bitter about the worst overnight experience of our trip at all.
But alas, after an early morning bus transfer that would take us to our final destination (EDITOR'S NOTE: During which we learned via a spotty FaceTime call that our friends Caitlin and Jeff had gotten engaged!! The ring and their faces were but pixelated masses, but the happiness in their voices came through loud and clear.), we quickly found a hotel to settle into. One of the best places we've stayed in recent memory, Dreams Hotel had it all – a generous family-style breakfast spread every morning (I didn't necessarily plan on having a huge baguette egg sandwich about 3 bananas with each breakfast, it just kind of happened…), the most comfortable bed we've slept on in ages, a sauna and hot tub on the roof a friendly family that lived downstairs and managed the whole thing (typical for most places we've stayed in Asia).
One of the things we've realized doing long-term travel is that from time to time you just need to chill and relax and find pleasure in normal day-to-day things like we would do if we were home. And for us, Dalat proved to be a good base for this sort of approach. What was supposed to be a 2-3 night stopover turned into six, so you'd think we have a lot to tell you about from our stay. Which we do. Kinda. It's just that most of it involves finding the will to get back on the exercise/working out wagon as well as watching an entire season of a TV show on Netflix. So, yeah.
After our first night on the heavenly mattress at Dreams and the breakfeast we were treated to the following morning, we started to consider a longer stay.  Our conversation started with one of us saying something like, "I mean, we don't really need to leave tomorrow." And then progressed to an order of two beers, a smile and an understanding that we were getting comfy in Dalat. What went unsaid was that we were both thinking, "Wifi's good and we can fit in at least 20 episodes of Scandal before leaving, and this is the most comfortable bed we've slept in since the Athens Marriott, sooo…." (EDITOR'S NOTE: I mean SERIOUSLY, Olivia Pope is a badass. I want to be her when I grow up. You know, minus the whole "affair with the President of the United States," thing.)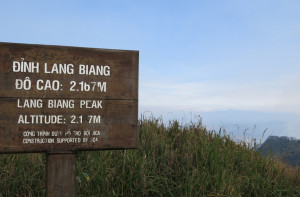 But I swear, we totally left the hotel a few times. Mixed in with our laziness and commitment to pumping the brakes on local travel and activities, we guilted ourselves into trekking up to the top of Lang Biang. At a height of 7,100ft above sea level, it's the second highest mountain in Vietnam (which is just adorrrrrable, Vietnam).
Another perk of the trek was seeing the famous (or at least they should be famous) zebra horses. Half zebra, half horse, these majestic animals gallop throughout the streets They're actually just horses that the locals paint black stripes onto. Yes, they paint them. Seriously. You can almost smell the shame and depression emanating from these guys.
Walking the streets and sidewalks of Dalat felt like we were dropped into a mid-sized American city in the fall, save for the motorbikes outnumbering the cars. It's an easygoing spot, and a surprisingly walkable city (contrary to what we had read in guidebooks prior to our arrival).
The Switzerland and Paris comparisons are definitely a stretch, but the city does have a more European look and feel than anywhere else we have been in SE Asia to date, what with the lush parks and peaceful lakeside. Another atypical SE Asian quality it boasts? They produce wine locally. (EDITOR'S NOTE: Clearly Dave's post, as he didn't LEAD with the nugget that this is the first Asian city we've visited to produce wine locally, making it the only affordable place to purchase wine in the last 3 months. THAT'S HEADLINE MATERIAL.) We love us some bia hois, but you can't beat $3 bottles of local red wine. (EDITOR'S NOTE: PREACH! Hallelujah, Amen.) And that's not the only local staple that's been scarce in this region thus far – strawberries also hold a seat at that table. They were sold on almost every street corner we passed, and for good reason. We wasted no time in sampling some, as our first purchase in the city was a strawberry sihn to (essentially a strawberry smoothie), which did not disappoint.
Like every other place we've been, our daily exploration was centered around food. But the most surprising part of our food-driven walks around the city was the shockingly patient and hands-off approach of the vendors. We'd become accustomed to people yelling at us, walking side by side with us to pressure you into buying their products. (EDITOR'S NOTE: Ignore them and just walk on you say? Perhaps we haven't met. The obsessive pleaser in me insists on listing the justifications for not buying their particular goods, "we just ate," "maybe we'll come back later," or "thanks, but that looks like a pig's eyeball.") The laid back locals' approach was a welcome breath of fresh air. Clean, cool, crisp fresh air. And speaking of the weather, we were spoiled with clear skies and humidity-free temps in the 70s the entire time we were there, so we took advantage of it with some strolls and reading around Xuan Huang Lake in the middle of town, a stop at the Dalat Flower Garden and a quick "this-feels-like-a-trick" tour of the notorious Crazy House (picture something like Willy Wonka's summer home).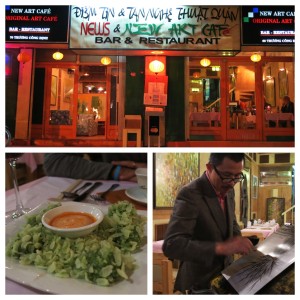 But back to the food… as a general rule in Vietnam, the street food almost always trumps sit-down restaurants. We decided to make exceptions for a couple places here though that are worth checking out. First up was Art Café, where we sipped on $1 glasses of local wine and a soon-to-be-recreated-app for us to try making ourselves when we get home: snowballs. Minced pork rolled into mini meatballs covered on the outside with rice krispy-like rice puffs and chili sauce for dipping on the side. Ma-nom-a-nom. The owner is an accomplished artist who covered the walls of his restaurant with his own works, and completes every meal by painting table-side with nothing more than a couple tupperware full of ink and rags and his index finger as the brush. Unfortunately that whole "packing all possessions for one year into one bag" thing prevented us from taking them home, but we still appreciated the personal touch.
For our last dinner in town. we sought out a local bbq restaurant named Quan Nuong Ngoi Cu Doc (simple to remember, right?) that we'd read about on another blog. Just like one of our favorite Luang Prabang restaurants, this one involved bbq-ing over open flame in the middle of our table. But unlike Lao Lao Garden, we were working with local beef and far-from-local crocodile here.  The atmosphere of the place was alive – as the only westerners in the entire restaurant, it felt like we had stumbled into a Vietnamese version of a back-alley speakeasy, with all the locals hooting and hollering at their tables while chugging (literally, chugging in many cases) their beers as the meat cooked on the table. And English was not an option. Thankfully, we were seated next to a local Vietnamese man who had been living in Australia, so, armed with English, he translated and helped us get a delicious mix of meats and veggies.
And, then there was of course more food. Some highlights from here that we hadn't found elsewhere:
Banh Trang Nuong – we found these tortilla-sized pieces of rice paper being grilled over hot coals in a large cinder block on the sidewalk (like much of the street food we've been inhaling around the country) a short walk away from our hotel. This cute older woman was making her masterpiece with a cracked egg, chili, spreadable cheese and some sort of paté on top. Served newspaper on a tin platter with scissors to cut into pieces as we wished, it also came with a side of chili sauce to dip into. Not only delicious, but it was one of our only times we've gotten to enjoy a longer sitting experience for local street food since we were about 10th in line at her popular corner, so we did our best to fit in with the crowd and just watch life go by while being mesmerized by the master chef's work.
Sticky Rice Sugar Bomb Sandwiches – I think the real name is actually xoi, but I'm not sure exactly what type of xoi it was. Regardless, I. Am. Ob. Sessed. Start with a sesame seed pastry, split it in half and fill it with white and purple sticky rice, top with a spoonful each of sugar, shaved coconut (we think), cinnamon sugar (we think) and some other yellow-colored seasoning (we have no clue), yogurt and some sort of soft cheese. There are no words. And even just describing it is making me long for this food coma-inducing treat.
Banh Bao – We have had baos at home and seen them elsewhere around Vietnam, but for whatever reason we didn't give these a shot until Dalat. But we more than made up for lost time by getting a couple a day, complete with the minced meat and quail egg in each one. (EDITOR'S NOTE: At one point on the way to dinner, Dave said, "we'll get a bao for walking food. Because, duh." BECAUSE YOU DON'T NEED A REASON FOR BAOS.)
Dalat was just what we needed in the middle of our Vietnamese tour – quieter and more laid back than the big cities, and an opportunity to live as if we were home by "watching tv" and having plenty of time to Skype with friends and family from back home. Fully recharged, we were ready for the trip south to Saigon.