We've Got Friends in Laos Places…
by Dave
November 8 – 19
…where the Lao Lao whiskey burns and the Beerlao chases.
There's slow, and thennnn there's slowwwwww. We chose the latter in Luang Prabang. In related news, Laos' official name is in fact, Laos People's Democratic Republic, but the locals got all entrepreneurial and capitalized on an acronym that would excuse their habit of running late and joke that PDR actually stands for "Please Don't Rush." And who are we to argue with a national motto? So we got into town and decided to pump the brakes and drive slow… homie. In a surprise development that snuck up on us like a sloth surprising a tree branch, we found ourselves stationed in this northern Laos gem of a city for (wait for it) 12 days. So yeah, we did some things. And we mixed in some days where we did no things, which was also quite nice.
After the leisurely pace we carried through Vientiane while catching up with friends from home, and an even slower experience in Vang Vieng, we were definitely nowhere near being in desperate need of some down time. But it just kinda happened. On the other hand, we did have a lot going on in LP – we hung out with three (count 'em – three!) couples from the motherland, ventured off to explore nearby waterfalls, climbed ontopova-moun-ten (ok, maybe not a mountain, but a lookout point nonetheless)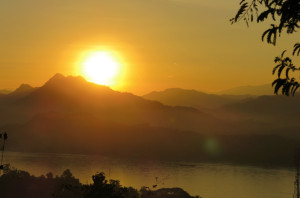 in the middle of town, walked up and down the famed night market approximately 48 times, watched an awkward fashion show at a backyard bar followed by some local break dancers upstaging them, witnessed local monks accepting alms at sunrise and mixed in some good eats and sips along the way. Add in Noelle's birthday and our 1-year anniversary, and we filled up our time quite easily. Oh, and we went for a run once. So that was nice. These physiques don't make themselves, folks.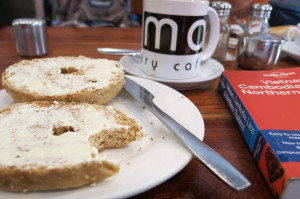 Luang Prabang is an easy city to warm up to, where everything is walkable and the countless cafes, street food stands (less intimidating than the ones we passed up in India) and restaurants line the streets in the shadows of the city's numerous wats.
The main part of town is located on a peninsula between the Nam Khan and Mekong rivers, so there are great views of the water everywhere you turn. The beauty of this city is that you can fully embrace a breakneck pace of sightseeing in and around the main drag, or you can go the other way and have an amazing day watching the world go by from a cozy café with cheap eats, a coffee or a Beerlao. We did a little bit of both.
But the best part of the entire stay was the company. It's still hard to believe that a place just over 8,100 miles from home would turn out to be where we'd cross paths with the most familiar faces during this year, but it just so happened that we got to see our good friends Carrie and George from Chicago, Pat and Brenda from Rochester, and meet some new friends in Charles and Kate from Denver (who are on a trip just like ours, even having left the same day we did, which you can follow here).
While meeting up with the other two couples was planned in advance, Pat and Brenda provided an unexpected surprise when we literally just saw them walking down the street. We'd been in touch about our respective travels in SE Asia, but it seemed at the time the stars would not align for us to get together. But as long-term travel goes, both of us changed plans along the way, putting us in Luang Prabang on overlapping days. After catching up over drinks and some local grub, the four of us made plans to go chasing waterfalls the next day (bite your tongues, TLC).
Some of the best scenery on offer around Luang Prabang can be found just outside the main city limits. Rent a motorbike and you're off wandering the dirt roads, small villages and most notably, nearby waterfalls, Tat Se and Kuang Si.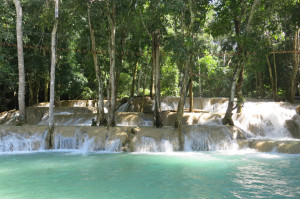 Tat Se was up first, and really more by accident than anything. With our sights set on visiting Kuang Si (the bigger, more popular falls), we negotiated the price of a tuk-tuk ride with a driver, only realizing something got lost in translation when we pulled up next to the entrance sign for Tat Se… 45 km in the opposite direction. We quickly got over the miscue since, what the hell else were we gonna do? It was sunny, it was hot, and it was still a waterfall. And as you can see from the pictures, the scenery helped us get over the unintended detour we had taken. Plus, the trails around these falls gave for a good afternoon hike.
Still, the four of us rectified the mix-up a couple days later by renting motorbikes (cutting out the middle man) and heading to Kuang Si. The multiple pools of emerald green waters were stunning. And the ride there and back provided more amazingly green scenery with rice paddies and small local villages along the way. While we enjoyed our time at both falls, Kuang Si definitely gets our vote if you only time for one.
Just as Pat and Brenda were leaving town, Carrie and George were arriving. Seeing the two of them felt like we'd barely missed a beat and were quickly caught up on the happenings of home. In between their adventures around the city on this short stop of their SE Asian belated honeymoon, we were lucky enough to meet for two dinners and again for breakfast on their last day in town. We also got a toiletry refill from their complimentary offerings at their hotel (no, we're not ashamed to admit this), which was a plus.
And before the echoes of our goodbyes to them had faded (EDITOR'S NOTE: My campaign to get them to abandon their plans and stay and play fell on deaf ears, sigh.), we were getting ready to meet Charles and Kate for dinner that evening. After getting a friendly email a couple months back from these strangers who had found our blog, we kept in touch and realized our itineraries would overlap in Laos. And after the totally awkward blind/first date sweats, we quickly realized we had more in common than the fact we were both taking a year-long trip abroad. They joined us just in time to celebrate Noelle's birthday over some delicious $1 stir fry at the notorious night market followed by some wine and beers at a local watering hole to trade travel stories. Charles and I commiserated about our struggles to cope with Chipotle withdrawal issues, while Kate and Noelle are both still in search of decent Asian wine (EDITOR'S NOTE: And cheese. Always cheese.). Needless to say, we ended up meeting them out for their remaining evenings in town, making fast friends with our fellow travelers and are working on plans to meet again in the coming months.
While we loved all the company, we also had plenty to do just the two of us including a little celebrating. Our 1-year anniversary fell right in the middle of this stop, and to celebrate we treated ourselves to a traditional Laos massage (EDITOR'S NOTE: Especially excellent for those who enjoy a good knuckle press direct to the muscle, making it impossible to relax. I know – who doesn't??). And thanks to the generous anniversary tradition from my parents, we followed this with a delicious dinner on the shores of the Mekong that included (among other delicious things) real, actual, decent South African red wine. At least it was to us – it had been so long since we had it that we may not be the best judges of quality at this point (clearly the trend continued with Carrie and George days later, but as we never know where our next good fix is coming from, we savored every sip.). Regardless, it was a great setting for us to ring in the first of a few years (like at least 10 we think) year of a lifetime of marriage.
Amidst all the time spent with our fellow travelers and just as the two of us, we were able to enjoy one of the other highlights of the city – the food (I know, I know. This seems to be a highlight for us everywhere we go.). The French influence in Luang Prabang still apparent with the baguettes, croissants and pastries at the countless coffee shops in town. The green curries were consistently incredible. The fish (whether it was steamed in banana leaves, or skewered and grilled on the side of the street) rarely disappointed. And the sticky rice, because… just, sticky rice. We even did some grilling of our own at a local BBQ restaurant.
And of course, we weren't shy about showing our affection to the Beerlao to wash it all down. We finally gave Lao coffee a shot, too. What makes it Lao coffee, you ask? Just a dump truck load of sugar and condensed milk. While sweet and tasty for a few sips, we had trouble warming up to the layer of condensed milk at the bottom of our mug that seemed reluctant to dissolve into the coffee itself.
As a final activity before parting ways with the city that had threatened to swallow us forever, we finally got ourselves out of bed early enough to observe the daily giving of alms to the local Buddhist monks which happens every morning at sunrise. Sounds peaceful, right?
Wrong.
What we thought would be a great taste of some local culture ended up leaving us cold. The centuries-old tradition of giving alms finds locals lining the sidewalks and offering rice to the procession of monks as they make their way to the monastery, to show humbleness and respect to them and what they represent. As tourism has grown, visitors, like us, naturally want to get a look at it. Which is all fine and good if people respect the tradition and keep their distances from the ceremony.
Someone didn't get the memo.
Instead of observing quietly from a distance, we saw vanloads of tourists piling out and pushing within a foot or two of the monks to snap photos with the flash paparazzi-style. You could tell the monks felt uncomfortable. It felt dirty, it felt wrong, we felt terrible for even watching it. At the end of the day, I'm sure they appreciated the donations, but the tradition clearly has changed as more and more tourists elbow their way in.
(EDITOR'S NOTE: And yes, I realize that these photos contradict our sentiments, but I promise the few photos we captured were taken at max zoom range).
Seeing old friends and meeting new ones (EDITOR'S NOTE: When I started singing "Make New Friends, But Keep the Old…," Dave looked at me blankly. Can I get an AMEN from all my Girl Scouts out there??!!) had reenergized us, and we were excited to plan out our time in the next country we'd visit: Vietnam. But before that would begin, we were off to a couple sleepy towns in northeastern Laos for some more scenic river views.