A Proper Vietnamese Send-Off, Served Sandy-Side Up
by Noelle
December 21 – 24
Our great escape from the bustling noise of Ho Chi Minh City came in the form of an (thankfully uneventful) overnight bus and ridiculously choppy ferry ride (the plastic baggies they passed out to every passenger soon identified their purpose) (EDITOR'S NOTE: Never in my life have I seen and – more repulsively – heard so. many… well, you know what I mean. It's a ride that I would love to, but likely will never be able to forget.) and was rewarded with a few lazy, insanely beautiful days on the beautiful island of Phu Quoc.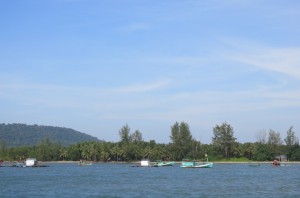 The largest island in Vietnam, this sandy oasis is located off the southwestern coast of the country, and just 12k from the Cambodian coast, it also made convenient our imminent move to our next SE Asian country. In fact, the island suffers an identity crisis due to both Vietnam and Cambodia staking a historical claim to it and the surrounding waters (some Cambodians still consider it their territory – and geographically, we see their point).  Nonetheless, border control (our main audience of concern at the time) considered it our final stop in Vietnam and we arrived in the island town of Duong Dong midday, ready to get our tan on.
With the past few months of Asian travels finally catching up with us, we made these last-minute plans to finish our time in our beloved Vietnam by stretching our pho-stuffed, vendor-weary, tired bodies on the warm sand for a full 72 hours before Vietnam made us leave (our visas expired on Christmas Eve or you'd still find me beachside eating fresh pineapple and mangoes by the pound while the warm waters of the Gulf of Thailand lapped at my feet. I mean – IT'S CHRISTMAS PEOPLE – WHERE'S YOUR HOLIDAY SPIRIT??).
I don't have a whole lot else to say about our time on this piece of paradise, so I'll keep it short.
During the day, we did a lot of this:
Then at dusk approached, we settled in to watch these (you too should settle in):
Then after the sun sank to rise again over our friends and family back home, we headed to the  incredible Night Market – pretty much the only game in town – and hand-picked fresh seafood to hold the honor of our evening's meal that looked something like this: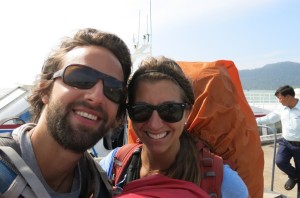 That about does it. And it was glorious. What a beautiful, poetic way to end our time in the country that blew us away. We loved every stop of our Vietnam adventure: the street-food haven of Hanoi, stunning Halong Bay, adorable and lantern-lit Hoi An, lazy and delectable Dalat, bustling and exhausting Saigon and finally the peaceful retreat of Phu Quoc.
We'll meet again, Vietnam. But for now, thanks for the memories.
This post is dedicated to my Pho-addicted partner-in-crime. 4 life. Thanks for taking on Vietnam with me – I'm sorry they made us leave.