Stroking the embers of December
by Dave and Noelle
Time for your monthly installation of Bauer self-indulgence. December saw us through one of our favorite countries yet – Vietnam – and we'll do anything to keep the flame of last month alive. Below are our favorite moments from the 31 days of a month typically spent bundled up and fighting off colds back in Chicago. This time, much of it revolved around eating. We made memories doing other stuff too. A few.
Check it out…
She Says:
10. On our last morning in Hoi An, Dave and I saddled up on the guesthouse's bikes and pedaled out to An Bang beach. After reaching our sandy destination, we happened upon a rousing rendition of "We Wish You a Merry Christmas" from some Vietnamese children. Realizing that holiday traditions weren't limited to just the familiar helped me miss home a little less.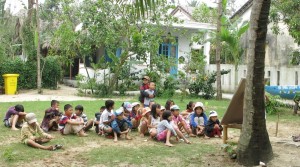 9. Our comfy bed in Dalat (IT EVEN SPORTED A RARELY-SEEN-IN-THE-ASIAN-WILD COMFORTER! IT WAS FLUFFY!) was bliss. I think it's a misconception that when you travel long-term, every day is filled with sightseeing or adventure. You need to decompress, just like at home. So our day spent in that heavenly bed with a cheap Dalat red and a Netflix lineup of Scandal: Season 1, was easily Top 10 material.
8. After a delicious dinner taken on our cozy junk boat in Halong Bay, Dave and I settled into a couple seats overlooking the peaceful bay – the sky littered with stars – with good books and a bootleg bottle of wine (that Dave had negotiated from the row boat vendor – I love this man).
7. In our search for an elusive street vendor in Dalat, we thought we finally scored big as we squatted on a couple plastic chairs in the back room of a hole-in-the-wall (like – literally – there was a hole in the wall and we walked into it.). We quickly realized they didn't even sell food, but the back room was packed with locals with Hanoi beers in hand and empties covering aluminum table tops (mind you, at 11 am) staring at us with naked interest. Sooooo naturally….when in Rome Vietnam…
6. One of my most memorable dining experiences (of life) will remain our ridiculous meal at Ba Le Well. Moments after sitting down with our fellow traveling friends, Pat & Brenda, we were greeted with hot plates of BBQ pork skewers, crispy folds of oily bahn xeo, drippingly-delicious fried spring rolls, slivers of bright red peppers and roughly ripped cilantro…all without placing an order. Dave's face was stuffed forcibly by our aggressive host as the rest of us wrapped it all in rice paper and ate ourselves into oblivion.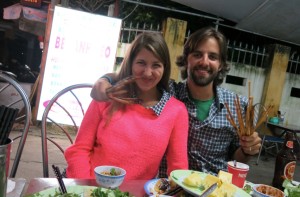 5. Although we were missing home at Christmas, our tasty meal at the Rusty Keyhole in Kampot, Cambodia eased our wistful longings. The crowded plate of New Zealand lamb, succulent pork, mashed potatoes and steamed veggies gave us the rice-and-noodles-less meal we needed. Plus, sharing a glass of wine or two trading travel stories with the NZ couple at the table next to us gave us the distraction to match.
4. The first moment of hitting the beach in Phu Quoc was my spirit animal. I am a sucker for sand and sun, and after a month-long stretch of pavement, loud noises and enough vendor hawking to last a lifetime, this lazy respite provided the ideal setting for peaceful recharging.
3. Vietnamese street food. Yes, it made last month's November top 10 list. You'd do it too. A highlight would be the "pizza" street vendor in Dalat. She was everything I want in a street vendor. Quick, efficient, smiley, and ADAMANT that you enjoy what mama's cookin'.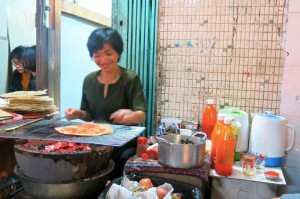 2. After baking ourselves appropriately during the first afternoon on Phu Quoc, we took in a mind-blowing sunset, showcasing God's full color palate before making our way to the night market where Dave negotiated a still-swimming barracuda for our night's meal. I shouldn't have to explain why these things are awesome.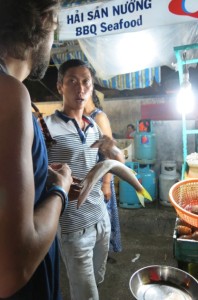 1. Celebrating Christmas with a motorbike trip to the Kep crab market. Eating fresh crab (literally pulled fresh from the sea and thrown directly into the pot for us) seaside while wearing Santa hats was a memorable way to spend our holiday away from home. Who needs Santa when you have this guy?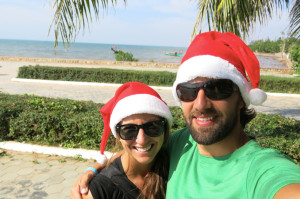 He Says:
10. Our victory lap in Hanoi. This is kind of like cheating to put this on this list since we pretty much left the city in November, but upon returning to Hanoi after our cruise in Halong Bay in early December, we quickly pushed our previously booked overnight bus back a day to allow ourselves one last day to roam the streets of the Old Quarter and enjoy the amazing street food the city has to offer. Five days in November just wasn't enough.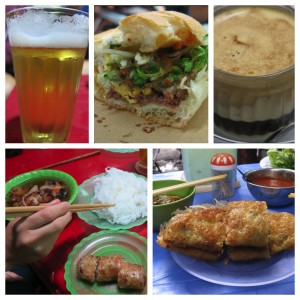 9. Being able to Skype and call our families on and around Christmas made the holidays more than bearable for us on the road. Grandparents, parents, siblings… you name it, we talked to them. I'm still a little amazed at how easy it has been to stay in touch with our loved ones while we're thousands of miles away for so long.
8. Our date night in Phnom Penh, planned by Noelle. One of the benefits of SE Asian travel is the cheap cost of just about everything. But every now and again, it's nice to be able to say something like "Hell yes, I'll have a martini, some calamari and some oysters."
7. Walking around Hoi An's Old Quarter. This area of Hoi An isn't open to any motorized vehicles, which was a welcome change after the insane traffic and crowded streets of Hanoi we had just left. Combine that with the lanterns lighting the streets at night and the many bars, shops and restaurants lining the streets and you have a quaint little city that definitely warrants the hype.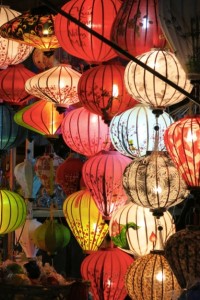 6. Our dinner with Pat and Brenda at Ba Le Well in Hoi An.  We had all read about this place and its great reviews, but had no clue what we were in for. Once we finally tracked it down, we were seated at a table immediately. No more than 30 seconds after sitting down we were bombarded with plates of skewered pork, vegetables, rice paper, sauces and spring rolls. There is no ordering food here, only eating. You can read more about it in Noelle's post, but it was easily one of our best and likely the most entertaining meal we had all month.
5. Recharging the batteries in Dalat. At six days, this was our longest stay in one location in December, and on the surface it seems like an odd choice for an extended stay but we were in need of some down time after… well, maybe saying we "needed" down time is a stretch, but it was nice to make time to Skype with a lot of friends and family, watch some shows and movies on Netflix and even find some time to work out for the first time in a long time while we were here. Our amazing bed and comforter at Dreams Hotel also made it hard to justify leaving. And because it's Vietnam, the food also did not suck.
4. Our three days in Phu Quoc nicely wrapped the bow on our time in Vietnam. We would have loved Phu Quoc no matter when we went, but sometimes timing can be everything and getting to this sleepy island for lazy days on the beach and scrumptious seafood at the night market right after the madness that is Ho Chi Minh City made it all the better.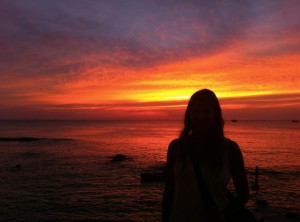 3. Christmas in Kampot and Kep. As far non-traditional holiday celebrations go, this was a good one. We would have loved to have spent the holidays with our families, but Skype calls and video chats had to suffice when we had down time between motorbiking between these two small coastal towns with Santa hats in tow. It also helped that we ate the best steamed crab I've ever had in my life.
2. Our Halong Bay cruise stands out for multiple reasons, but more than anything it was great to get out on the water for the first time really since Greece back in September. We had great luck with the sunny skies and calm waters. The only downside was that we were only able to sleep on the boat for two nights. If we had our way and weren't working on a budget, two nights could have quickly turned into two weeks.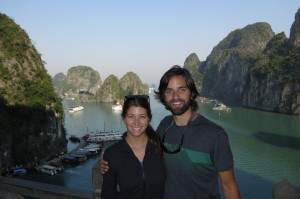 1. Vietnamese food takes the cake for me in December. As we've highlighted in pretty much every single post this month, our opinion of each city we visited has largely been dependent on our meals and snacks. Whether it was the pho or bun cha in Hanoi, the cau lau in Hoi An, the banh trang nuong, sugar bomb sandwiches  and baos in Dalat, the pho again in Ho Chi Minh City or anything else we tried, it will be hard to top Vietnamese food the rest of the trip.