(Thai)sland Introduction
by Dave
January 6 – 10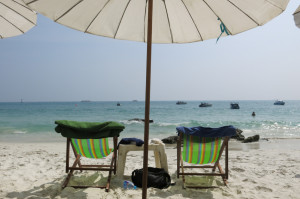 Hello, Thailand. It's nice to see you again. A little over five years ago I spent a few weeks in Thailand and loved everything about it, so I was excited to get back and enjoy a second tour with m'lady. A few of our stops will be in places I have already been to, but our first one was new to both us. We figured we'd start our Thai adventure in style at one of the islands for which the country is famous, and after a "who's who" of Thai island review, we honed in on Koh Samet. Because of Samet's close proximity to Bangkok, the island idyll a popular weekend getaway for Bangkokians Bangkocians Bangkokites people from Bangkok. And by dumb luck, we timed our visit so that it started on a Monday, so less crowds. Point, Dave and Noelle. (EDITOR'S NOTE: But maybe we call it a draw after the ill-spent evening on Khao San Road before catching our connecting transportation to our island getaway, where I became acutely aware that I am absolutely not cool enough for Bangkok's popular backpacker district…nor do I own shorts short enough…but more on that when we return to the capital in a few weeks. Definitely, definitely, no points earned.).
Surprisingly underdeveloped, there are few cars navigating the single dirt road that crawls across the island. Beach-hopping from cove to sandy cove that line the Eastern coast is done by foot, and views of the jungle interior are always just a glance away. One reason for the minimal development on most of the island may be due to its designation as a national park, which also means all visitors are charged a 200 baht fee upon entry (setting you back a modest $6).
We found a cheap room on Ao Phai beach, we ate mediocre food that was more expensive than it should have been while overlooking the clear, blue Gulf of Thailand waters and we spent plenty of time on the beach.
I wish I had more to share, but when you spend four nights somewhere and eat most of your meals in the same place and sit the beach all day, there's not much to talk about. Soooo, yeah.