Wats Up, 2014?
by Noelle
December 30 – January 2
Kompong Cham
Chances are, if you're in a Southeast Asian city you're not in love with, you can take a short ride out of town to another one that will earn a coveted spot on your crush list. So, not ready for the noisy, overpriced New Year's Eve celebrations that Phnom Penh promised, we hoisted our ever-growing packs (but I needed that Vietnamese noodle mummy sweatshirt!) on our backs and boarded a short bus ride to Kompong Cham. Never heard of it? Turns out, it's for good reason (the bus ticket saleslady's "oh, are you going there for work?" should have tipped us off).
So, let me start again.
Chances are, if you're in a Southeast Asian city you're not in love with, you can take a short ride out of town to another SE Asian city that is waiting to crush your adventurer's spirit.
Sigh.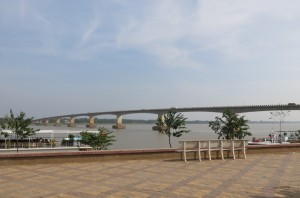 It was with good intent that we headed to the little-known riverside town to ring in the New Year. We wanted quiet. We wanted to walk among Cambodian people without tripping over other westerners. We wanted quaint and atmospheric. We got the first two in spades. The third – not so much. It seems that this once-bustling trading port (back when the French had their way in the late 1800s to mid 1900s) has been left in the dust to big sisters Battambang and Siem Reap. Quite literally. It's dusty. While it remains a travel hub for local travel (thanks to the first and only bridge spanning the Mekong's width in Cambodia), it's largely a place where people just pass on through.
Not that this town spread along the banks of the Mekong River was without merit. We ate tentatively (after our recent bout with food poisoning in the country's capitol a couple days prior), but tastily, with flavorful lok lak and curries and caught the most entertaining display of sidewalk aerobics to have ever been.
What are my credentials for judging the lazy, synchronized movements of these middle-aged ladies? My mom was an 80's jazzercise instructor. No further resume entries needed. Consider me hired (and still able to flawlessly execute the routines to Paula Abdul's "Cold Hearted Snake" in my sleep). 
But when it came to New Year's Eve celebrations, the city was a snooze. We were off the sauce (reasons stated above), but we thought there'd be some sort of expat celebrations. But then we realized – THERE ARE NO EXPATS. So, "authentic?" We got. And were in bed by 11 pm. CONTAIN YOUR JEALOUSY.
However, the few lazy days of strolling the river walk, exploring the quiet streets as locals went about their business of….whatever it is this town's business is….were rightly timed before we re-entered the world of obscene tourism as we set out for the main attraction of travelers to this compact Buddhist country – Angkor Wat.
Siem Reap/Angkor Wat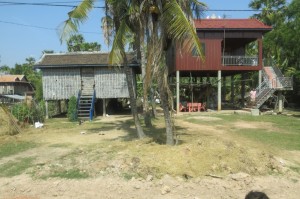 Our ride from the southeast corner of this dusty Khmer country showcased the underdeveloped countryside, with its stilted houses (to prevent flood damage during wet season) and array of plants and vegetation. Gone were the rolling green hills of Vietnam, replaced by the low-lying central plains that characterize Cambodia.
Siem Reap's economy has boomed since the Civil War ended in the late '80s and travelers were emboldened to travel to this war-torn country (more on its history in Dave's last post here). Home to the UNESCO World Heritage Site of the famed Angkor Wat and other ancient temples, Siem Reap is a big contributor to the #2 source of income for the country (tourism is second only to textiles).
And we couldn't be more glad it's now in heavy SE Asian rotation. We loved it. The gaudily lit Pub Street filled with Cambodian and Western restaurants alike (the dollar is accepted – and even preferred – everywhere over the Cambodian riel), and countless places to sip cold Angkor beers and watch the camera-carrying cattle herd by. Touristy it may be, but something about the city makes this okay. Maybe because of its balance with the history-rich Angkor temples? Or that you can still get lost in the Old Market among the local women lazily selling the day's specials? Or that you can still pull up a chair to a communal table where frog is on the menu? (EDITOR'S NOTE: Or that you can eat sushi, Mexican, Indian and Italian food in less than three days after a steady diet of Cambodian and Vietnamese for the past month? Perhaps that? Definitely that. We liked that.) Whatever it is, it worked for us.
After our amphibious lunch and wanderings, we indulged in the Cambodian tradition of a fish massage. Giving hundreds of fish an Old Country Buffet-style meal on your feet's dead skin. It was gross.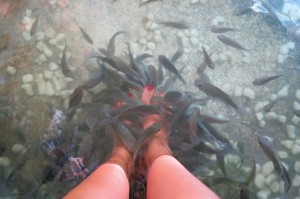 It tickled like crazy.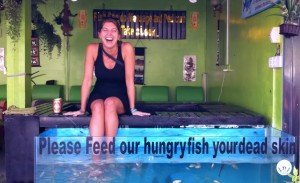 It was amazing.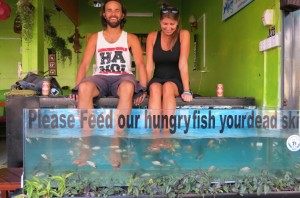 It was well worth the $3 (for both of us, including a beer…there is no excuse NOT to do this).
And then? BUBBLES! Seriously…it's harder to find a glass of prosecco on a SE Asian menu than it was to spot the King of the Jungle during our time in Africa. Come to think of it, THIS is maybe what made the tourist traffic doable? Hmmmmm.
After spending our first full day strolling the Old Market and letting fish have their way with our extremities, we were ready to take on the temples. Up before sunrise the next morning, we biked the silent, dark streets, making our way to the mother of them all – Angkor Wat – in hopes to catch a dazzling sunrise over the infamous temple.
The hush that settled around the pond hugging the "Temple City" was palpable (an incredible feat for the hundreds of tourists gathered in one spot), and the mass anticipation for the sun to peak above the sandstone spires was tangible. It's nearly impossible for me to ever agree something is worth rising in the 4 o'clock hour for – and this doesn't break that steadfast belief. That said, there is something special about being before a centuries-old temple as the sun meets the day. But you could also get everything you need at like, 1 pm. We actually came back in the afternoon for a few key photos when the light was better (because you know, we're like TOTALLY photographers now. That's something photographers would say, right?).
After climbing around the moat-protected temple for an hour or so (seriously, they let you climb all over these things…I can only imagine that someone somewhere will have something to say about this sometime very soon. Where you at UNESCO??), we headed onto the next temple in our short line-up. We only had three "must-sees" of the day – short by any temple-goers standards, but others may not have been in their 3rd month of Asian wat overdosage…so BACK OFF. But first, some pics of the main attraction:
Next up? TOMB RAIDER TEMPLE. You know it, you love it, you dream of Angelina Jolie because of it. To sum up, Ta Prohm was really, really cool. The trees are literally growing through the corridors and roofs of the temple as if the jungle had melted right into the infrastructure (basically it was abandoned and forgotten not long after the fall of the Khmer Empire in the 17th century). The destruction this is doing to the late 12th century old-as-dirt temple is evident everywhere, and the buzz overheard from the dozen tour guides we crossed paths with (we're not above eavesdropping) was that there is a plan for removing some of the massive silk-cotton tree trunks to preserve what is left of the leaf-canopied temple.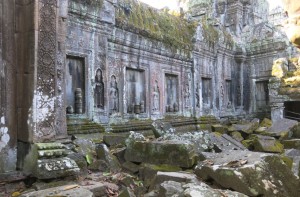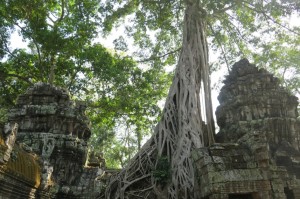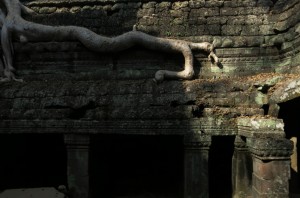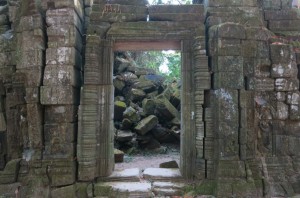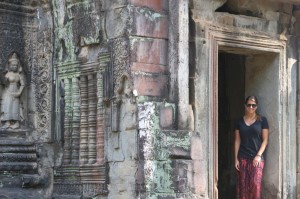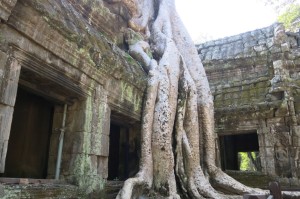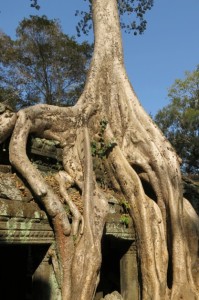 Our final temple found us in a perpetual losing staring contest. Bayon temple, built in the early 12th/late 13th century, was relatively boring until making the climb to the upper terrace where over 216 faces (we stood no chance) are etched into the stone walls. While many of the faces have lost one or more of their parts, it was an incredible sight to behold.
Our wonderment through all of our temple exploration was consistent – imagining the ancient Cambodian people building the massive temples with nothing more than elephants, ropes, pulleys and what their mamas gave them is beyond impressive. Biking back to the city found us contemplative (and hungry, because always), and we will forever remain humbled by the day's experience.
To give our wat-weary feet a rest after our long day of biking and exploring the nooks and crannies of yore, we plopped down for the cheapest foot massage this side of the Mississippi Mekong. I love this place. RUB MY FEET, YOU BEAUTIFUL CAMBODIAN GODDESS AND I WILL GIVE YOU ALL THE WORLDLY THINGS YOU DESIRE! Or at least the 3 dollars you're charging.
We truly adored Siem Reap, and were pleased to leave the city on a high note as we made haste from the SE Asian country that earned the least amount of time on our itinerary. After two short weeks, we were skipping town and heading to Thailand – our last stop in Asia – where the beaches of the south and lush rolling tea paddies of the north waited patiently for our arrival.