A Look Back at January: New Year, New Us…Okay Fine…Same Us, New Top 10
by Noelle and Dave
January 2014
With no New Year's Resolutions made, we were ready for anything 2014 had waiting for us. Split between Cambodia and Thailand, January brought adventures in both SE Asian countries – with some of our most memorable (and most disparate to date) below:
She Says:
10. While Angkor Wat was overall a pretty incredible experience, I would say walking through Ta Prohm was the absolute highlight of our day of touring the ancient temples. The Tomb Raider scenes echoing from the tree roots, we were blown away at the absolute disrepair the sanctuary once so pristine was experiencing. History at its finest, folks.
9.  Watching the sunset aerobics (likened to '80s jazzercize, of which I have extensive experience thanks to my mom's instructor status for much of that decade) in Kampong Cham. It was awesome. It felt authentic. And we totally watched…the whole hour. Twice. You GO girls.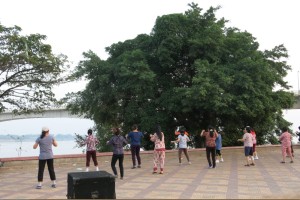 8. Our hippie oasis found in Pai Chan Bungalow in Pai was a paradise that will not soon be lost. Well, except for those hours lost to good books and excellent scenery viewing.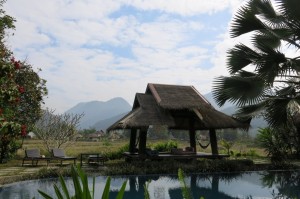 7. Dave planned a romantic date night in Koh Lanta's Old Town. A delicious dinner followed by apple pie and coffee was eclipsed by the experience of riding behind my handsome husband as he cruised the roads home under a star filled sky on our sweet motorbike. It was a moment of true freedom. Moving at a speed unmatched by feet with no effort of my own. A lovely, memorable feeling.
6. Rising before sunrise is a task I find revolting. Apparently my stomach can easily be settled when it's in anticipation of catching the orb's ascent behind the most famous temple on earth – Angkor Wat.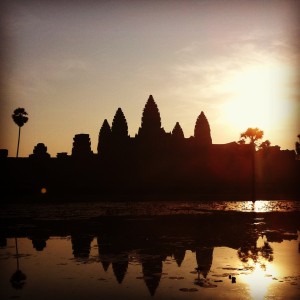 5. Once again, my time on the back of a motorbike has scored a spot on this month's "tops." Our long, winding journey to Pai was filled with amazing views, frigid weather and white-knuckled curves. One of those true "feeling alive" (and holy sh*t!) moments.
4. Spending hours strolling the Sunday Walking Market in Chiang Mai was both culturally and stomach enriching. From sweet coconut balls to mouth-watering Khao Soi to otherworldly fruit smoothies, my palate could barely keep up with my mind as we watched locals hawk their wares.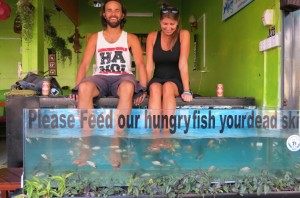 3. I love when people rub my feet. And as I have yet to have a pedicure in my long 10-month sojourn from home, our funky fish massage and then a good old fashioned foot rub were MUCH appreciated. Coveted, really. Enough for a number 3 spot.
2. I will remember the moment Dave's dad, Monty, walked off the elevator in the JW Marriott and we saw him in person for the first time in 9 months. It was just like the movies – heart leaps, tears spring, hugs ensue. There is nothing like seeing family while so far from home.
1. And sorry Monty, but the moment of witnessing your appearance was quickly trumped, likely only because we'd gotten that emotional reunion out of the way. So I bring you: the first hours at Bangkok's JWMarriott, where Monty so kindly played host to us for a week. Bliss. So you can fathom the awesomeness, I'll give you a glimpse. The itinerary was as follows: early arrival meant lounging in the Executive Suite for a full buffet breakfast and as much coffee as I could drink (which is a lot), getting to our palatial room and immediately jumping on the luxurious and ginormous bed, long sweaty workout in the state-of-the-art gym, leisurely soak in spa's hot tub with turns in the sauna, steam room and cold plunge pool, long hot shower in the largest shower I'd stepped into in months, lounging in comfy robe before heading back to the Executive Lounge for all the free cheese, sushi and wine I could consume. So this. All of this. You understand, Monty (and all humankind).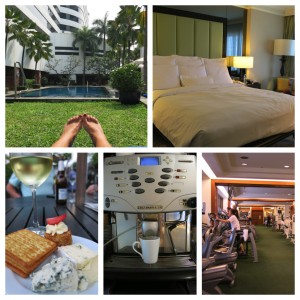 He Says:
10. Sidewalk aerobics in Kompong Cham. Overall, I'd have to say that Kompong Cham was a swing and miss on our part. We wouldn't recommend making time for a visit to this sleepy town on the Mekong for anyone traveling through Cambodia, but you can't knock the local enthusiasm for aerobics in public every night at sunset on the banks of the river. In a mostly forgettable city, getting treated to this on back to back nights was anything but.
9. Our western food revival in Siem Reap and Bangkok. In just two days in Siem Reap we found time to sample some familiar Italian and Mexican eats. And then in Bangkok at the Marriott, we were treated to all sorts of creature comforts like cheese, breakfast pastries, eggs to order and countless other items. We love us some Asian food, but every now and again the tastes of home are even better.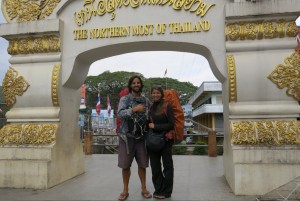 8. Navigating the border run to Burma and rewarding ourselves with a couple quiet days in Mae Salong. Our final stop in the northern half of Thailand was worth the long trek to get there. Mae Salong has tea fields, piece, quiet and relaxation for days, and we soaked up all that we could in our two days, earning that relaxation after a somewhat complicated method of extending our visa eligibility in Thailand by spending less than 10 minutes in Burma (yes, it's as confusing as it sounds).
7. The beaches in Koh Samet were a great introduction to our amazing stay in Thailand. We had plenty of lazy, delightfully uneventful days with little to no decisions to make other than where to lay our towels that day. So we had that going for us. Which was nice.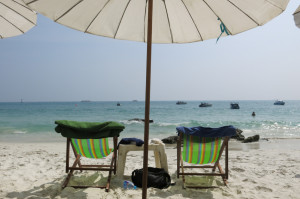 6. Walking Markets in Chiang Mai. A lot of our stop in Chiang Mai was spent walking the streets of the inviting city without a plan, and it usually included stops for amazing food along the way. This was never more apparent than at the Saturday and Sunday Walking Markets that were an experience for the senses. The sights, smells and sounds kept things interesting, but still paled in comparison to the tastes we indulged in along the way.
5. Our day of biking around the Angkor Temples. From our sunrise start at Angkor Wat to the hours of exploring the ruins at Ta Prohm and stone faces of Bayon, we were able to see why the temples attract so much attention. That being said, getting back to Siem Reap in the afternoon for beers and a foot massage after the time in the heat and on the seats of our cheap rental bikes was almost as appealing.
4. Motorbiking to and decompressing in Pai. Our ride up was quite the adventure (as we did our best Lloyd Christmas and Harry Dunne impressions, braving the brisk wind in shorts and minimal layers), with all 762 curves leading us to the chiller than chill atmosphere that gives Pai its character. While we didn't exactly fit right into the hippy-ish crowd, we loved the mountain town so much that we called the motorbike rental company to extend our stay by a day, despite the fact that we had only packed clothes for a 2 night stay. It was hard not to get caught up in the laid back feel of the town, slowing down without having to make much effort as we strolled the street markets or just laid around watching the day go by from a hammock.
3. Khao Soi in Chiang Mai. Easily my favorite food in all of Thailand, and even is giving pho bo a run for its money as my favorite food in all of Asia. Just amazing.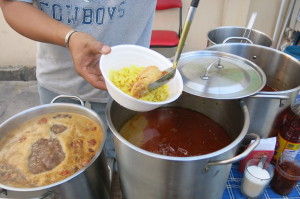 2. Exploring Koh Lanta by motorbike. Koh Lanta was my favorite stop in January, due in large part to our ability to explore the vast (by Thai island standards, at least) island for the three days we had a motorbike. From Long Beach to Old Town, Bamboo Bay and everywhere in between, we saw everything we wanted to and loved every minute.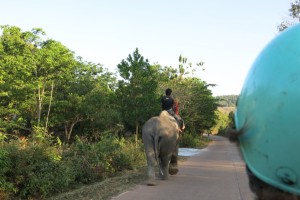 1. If the top spot of this list was ever in question, it was quickly locked in when I brought in the righty out of the bullpen for the win in Bangkok. My dad's visit was memorable for many reasons (staying in a real bed in a Marriott hotel being a big one), but none more so than the fact that we got to spend five days with him that felt more like five weeks after the long spell of not seeing family we had.