Bangkok: Our Thailand Turnstile and Urban Oasis
by Dave
January 22 – 26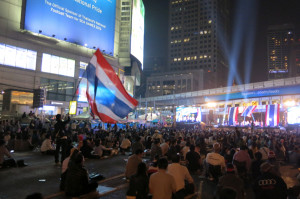 Bangkok is an interesting place. With such a massive sprawl, it can at times seem like multiple smaller cities squished together, each with its own demographics, personality and feel.
We had three separate stays in Bangkok throughout our 37 days in Thailand – twice by necessity (as we quickly found that everything routes through Bangkok), and once by choice and for a visit from a special guest.
It had been a long time since we'd gotten some in-person QT with a member of the Bauer family. Nearly nine months actually. So when we found out my dad would be coming through Bangkok for a work trip, we synced up our schedules to make sure we'd overlap in Thailand's bustling capital city. Our stay with him could not have been more different than our first time through the city weeks earlier.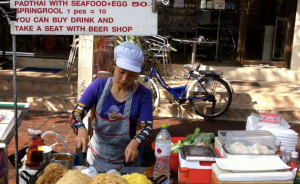 During that first stop through, we stayed in a hostel in the backpacker mecca that is Khao San Rd. If you're backpacking on the cheap through SE Asia, odds are at some point you'll be making the obligatory stop here. It's inexpensive, it's an easy place to meet other travelers (and drink underage, a bonus if we were like, you know, born a decade later…), and you pretty much can't walk down the street without tripping over a cheap pad thai or beer deal. That, and the hip hop and techno pouring out of the bars. Oh, and the dreadlocks. And the tattoos.
Noelle and I have no ink, we skipped our windows of life where dreadlocks would have been dismissed as a phase (whereas if we had them now, there would be reason to worry about where things went off the rails) and we haven't been ones to indulge in techno-playing bars and clubs in the past nine months. So while we didn't have a particularly bad experience on the whole, it's not a place we're itching to return to.
Fast forward a few weeks and we're now across town staying in the Sukhumvit neighborhood. Fresh off what had just been our seventh overnight bus in the past two months, we were ready for the R&R that awaited us at the heavenly oasis more commonly known by it's actual name – the JW Marriott Bangkok. Where do I begin…
We arrive at 8am expecting to bum around the lobby while the room is being made up, but of course it's already ready for check-in. We assumed my dad would be in a morning meeting, but it turns out he's able to duck away to immediately meet us for coffee. Where do we get this coffee? Why, the (chin pushed out, adjusting the knot of my kerchief-matching tie as I say this) Executive Lounge, of course.
Because Monty.
Yup, the old man's still got it. Jokes aside, guys like my dad travel a TON for work and all those miles flown and hotel nights over the years have the nice perk of access to said lounges in these hotels.
Then you have the leeches beneficiaries like Noelle and I, and we were like kids in professional Disneyland. We were pleasantly surprised to find out that with our room, my dad had given us access to the lounge.
This place had it all. And with that amazingly delicious hot coffee, we also enjoyed an endless buffet of croissants, eggs, potatoes, bacon, fruit, cereal… you name it, they have it. And exploiting the limitless options became a regular routine to start each day, followed by a couple hours with some combination of sitting by the pool, working out (in a real gym!) and/or taking the executive workout as I like to call them – a rotation between the sauna, steam room and hot tub. (EDITOR'S NOTE: Oh Bangkok JW Marriott, how do I love thee? Let me count the ways…)
Over the course of the next five nights we would stay here together, the three of us lived it up, out every night painting the town red didn't leave the hotel. You may read that and think we were lazy, or didn't take advantage of being in such a great international city like Bangkok. To you I say without shame, whatever. Nine months of bouncing around between some questionable accommodations (three nights prior to Bangkok we slept on a mattress on the floor of a $3/night room, followed by the previously mentioned overnight bus, for example) makes you want to really soak up and appreciate a few nights on a comfortable mattress with plenty of other creature comforts such as a modern toilet, consistently hot shower and many other things we took for granted at home.
That, plus spending time just hanging and catching up with my dad was higher on the to-do list than touring the sites around town (it helped that my dad took the same work trip a year ago and already saw the sites himself, so no guilt necessary for suggesting we stay on-campus for most of our nights).
Noelle and I did, however, venture out one night to sample some street food that we'd read about in Chinatown. And even then, we were back at the hotel before 10pm, which at this point isn't too surprising since most of our nightlife capabilities didn't fit into our backpacks when we left Chicago.
But one night was all it was. Otherwise we were back in our urban oasis spending time with the MontyDad and his co-workers, catching up poolside and/or over cold drinks and deliciously western food that we had been without for so long. (EDITOR'S NOTE: One night, we went to the lobby's Bangkok version of Benihana. So I ate for about 3 hours non-stop. Because BENIHANA.) Everything we hoped it would be and more.
All of this happened during the peak of the Shutdown Bangkok protests over the elections. While it got a lot of play in international media for being violent, the protesters we saw were consistently peaceful.
Two weeks later we were back (Monty-less) in the capital for one last night before we'd say farewell to Thailand and Asia altogether. Sadly but understandably that last time around we were without the JW Marriott amenities (we did, however, consider many ways of sneaking our way into the lounge for one last run at the cheese board and self-service bar, but to no avail), although we did find an affordable place to stay just down the street.
After a slow day regaining our energy from our – at this point – 10th overnight bus in the previous three and a half months we gave Bangkok one more go 'round by checking out the Soi 38 Night Market and dabbling in some final good Thai eats before our 4am wakeup to get to the airport the next morning.
While the city itself won't be our fondest memory of the region, the five days with my dad won't soon be forgotten. After saying our farewells on that second Bangkok visit, we were headed south for even more R&R – this time on the beaches of Koh Lanta.