Chiang Mai: A Lot to Digest
by Dave
January 11 – 14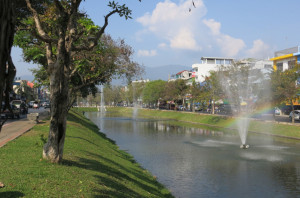 More than we ever could have anticipated, our travels have been guided and gauged by food. We're far from foodies, and we (or at least I) can't describe foods in great detail beyond caveman descriptions like "good" or "want more" or, you know, just happy, incoherent grunts. I actually get physically uncomfortable when I try to act like I can describe the individual ingredients that I can pick up in each bite, let alone trying to discuss the "diverse flavor profile" of a food.
Our itinerary has been influenced by varying levels of research, recommendations from friends, other blogs and random findings on the Google. But at the end of the day, when the belly speaks, the body listens.
And after our forgettable feasting in Koh Samet, the belly wanted more. So naturally, we listened and made haste (the sweaty walk>ferry>minivan>train>sweaty walk>bus>overnight bus>taxi>more sweaty walking kind of haste) to Chiang Mai.
Maybe it's my terrible memory. Or maybe I just wasn't paying close enough attention 5+ years ago. Either way, upon arrival in Chiang Mai my visual memories of my last visit failed me horribly (which opens up a whole other bag of issues to add to my old man tendencies that Noelle chides me about) (EDITOR'S NOTE: And paired with my terrible short-term memory, our 60+-year-old selves are totally screwed). What I remember from the last time around was the motorbiking outside the city and exploring the wats around town. While there was plenty of opportunity to do both this time around as well, we opted for zig-zagging around the streets of this deceptively large and friendly city on foot.
Don't mistake our food-friendly dispositions for a lack of ambition for other activities. For example, the one time I found fried mashed potato balls at the market? Those were sold right in front of Wat Phan Tao.
Or when we got one of our many fruit smoothies? We had to walk through the Wat Phra Singh with the reclining Buddha to find the smoothie stand across the street.
And on one our many food-finding excursions we walked the entire perimeter of Old City. So yeah, we like totally saw the sites around town.
To be fair, we did already know we had a motorbike ride ahead of us for a multi-day trip further north from Chiang Mai. So we were more than ok that the majority of our activities revolved around indulging and sampling the local offerings. Easy to please, and quick to act on impulse, Chiang Mai caters to people like us.
Truth be told, there's a heck of a lot more to explore and visit in Chiang Mai than its cuisine. But if you skip the local grub, you're missing out on the tail that wags the dog. (EDITOR'S NOTE: To supplement our ever-dwindling travel budget, we're simultaneously currently working on an at-home study guide of really awesome metaphors.)
Take the markets, for instance. We arrived on a Saturday, which worked out in our favor by allowing us to experience the full gambit of market-going that Chiang Mai has to offer.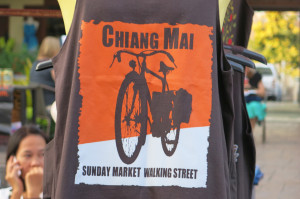 We did the Saturday Market Walking Street, the Sunday Market Walking Street (by far the largest and most comprehensive of markets – definitely try to include this weekend evening in your stay), the nightly South Gate Market, the Warorot Market and another morning fresh food market near the edge of the Old City. The vendors there are either selling food, local souvenirs or clothes, all with smiles on their faces while greeting us with a friendly "Sawadee ka/krap" (hello in Thai), to which we'd typically reply by mumbling something that we hoped sounded correct, but more likely came out sounding like "Zippady-do-da!"
The food vendors were the ones we made acquaintances with most frequently. Rice sausage with green chilis? Dontmindifido.
Mango sticky rice? Hit me.
Fruit shakes? Want.
Curries, fried noodles, pork and veggie skewers, ancient ice cream pop and an official-name-not-known coconut dessert treat? One of each, please.
But all of these pale in comparison to the almighty Khao Soi, a Chiang Mai (and northern Thailand, for that matter) specialty available just about everywhere.
Ingredients include an intoxicating dark broth, a fall-off-the-bone chicken drumstick, fried Chinese egg noodles, diced onions and green veggies all topped off with crispy yellow noodles and what I can only describe as a dash of love. Sprinkle on some crushed red pepper flakes, a sprinkling of fish sauce and a squeeze of a lime and prepare for culinary bliss.
Sure, there are plenty of other things you can do here. Chiang Mai is a popular stop for most out-of-towners' Thailand itineraries for a reason. Bellies full, we were ready to explore more of the region without using food as our guide. So we got ourselves a motorbike and set off for, as irony would have it, a city with a name that sounds like more food: Pai.