Over the River and Through the Woods, to Mae Salong We Go
by Noelle
January 19 – 21
"Lonely Planet is a dying breed…they've been replaced. It's now a big bathroom wall (social media/blogs). Anybody can write on it." – Anthony Bourdain, Medium Raw
Now, while I generally agree with our traveling and food guru (having, in fact, methodically plowed my way through his books during our travels), I have to argue that every once in a while, that big ol' book spotted in every other hand on a busy foreign street can lead you to a diamond in the rough. By flipping through those pages you can find the spots that bloggers DON'T frequent (and then, of course, can do a targeted Google search to find the posts from those who have), and that's exactly what happened with our next destination.
It was in the well-weathered pages of our Lonely Planet Thailand book that we found a small mention of Mae Salong – a tiny, cozy mountain town in northeast Thailand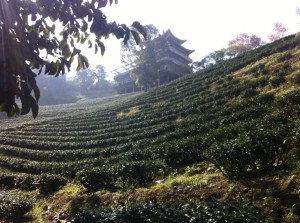 that consists of one unnamed road and tea fields as far as the eye can see. To quote the LP persuasions to make the trip, "it's hilltop setting, Chinese residents, and abundance of hill tribes and tea plantations converge in a unique destination not unlike a small town in southern China's Yunnan Province." Something about the simple paragraphs struck me and although between the two of us, Dave tends to have more passion for our destinations, it was a rare moment when I pointed to a place in a book and we went. But point and go we did.
But, not before a run for the border. And not one that started with a choice between Mild and Hot sauce and ended with cinnamon dust on your fingers.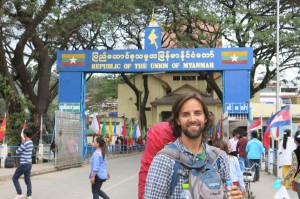 This one was an age-old tradition of the Thai visa border run. Needing to re-up our visas, but not wanting to pay the hefty fee for extensions or the full 60-day visa (30 day visas are now issued for Americans free upon entry at the border but with our total stay netting at 38 days, you can see our dilemma), we departed our beloved Chiang Mai and set off to hopscotch the nearest border – Burma (also known as Myanmar) – for what turned out to be our shortest turn in a country: 10 minutes. And voila – $19 later and we were renewed for another 30 days! (The 19 may sound arbitrary, but the Burmese are very particular about their currencies and will not accept bills with even minute tears or marks. As you can imagine, they've seen their share of money depreciation over time, so we respect the attention to detail. They didn't want our near-pristine $20 and instead took 3 fives and 4 ones that we also were carrying).
Well, shoot. Now I can't stop thinking about tacos.
MMMMMMM tacos.
Where the heck was I? Oh right, back to Mae Salong. Heading south after our whirlwind Burmese tour (And spare me the unsolicited sermon. I know, I know, you haven't LIVED unless you've spent time in Burma/Myanmar…"It's like Thailand 15 years ago…go before it becomes mainstream, man." We hear you. But as a 30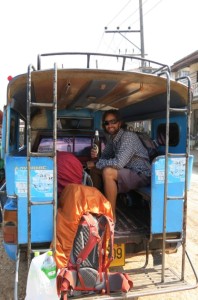 something traveler, the 15-years-ago Thailand economy is not exactly a sales tactic that will work on me. You have your itinerary, we have ours.), we started our strange journey to Mae Salong. This one included being dropped by a minibus at an intersection where we'd been told that usually, a blue songthaew (think pick up truck with tricked out covered back for passengers) would be parked between its infrequent hour-long runs uphill to the sleepy tea town. With little faith that there would even be rumored hoopty at said intersection (THERE WAS!) and convinced we'd have to overpay to get to our final destination (WE DID!), we were relieved to finally arrive in Mae Salong at sunset, settling into the cheapest room on our trip to date (EDITOR'S NOTE: Three dollars! Count 'em: THREE! So for half the price of a Chipotle burrito bowl – I haven't forgotten you, Chipotle – we had a place to lay our heads. So what if it was cold and windy outside and the window didn't fully shut or seal…) for a quick sleep before we walked the remaining distance the next morning to our promised respite of Mae Salong Mountain Home.
It was glorious. With views on all sides of the painstakingly precise rows of tea plants perched on the hillsides, we settled in for a peaceful two days in the crisp climate.
Not long ago, before Mae Salong got into the tea business, it was famous for its opium trade.  The town was originally settled by the Chinese Nationalist soldiers in the 1950's when they were forced to flee to Burma from China (mainly from Yunnan, one of the most southern provinces of China) – subsequently spilling over the borders into Thailand for more available land. These soldiers funded their arms purchases by rubbing shoulders with the local drug lords.
It wasn't until the 70s that the Thai government finally "persuaded" the hill tribes to make the shift from opium to tea production (the rough mountainous terrain and unpaved roads gave the Yunnanese an ability to ignore the attempts from the Thai authorities to suppress the illegal activities for a while). The Chinese influence still lingers, as seen in the local dialect and food, including some Yunnanese sausage and noodle dishes (good) and Yunnan kimchi pork (not so good).
So, we thank you, Lonely Planet, for pointing us toward Mae Salong. We promise to let you sit at our lunch table at school when the other kids are mean to you.