Pai: Thailand's Never Never Land
by Noelle
January 15 – 18
After spending a bit of time in Chiang Mai, we were ready for one of our increasingly-frequent getaways into the great outdoors. We hopped on a motorbike and started the 3-hour winding ride into the mountains, with plans to spend 2 nights in the much talked about town of Pai.
What they DON'T talk about is how once you venture up a few hundred feet and into the thick shade of the trees, it's freezing cold. And since we'd left our bags in Chiang Mai to lighten the load for our short stay in Pai, we had limited clothing. So we rocked layers. Lots of layers.
Oh, and the 125cc motorbike we rented? NOT, in fact, equipped to climb mountains.
But the twisted, frigid journey was well worth the frostbite as we cruised through the lush hillside.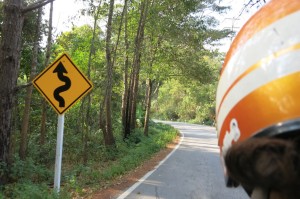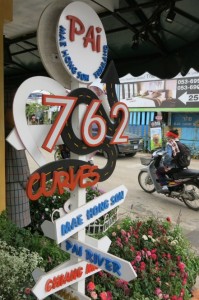 As was the destination. Once a quiet market village, Pai now thrives on tourism, with people of every age making the wanderer's pilgrimage there with the promise of no responsibilities. 762 curves later (literally), we pulled up alongside the daily market and coasted down the center of town.
And right into Peter Pan's freaking Never Never Land.
With nothing but open-air bars playing live music, funky coffee shops offering local teas and coffees and the promise of lazy waterfalls and sexy hot springs nearby, Lost Boys and Girls from around the globe flock to this alternative-lifestyle-friendly, shoes-optional mecca with nothing but time (and likely something a little stronger than Tinkerbell's fairy dust) in their pockets.
Our time was filled with hours reading or dozing on haphazardly-strung hammocks, star-gazing from our porch overlooking the mountains, and strolling the streets of the night market, trying to fit in by rocking genie pants and pulling on my socks and flip flops (I really got into the role…at one point I believe I said to Dave, "If things had been different, I could have totally been a hippie.").  All that, and of course, thinking happy thoughts.
And ever a sucker for a good sunset, we spent an afternoon on the crest of Pai Canyon, watching the sun turn the sky vivid hues of blue, yellow and red and wishing we never had to grow up.
The town is charmingly full of whimsy, displayed in the eccentric hairstyle choices, fanciful shops and bars and the love-themed signage. Pai loves everyone. And everything. Needless to say, two nights turned to three pretty quickly and only the fact that the bike had to be returned eventually brought us back down the mountain.
In the end, we were glad to have chased our shadows to the land frozen in time, and were reluctant to sew them on for good. With only three months left in our year-long travels, we were starting to realize the impending realities and brainstorm frequently how to delay the inevitable.
Our solution?
Just grab the 107 to the 1021 and straight on til morning.
"It is not in doing what you like, but in liking what you do that is the secret of happiness." – J.M. Barrie, Peter Pan