Favorite Things Part II: Beer in Craft Tresses and Blue-Watered Passes
by Noelle
February 23 – 25
Part II:
Alright! We're back with Part II – featuring #2 and #3 – of my three favorite things (the time spent getting the title of this post to rhyme with the Sound of Music classic could be considered embarrassing).  Anyway, if you missed the #1 favorite thing, you probably:
a) are assuming it was wine,
b) are right, and
c) should read Part I before continuing below.
All set? Great. Let's get to it.
2. Craft Beer
In Wellington, we were much impressed by New Zealand's booming craft beer scene. Little did we know, the best was yet to come. Nelson, the oldest city on the South Island and perched on the eastern shores of Tasman Bay, has an epic craft beer trail that highlights New Zealand hops (the surrounding Nelson region produces all of NZ's commercial hops, making up less than 1% of the world market – insane) and hard-working farm families at every turn. For six weeks in early autumn, the farms are busy, frantically harvesting the year's crop. The vines are cut, and then the fragrant bitter flowers are removed and dried.
To get to Nelson from Marlborough, we took a slightly longer route in order to indulge in the picturesque drive along the Queen Charlotte Sound. Whoever first penned the words, "the water glittered" may have been inspired by this very same drive. Enjoying a late picnic lunch perched overlooking the water was a NZ moment we'd been anticipating. Yes, this is attention to scenery before its allotted "favorite things" space, but really, you can't get away from it.
Arrival in Nelson brought Dave immediate reward for his patience in the form of Founder's Brewery on the outskirts of town. An idyllic setting, we enjoyed a (sadly) average IPA and amazing Pilsner while perched on courtyard picnic tables.
After ditching our ride and quickly acquainting ourselves with a stroll through the few main streets of the town, we headed to the place we hadn't been able to escape a recommendation for: Free House. Since opening in 2009, this atmospheric bar has featured 375+ beers from over 55 New Zealand breweries. It was everything we'd been promised. Great beers and piping hot, drippingly cheesy pizza delivered right to your table from the pie shop down the street. We walked back to our cozy van-bed just in time to nod off.
It was really only due course that our good fortune ran out.
Waking early to catch sunrise, we leisurely snapped photos of the rising fire before jumping back in the van to head off on our next adventure. But, as we can now attest, adventures are tough to impart on with a dead battery. When a jump from a nearby grocery owner didn't do the trick, we had a friendly visit from the local AA (shout out to Dale!), only to learn that our calcium battery was unable to fully charge.
Fast forward a few hours – and several free AA-shop coffees later –and we were on a loaner battery (and buzzed on caffeine) until the next day when they'd determine if our original battery was redeemable. As our existing plans had kept us in the nearby area for the next 24 hours anyway, only a slight shift to our plans was necessary, making the situation bearable.  Plus, did I mention we were in the heart of craft beer country?? So we figured things out pretty quick. Below are the results of our consolation in the form of the much-buzzed about Bauer Beer Awards.
(Note: some of these winners would likely be trounced if accounting for our previous ale adventures in Wellington, and pilsner pilgrimages in Christchurch that would follow, but below are the standings exclusively for those brewed exclusively in the Nelson region.):
–       Best Brewery: Hop Federation – A tiny, newcomer brewery nestled among the Motueka hop vines with nowhere to go but up. The easy-going brewer was more than happy to oblige us with a taste of their full profile of beers (at the time of this post that includes a Golden Ale, American Brown Ale, Pale Ale and Red IPA).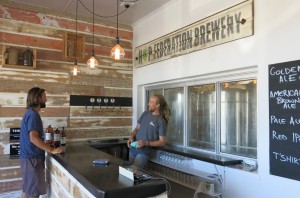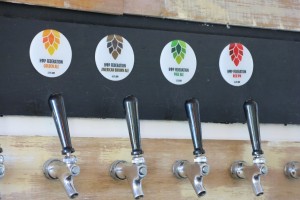 –       Most Unique Brew: McCashin's Stoke Brewery gave us a taste of an accidental concoction that resulted when a coconut flavored beer was errantly run through the lager lines. The result was a cross between cough syrup and sun tan lotion. Unique indeed.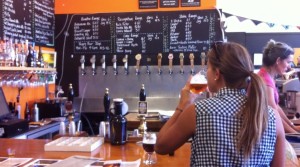 –       Best Cider: Mussel Inn's Freckled Frog Feijoa Cider. It's crazy how prevalent the cider category is in this country. It's not uncommon to see a full table of kiwis sipping on ciders versus traditional ales and lagers. We almost exclusively opt for the latter alternatives, but after our introduction to the unique Feijoa fruit, we were intrigued. Much to our pleasure, the beverage was fizzingly delightful.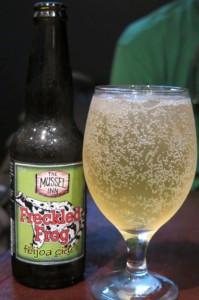 –       Best Bar Vibe: Free House – for many of the reasons listed above. From the comfy perch of our benches, our taste buds traveled virtually across the region. Housed in an old church and showcasing a colorful interior, the place sported a retro-vibe.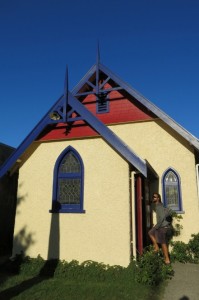 –       Best Brewery Menu: After sampling the Golden Bay brewery's offerings at Free House, we were compelled to make our way to the source of Mussel Inn's creatively crafted beers. The restaurant/brewery was absolutely hopping, with a hearty menu, inviting bonfire and promise of live music later in the evening. The green-lipped mussels and lamb pie paired to perfection with our amber-colored Captain Cooker's and Golden Goose Lager.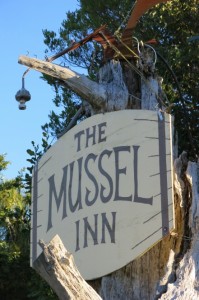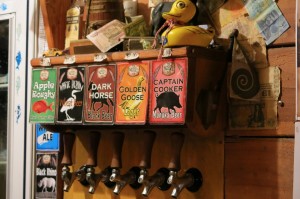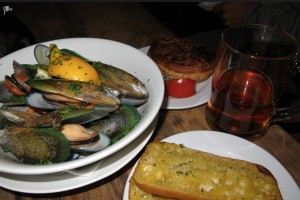 –       Best Pump Beer: "Pump Beers" are often called "real ales" – basically unpasteurized beers, or unfiltered beers served without nitrogen or carbon dioxide pressure, similar to the likes we found in the Czech Republic. Townshend's Sutton Hoo pump beer was our winner – good but flat. To quote Dave, "it tastes like the leftovers in a beer pong cup from the last players' game."
–       Best Beer Business: You couldn't walk down the street without hitting a Sprig & Fern, and their selection of brews – from the aromatic, easy-drinking Tasman Lager to the playfully spicy Fern Lager – was impressive. Brewed locally, but rapidly expanding their business, they are poised to be a big player on the NZ beer scene.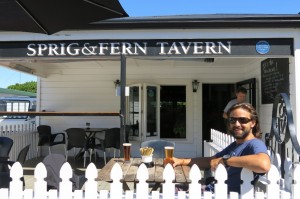 –       Most Historic Pub: Upper Moutere's aptly-named Moutere Inn has been a much-celebrated pub since 1857, with electricity and telephone lines absent until the late 1950s and the founder and his family residing within the storied walls until 1893. They have a broad range of beers with about 10 craft taps, ciders and macros, not to mention a hand pump for cask ales and a few home-brewed beers including their 1516 Pilsner (good), Nendolf Ale (not so good) and Sarau Lager (worse).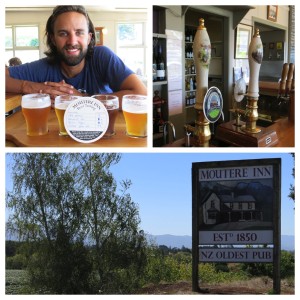 And the most anticipated category in this year's Oscars Bauer Beer Awards:
–       Best Beer: This was a hotly contested race, to which Dave and I have differing victors. My favorite goes to Nelson's Dead Good Beer brewery and their particularly hoppy and delicious IPA while Dave's still dreaming about Hop Federation's Red IPA, This was a hard-won category since in usual circumstances, I'd be hard pressed to find a better beer than Mussel Inn's Captain Cooker. Here? It was a quickly dismissed moment of bliss.
WHO NEEDS A BATTERY ANYWAY???
Well, likely us. But for now, an early evening tucked away in the back of our beloved minivan would prove much-needed for the scheduled physical challenge ahead.
3. Great Scenery
Finally – we've arrived at the OFFICIAL section for scenery. It's everywhere, and it's breathtaking, but the highlight from these few days was found in New Zealand's only coastal (not to mention smallest) national park, Abel Tasman. So after an early morning drive from our new home of Nelson to the back end of one of the country's Great Walks – the Abel Tasman Coastal Track (which, if hiked in entirety, can stretch into a 4-day hike) – we were ready to burn off some of our pent-up car trouble anger on the track.
Our amended 3-hour return day-hike found us tramping the Totaranui to Aearoa Hut section of the track, bringing us to dramatically beautiful bay viewpoints and through cluttered tree archways, even bringing our boots to the beach at certain stretches.
Exhausted, but satisfied after the day's physical activity, we unavoidably made the drive back to Nelson to rescue our car battery (with very few highways running through the country, the backtrack took us only mildly out of our way, so we were still zen upon arrival), only to find that it's time had indeed come. With a quick call to the rental company, we got the green light to make the swap to a brand-spankin'-new battery, and within minutes were back on the road. Continuing the drive south where we'd soon enter the country's stunning West Coast, we were treated to some teasers.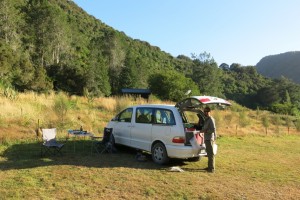 Pulling off SH6 to the Lyell DOC camp, we were excited for a quiet evening at the peaceful site. Using veggies picked from the Blenheim Farmer's Market, Dave was excited to execute his incredible idea of an egg and veggie frittata dinner. On our tiny, wind-weary grill top. I TOLD YOU: WE OWN CAMPING (and by we, I mean Dave, but I sure make a charming companion). Dining like champs and enjoying our last wine purchase from Martinborough, the only thing to dampen our spirits were the damn sand flies. They were seriously aggressive and seemed impervious to our bug spray. Ah, the great outdoors. (EDITOR'S NOTE: If you were watching us from across the campground while we washed our dishes that night, you may have mistaken our scrubbing for a re-enactment of the "Bees!!!" scene in Tommy Boy.)
Bring it, nature.