February Faves
by Noelle and Dave
February 2014
The shortest month of the year saw us soaking up the last rays of Thai sunshine before making the jump to New Zealand where we'd begin our 3-week exploration of the kiwi country. Check out our favorite moments from February below!
She Says
10. It's raining. It's cold. We make an impromptu stop at a roadside pub to escape the gloom and walk straight back into 1863, stumbling onto the historic haven that is Cardrona pub. Tucked in the hills of Cardrona, New Zealand, the pub is exactly where you want to spend a rainy afternoon. A pint of local beer and piping hot bowl of chowder taken on an overstuffed couch in front of a roaring fire later and we were ready to move in permanently.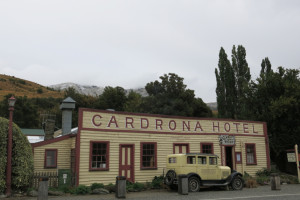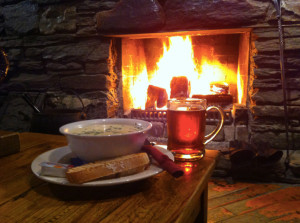 9. The anticipation and excitement around the start to our New Zealand adventure after 5 long months in fantastically vibrant, utterly overwhelming Asia was palpable, and flawlessly kicked-off with our Valentine's Day hike to New Chum's beach. The peaceful beauty of a pristine beach in a country focused on preserving its naturalness was stunning.
8. Our delicious dinner at Koh Lanta's Time for Lime scores a spot on this month's list (just barely, as it fell on the first day of February!) due to the restaurant's mouthwatering tasting menu and beautiful Thai beach setting. It was the kind of evening that fades into a happy hazy memory that you pull out when you need cheering.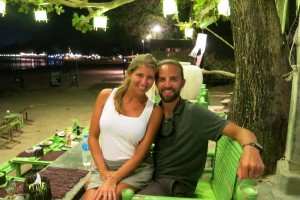 7. 5 months in Asia brought us lots of cheap, local beer – but all of it relatively tasteless. Enter New Zealand and their booming craft beer scene! We were in heaven. The breweries throughout the country produce some of the most deliciously hoppy beers we've ever tasted and we weren't shy about tasting them. All of them.
6. Despite our ample time spent in the Thai sun, there is something special about stretching out on a plush hotel lounge chair, and the Krabi Sheraton was glad to help. Spending lazy days sunning my bod next to the crystal clear pool waters brought tears of joy to my luxury-deprived eyes.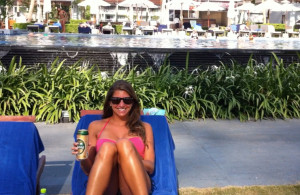 5. A lazy afternoon spent snoozing on Koh Lanta's Bamboo beach after an ample lunch at Pad Thai Rock & Roll (which included spicy Pad See Ew and a ridiculously tasty fruit smoothie) has been burned into my memory. The sexy isolation of the desolate beach visit that followed was exactly what I pictured from Thailand. I left a happy (and tan) lady. (EDITOR'S NOTE: Upon further review, the ruling in this post stands. Despite the fact that this actually took place on January 31st, we make the rules here so we're gonna go ahead and chalk it up to an overlooked star from last month's Top 10 list.) (AUTHOR'S NOTE: And really, Editor??? Bite me.)
4. While it's never something I'd have EVER considered on my Bucket List, I followed the lead of my (in hindsight) slightly wayward husband for a few days of WWOOFing at Wairunga Farm in Hawkes Bay, NZ. While he made sweet, sweet memories shearing sheep, I found myself hanging towels, making beds and pulling weeds….but more frequently…drinking wine with my curly haired, vibrant and vivacious new friend, Paulette. It was glorious. Paulette and John were the most welcoming and gracious hosts and we loved EVERY MINUTE of our time spent on their farm.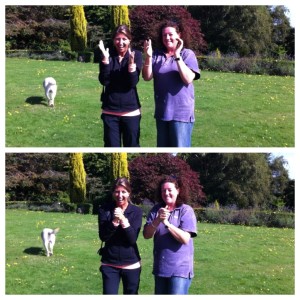 3. Dave and I love a good dance floor (who doesn't??). One could say we found love on one such place (more specifically, Mother's sticky 20×20 floor space, but who's asking…). And so our "big night out" on Railay will remain forever vivid in my memory (despite the fantastic cocktails consumed on a floating boat bar and beers sipped in a bar more known for it's illegal offerings), and tearing up the dance floor at THE late night establishment in the midst of the sloppy mass of early-20-somethings (and DOMINATING, I must say) was a highlight of the trip.
2. The three weeks spent sleeping in the back of a campervan surprisingly turned out to be one my favorite parts about our time in New Zealand! It helped that the "mattress" spread across the back turned out to be super comfortable, and there was something so cozy about our temporary hatchback home. We were able to come and go as we pleased and fully embrace the gypsy lifestyle. One particular evening, we piled into the back of our 4-wheeled steed with a bottle of Viognier and an assortment of cheese, crackers and jam and I couldn't have been happier  as I nestled in further to the fluffy comforter next to my man.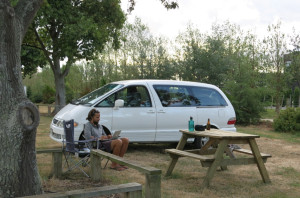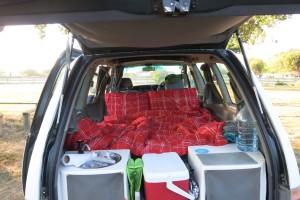 1. Because I make the rules, this memory will be more "theme," less "moment." Our winetasting adventures in New Zealand's Marlborough and Martinborough regions share this #1 spot. Filled with stunning vistas, impeccable Viogniets and atmospheric tasting rooms, we spent two separate days in those respective areas roaming the rows of succulent grapes and wondering how we'd ever adjust back to normal life. (I'm sorry, new boss person, you don't offer a lunch time tasting menu? Hmmmm…methinks I need to rethink…)
He Says
10. It's hard to leave Koh Lanta off of any Top 10 list, so our dinner by the beach at Time For Lime to kick off the month earned a spot for me. Not only was it yet another amazing meal of Thai dishes, but it was made all the more memorable by the walk home on the beach that included our best Oregon Trail impression as we forded the river, not knowing that we were returning at high tide through the same area that just hours before was less than ankle deep. Tides, man. They'll getcha.
9. There's something about our brief stop at the Cardrona Hotel that's stuck with me. Set off all by its lonesome between Wanaka and Queenstown, this character-laden 150+-year-old piece of local history drew us in on a cool day for a 45-minute stop that felt like much longer. It was as if we took a step back in time, and if this place was any indication I would have loved me some 1860's.
8. Our three days in Railay provided all the views you'd associate with a picture perfect Thai island landscape. Palm trees, karsts rising straight out of the sea and sun for days. It helped that we also had some of our favorite curries and tom yums days before we said goodbye to this area of the world.
7. An early indication of the endless views we'd enjoy in New Zealand came in the form of a 1-hour hike to New Chum's Beach. Not much I can say that a picture wouldn't accomplish on its own.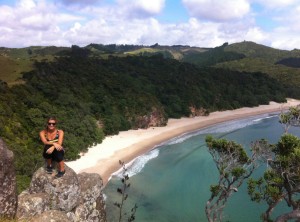 6. Our day spent in Gisborne started with us being among the first people on earth to see the sun come up that day and ended with one of the best sunsets we've had since Phu Quoc in Vietnam. New Zealand does landscapes well, but she paints her skies real nice, too.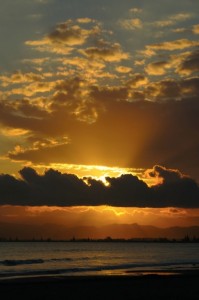 …sunset.
5. That one time I blacked out and took about 300 photos during a 90-minute stroll around Lake Matheson.
4. I'd love to think that in another life I'd come back as a farmer, but for now our two-day stay with John and Paulette on Wairunga is all I have to hang my hat on. Beyond the endless hospitality of our hosts, I got to get my hands dirty with some good ol' manual labor for the first time in a while and even sheered a sheep. Not too baaa-aaa-aaad.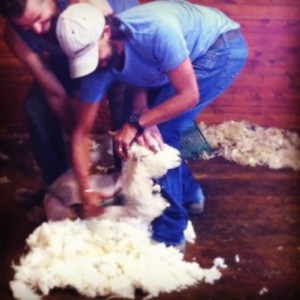 3. February 23rd was just a phenomenal day with so many good things packed into such a short amount of time I had to include it as one item. We started the day off with a trip to the Blenheim Farmer's Market, followed it up with a few hours touring the vineyards of Marlborough, then went on to cruise atop Queen Charlotte Sound for intercoastal views and a picnic, and then capped it all off with some craft beers upon arrival in Nelson. Needless to say, the top of the South Island didn't disappoint on day one.
2. Many places around the world offer wine tasting, but few can do it like Martinborough. Despite the sweating that carried on throughout the day (because I'm a Bauer and that's what we do), you can't beat a full day of sunshine spent walking between gorgeous vineyards tasting the local grape juices. No cars, no bikes, just a nice stroll to make you earn the payoff at each cellar door.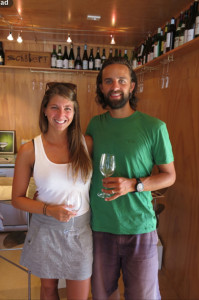 1. Our mo-bile home takes the cake for February. After the hustle and bustle of most of our stops in Southeast Asia, it was nice to simplify things for our time in New Zealand. Living, breathing and sleeping with one person in a late 90's Toyota may sound like part of a kidnapping scene in the next Liam Neeson movie, but we learned to embrace it and loved every minute of it.