T(ha)ime To Say Goodbye to Asia
by Dave
February 2 – 9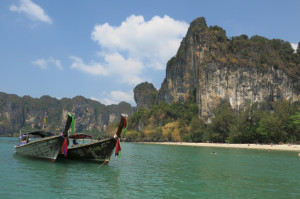 If Thailand were one giant green curry, then Krabi and Railay served as the last two spoonfuls – just as tasty as the previous ones, but forcing you to reluctantly admit that this good thing is coming to an end (food analogies…amiright?).
After our amazing six-day stay on Koh Lanta, its Andaman Sea neighbors to the northwest had a tough act to follow. While Krabi and Railay are both technically part of the mainland each provided its own island feel before we said so long to Thailand (and Asia, for that matter).
While a longer stay in Krabi would come about four days later, we started with a night Krabi Town, a convenient stopover from Bangkok before making our way to Railay.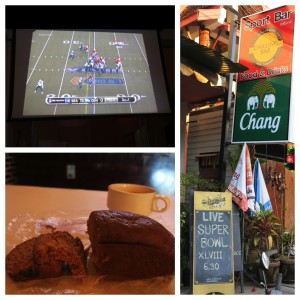 Relatively unimpressive – save a lively night market that produced tasty noms and a token fire dancer– there was one redeeming quality. Banished to the other side of the world during that whole Super Bowl thing had us setting our alarms for 6:30 am and rushing to the lively sports bar awkwardly quiet garage café across the street. All in the name of watching the Super Bowl live. Crowded around small tables with coffee and homemade pumpkin bread (made with love and sent overseas via Monty Express Delivery from my mom) with other NFL fans, it was the first game I was able to watch live all season.
In hindsight, we probably would have been just as well to stay in bed and read the recaps later with the way the game went, but soon after the final whistle we were on a longtail boat – the quintessential form of water transportation in these parts – en route to Railay.
Railay is best known for its giant limestone karst formations that bracket its beaches and provide great surroundings to enjoy a sunset, drinking out of a coconut, drinking out of a beer can or any other similarly lazy activities. We were getting really good at those. (EDITOR'S NOTE: Warning Addendum to Lazy (Wo)Man's Guide (see post): Lazy habits are easily addicting, and it's unlikely you'll be able to resume effective behaviors for at least 3-5 days following.)
It also draws plenty of avid rock climbers, as one of the premier spots to climb in SE Asia. That, we did didn't do so much.
Our days here were marked with lying around the beaches, eating some more delicious Thai food (typically Tom Yum or Green Curry washed down with a cold Chang, then repeated again later that day) and a couple nights even making it out to a bar or two (kind of just to prove to ourselves that we will actually be able to go out on a weekend with friends when we get back home).
It was a simple stop, but with scenery like this, "simple" is serene. (EDITOR'S NOTE: He fails to mention our ridiculous night on the town where by midnight we were BY FAR the oldest people in the bar, but – naturally – dominating the dance floor a la circa late 2010 – or what some may remember as Mother's dance floor where Dave and I found love in a hopeless place.)
Three nights in a cheap and basic bungalow later, we were back on a longtail and headed to Krabi for our final days of a 5-month stay in Asia, or more specifically, the Krabi Sheraton Resort. Our years of business travel and nights in hotels paid off with three nights free of charge thanks to our Starwood points. Set the scene with an infinity pool and cushy lounge chairs, a near-deserted beach and delicious restaurants, and we were in weary traveler heaven.
Like our previous stay in a real hotel (we can't quit you, JW Marriott) we enjoyed the hotel amenities more than the surrounding area. Free breakfast, 24hr access to a modern gym and days spent poolside left us little desire to explore much else. A pretty great way to tie a bow on Thailand.
But all good things must come to an end. Before we knew it, our time in Thailand was over and we were back on our final overnight bus en route to Bangkok for our flight out of the country. I wish I could say it was tough to move on, but I'd be lying. As much as we loved our stops around the country, we were ready for a change.
It was time to trade the tuk-tuks for taxis, noodles for mussels and motorbikes for campervans. We were off to New Zealand.