Wine and Wind in the South of the North
by Dave
February 18 – 22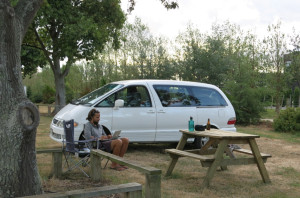 Leaving our wonderful hosts on the farm was bittersweet. There was plenty to look forward to, but I was gettin' to likin' farm life. But marriage is partially about compromise after all, so I can't go and have all the fun on the farm while Noelle tries to find a way to make our familiar urban lifestyle translate to a much more rural setting. (EDITOR'S NOTE: The seemingly real consideration to become a farmer this sentence reveals scares me.) Don't get me wrong – Noelle can rock the cowboy hat, boots and plaid with the best of them (and if you're lucky, you might just see her country singing chops if "Redneck Woman" ever comes on at the bar). But full-time farm girl might be a stretch.
Once the final sheep had disappeared into the distance, we shifted gears and headed south to swap our pitchforks for pinots in a little-known grape-growing region named Martinborough, tucked in the southeast corner of New Zealand's North Island. It was wine tasting time.
We've done our fair share of wine tasting in the past 10 months, with memorable vineyard visits in South Africa, Italy and Greece mixed amidst some self-guided sampling of a city or country's local grape juices. But even still, neither of us would claim to be connoisseurs. Far from it. That said, we were committed to continuing our training regimen.
Martinborough is an often-overlooked winemaking region even in its home country, let alone abroad. New Zealand is primarily known in wine circles around the globe for its white wines, and for good reason. But the Wairarapa Valley is notable on the pinot noir scene. The area is still young by wine growing standards, and the fact that people even grow grapes here is completely by chance. Back in the late 1970's agricultural scientists surveyed the soil and climate and discovered that the conditions mirrored those of Burgundy, France. Thus, the Wairarapa Valley's wine industry was born and the first vines were planted. The long dry summers, cool nights and frequent winds have proved to be ideal conditions for pinot noir, which worked out nicely for us since we favor the spicy red wine at home.
The town itself is a quaint little dot on the map about an hour's drive from Wellington, but it feels much further. We walked around the downtown area upon arrival, and had seen pretty much everything after a 10-minute lap. But what it lacks in size, it makes up for in character. The streets are laid out in the pattern of the union flag from the 19th century with names after foreign cities that town founder John Martin had travelled. And while the grape vines may be young the historic town is not. The grocery store and hotel in the center of town were both built over a century ago and still stand in the same place. And, most importantly, many of the area's vineyards are within walking distance of town.
Armed with almost none of this information, we set out on foot (EDITOR'S NOTE: Aside from the blazing heat and resulting sweat, traveling à pied made the day SO MUCH MORE FUN and our California vineyards which isolate themselves miles from one another on the Napa Valley hills were but a distant memory.) and we did our best "sophisticated wine drinker" impressions, taking cues from the pourers at all seven vineyards who generously shared the fruit of their labor… or labor of their fruit… we drank their wine.
As the tastings wore on, "Oh, I like this one," turned into "Ah yes, this must be one of your 'off dry' reislings, yes?" or "I can really pick up the spicy notes on the nose of this pinot, which compliment the smooth finish nicely." Or the always reliable, "The tannins. All of them. So many tannins going on here." We came in as rookies, we left as… slightly more experienced (or at least loaded with more gooder adjectives to use about our wines), rookies.
Before we knew it cozy Martinborough was in the rear view mirror, and small town wine tasting moved aside to make space for big city beers. Our three days spent in Wellington, New Zealand's capital city, were filled with walking around the city center, checking out the waterfront and tasting some of the city's best microbrews.
We loved us some Wellington, and were treated to all the elements the city's known for. Clear skies and warm weather on day one was followed by cloudy but pleasant conditions on day two. We thought we'd get out without having to face the gale-force winds that earned the city its "Windy Welly" moniker, but our final day was marked with absurdly windy conditions. We're talking Michael-Jackson-Thriller-leaning on the sidewalk windy. (EDITOR'S NOTE: But we're Chicago-tough, so, we moonwalked our way right on through…)
Like everywhere else in New Zealand, our time here was limited as we had much more to see. But between all the walking, eating and sipping around town we found time for a couple other activities.
Like, for instance, nerding out at Weta Cave, home to display cases full of miniature figurines and life-sized statues of Lord of The Rings and other movie characters. Weta is responsible for much of the costume design and special effects in Peter Jackson's LOTR and Hobbit trilogies, and since those movies have driven so much tourism in New Zealand, the high demand for more resulted in the company opening up its warehouse for tours.
While other visitors seemed to be the die-hard types that may have flown to Wellington just to purchase some overpriced souvenirs from the gift shop, we were satisfied with photos as we rubbed shoulders with trolls, Gandolf, Gollum and the like… even if they were just in statue form.
The amazing planner that is my wife also uncovered a couple great breweries, and probably the best fish n chips in town at Wellington Seamarket. Much of what we stumbled across in the forms of bars, restaurants, cafes and parks was either on or nearby Cuba St., an energetic walking street in the center of downtown – a good starting point for any Wellington visit. And a couple nights a week it's host to the Wellington Night Market, where we indulged in the best Mexican food in recent memory.
And since this was our first urban setting with the campervan, we had to get a little creative with the camping situation as well. There aren't any campgrounds in the city, since… well, duh. Opting one evening to try our luck at a campervan parking lot near the harbor, we arrived to find it was at full capacity. Lucky for us, a Hawaiian overnight security guard with New Zealand relatives and a Hispanic name who loved Americans (who doesn't know a guy like that these days, amiright?) let us park around the corner for the night anyway. We're not entirely sure what was or wasn't allowed here, but our new friend even gave us the bathroom and shower room security code so we left squeaky clean before splitting for another sophisticated pb&j and instant coffee breakfast taken along the waterfront. Point, Noelle and Dave.
Martinborough and Wellington treated us well, but it was time to move on to the next adventure, now comfortably settled into our quick travel pace.
There's a common saying in New Zealand that people live and work on the North Island but play on the South. And if our last 10 days were considered work, we could only imagine what it would be like play. Next stop: Marlborough.