Chile: The Beginning of Our Vacation…from "Our Vacation"
by Dave
March 12-16
¡Estamos en America del Sur! ¡Finalmente! That's Spanish… for "We are in South America! Finally!"
It's been a long time comin', and in addition to the thrill of being able to practice more of that brilliant Spanish I just showed you, this leg of the trip started off with a little extra incentive. Two of our friends from home, Caitlin and Jeff, would join us to begin our tour of the continent with stops in Chile and Argentina.
We often referred to this as the vacation portion of our trip. "That is hogwash. You guys are on a year-long vacation," you may say. But that's not exactly accurate. Yes, we are traveling for a year and traveling on a non-work-related trip usually equates to vacation. But not always. Follow me… 
When you are on a vacation, do you ever wake up in the morning not knowing where you're sleeping that night? Do you get downright giddy at the thought of access to a hot water shower? Do you pray that your toilets are more than just holes in the ground? And do you typically have an income that's replenishing your bank account as you travel? My guess is you answered "yes" to most or all of those questions. In our case, the answer is often "no" to many if not all of those. Don't get us wrong – we are not looking for sympathy here. We're aware of how fortunate we are to be taking a trip like this and seeing all the places we're seeing. But my point is that we were finally on the cusp of what we had budgeted as a "treat. yo. self." portion of the trip.
Enter Jeff and Caitlin (until they make things official with the same last name this November, we'll smash up their last names and refer to them with their preferred current moniker: the Immelways). The Immelways had been planning on visiting us ever since we set off on this journey, and after landing on South America as our rendezvous destination the anticipation was palpable. (EDITOR'S NOTE: He may or may not be referring to my "happy dance" routine that frequented the days before Caitlin's long – and not always patiently – awaited arrival.)
Our first couple stops on this glorious vacation were in Chile. For those of you who may not think of yourselves as geography buffs or map whizzes (I'm looking at you, Noelle) (EDITOR'S NOTE: It's not supposition. It's a fact, babe. I get lost in Lincoln Park.), think of Chile as the strip of fat on the side of the ribeye that is Argentina. It provides some flavor, but it's often just disregarded in favor of the meaty part.
We begin in Santiago, the capital city of this strip of fat coastal country that serves as home to more than a quarter of the Chilean population. What can I say about this city that can't be summed up with a yawn? Friendly people, clean, easy to navigate and quick to feel familiar, Santiago's charm lies in its underwhelming comfort. You can walk around the city and feel like you've just picked it out of a grab bag of big cities, but I don't really mean that in a bad way. That might sound harsh, but a must-see destination it definitely is not.
During our two days and nights in this unforgettably forgettable city we walked, we sweat (see: genetics), we enjoyed some sidewalk beverages and most importantly, caught up quickly with the Immelways, making our ten months away feel like no more than ten days in no time.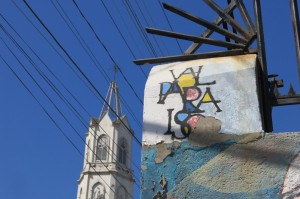 After the quick stopover, it was off to Valparaiso. This coastal city comes complete with street art, sea views and grit for days. Pablo Neruda, the famous poet who called this place home once wrote, "Valparaiso, how absurd you are… you haven't combed your hair, you've never had time to get dressed, life has always surprised you."
It's a good description of the city that looks and sounds discombobulated and chaotic, but after spending time there you quickly realize that there's an infectious method to the madness.
The city emulates a giant color palette, with building walls, sidewalks and pretty much any outer surface marked with street art and graffiti. Unlike many other places we've seen with frustratingly annoying graffiti (the always classy:  "'[INSERT INITIALS] were here" signs on ancient statues), Valparaiso's street art helps provide its identity.
Even the approach to the art is a universally accepted practice followed by everyone – artists will find a wall, sidewalk or other surface they'd like to paint, ask the nearby tenants if they'll approve, and upon getting verbal permission they'll get to work. It makes sense when you think about it – the last thing you'd want to happen to your hard work is for someone to whitewash it or cover it up somehow. We went a little nuts with the photos of all the art, but here's a snapshot of some of the work around town: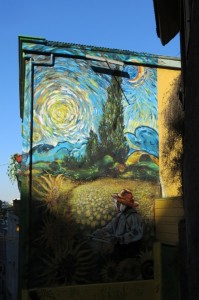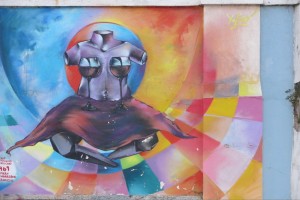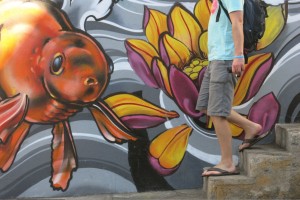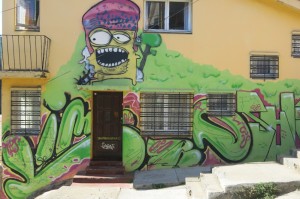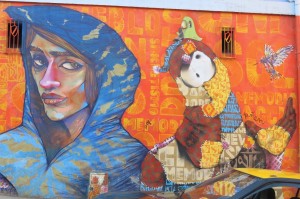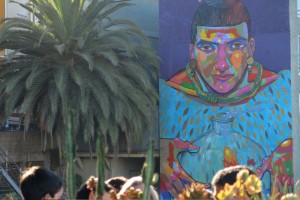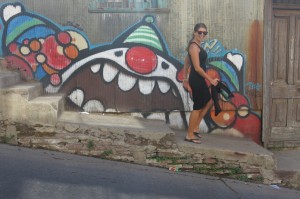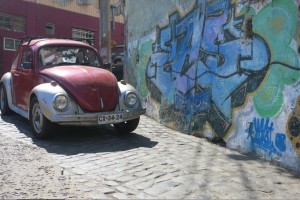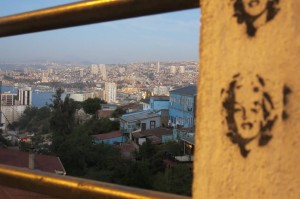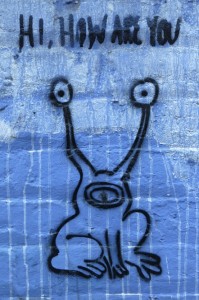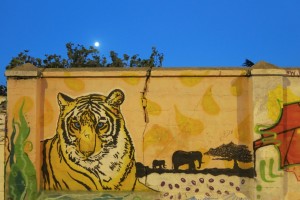 Our home base for three nights in this eclectic city provided amazing views and a good, central location to explore from. Valparaiso has become a popular spot for tourists and Chileans alike – since Chile's dictatorship rule ended in 1990, the population has steadily increased to 700k, nearly double the number that lived there 24 years ago. The city itself is set on a wide hill and for generations there were funiculars set up around the city to help climb the hills between neighborhoods. Many were in service as recently as five years ago until tragedy struck with a devastating 8.8 magnitude earthquake (the sixth largest earthquake on record since the turn of the 20th century) that rocked 80% of Chile, leaving over 500 casualties in its wake.
Luckily, this portion of the story finishes with a happy ending, where rebuilding has been underway and the busy port that Valparaiso's economy revolves around is back in full service. However, the funiculars are the one major part of the city that has yet to be fixed. Hence our winding, sweaty hike up the massive, steep hill (luggage strapped to our backs) to our beautiful apartment upon arrival. We've become accustomed to these wonderful missteps that budget travel lends itself– aka our insistence against a taxi – the Immelways were not. We're still sorry.
(Sidenote: Unfortunately, it seems as though the city can't catch a break. After dodging another earthquake bullet weeks ago when a 8.2 magnitude earthquake struck off the northern coast of Chile, Valparaiso has been fighting off "perhaps the worst fire in the city's history" in recent days.)
Our continued exploration led us through the vibrant city as we visited Pablo Neruda's home and wandered the narrow streets of the colorful neighborhoods.
In between all the wanderings around town we did to take in the views and art around town, we found a few great restaurants for some memorable meals, but our best food may have come from our own efforts.
Following the lead of our trusty cook/leader/possible-MMA-fighter-on-the-side Vlad, we spent a day learning about Chilean cuisine and rolling up our sleeves for our attempt at making a few dishes ourselves. After a visit to the local market to pick up our vegetables, fruit, fish and other ingredients, we headed uphill to an unassuming kitchen on an unassuming side street to get to work.
Things got started with a quick wine tasting, where we were given samples of a few regional reds and whites, including Chile's signature wine, Carmenere (Chile happens to be the only place in the world Carmenere grapes are able to grow, much to the chagrin of the French). Over the course of the next few hours we would slice, dice, mix, stir and watch a little bit of everything as we prepped a four-course meal complete with wine pairings and a pisco sour (because Chile).
Three extremely late nights and many bottles of wine later, our time here was done sooner than we would have liked. Lucky for us, it was only the halfway point of the Immelway visit. Next up: Mendoza, Argentina to sample some more red wine and plenty of red meat.