Fall Finally Finds Us In Fiordland
by Dave
March 5 – 6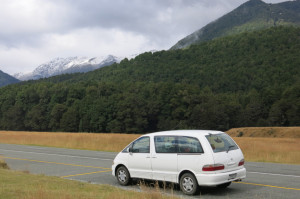 When you pack for a year in a backpack, you inevitably end up chasing summer for wardrobe's sake. Lucky for us, it's been an easy chase and we've caught it. Summer's been hog tied and strung up to our backpacks for about 9 months straight (Noelle's deceptively good with a lasso). Welp, apparently our luck had run out and we had to succumb to (gulp) fall-like conditions when we explored a couple natural beauties on New Zealand's South Island – Milford Sound and Mt. Cook. Understandably, this admission will probably earn a lot of unsympathetic shrugs from our friends back home when they find out that this dip in the temperature for us meant that it dropped into the 40s for the first time in a long time.
After Queenstown we had a lot of ground to cover in just a couple days in order to see two of the most popular natural sights New Zealand has to offer – Milford Sound and Mt. Cook.
Milford Sound is to New Zealand what the Grand Canyon is to the U.S. – an impressive natural sight considered a "must see" among its country's residents that still manages to live up to the hype for just about everyone who sees it in person. Laying claim to being the most visited natural attraction in all of New Zealand, it's the only one of 14 "sounds" (they're all incorrectly referred to as sounds, but in actuality they're fiords. Potato, potahto.) that's accessible by road.
A picturesque drive through mountains, sheep farms and landscapes that extend seemingly forever in all directions – pretty much the norm everywhere in this country if that's not apparent from our mention of these things in every post from this country so far – took us through Te Anau and on to our final destination. While all the drives have been great, this one had a little bit of everything. Rain, sunshine, mountains, lakes, rivers and, of course, sheep. Always the sheep and their "doo dah-doo, nothing to see here" blank stare into whatever object is closest to its eyes at that moment. (EDITOR'S NOTE: Enter another reminder that Dave loves farm animals. What is a wife to DO with this information?)
With plenty of waiting-to-be-seen turnoffs en route, it's easy for the anticipation to build as the landscapes change and the clouds and mountains become more and more ominous the closer you get. A short, harrowing (if you're in a minivan on its last legs and – as we found out on the fly – also on its last headlights) ride through the creepily dark, ¾-mile long Homer Tunnel, and you're spit out toward Milford Sound – the pot of gold at the end of this concrete rainbow.
It's common for visits to Milford to be marred by cloudy skies and rain (happened to me when I visited seven years ago) since the annual rainfall averages out to over one inch per day. But by some stroke of luck, me and m'lady woke up to a sunshiny day and clear skies for our boat cruise.
Milford comes complete with the imposing and photo-friendly Mitre Peak dominating the landscape. Rising more than a mile above the water's surface, its thought to be one of the tallest mountains in the world to rise directly from the sea floor, hiding its 300+ meter base below the surface. The cruise was a no brainer for us to include on our tour de New Zealand, and taking in the rocky cliffs, a fur seal colony, the flora and fauna (two words you can never say enough) and everything else in the area played like a radio station with the best hits from the 80s, 90s and today. We sat on the dock of the bay sound, heard the skipper call "Come Sail Away" to us and like that, we were On A Boat. And then, despite repeated warnings to avoid pursuit of waterfalls, we opted to avoid familiar rivers and lakes and chased the countless falls around the sound.
Turns out world explorer extraordinaire Capt. James Cook didn't even know about Milford for many years after exploring the coasts of New Zealand because unless you're looking for it, it's impossible to grasp it's size and depth from the Tasman sea because of its curves. Which is to say Milford's hips don't lie.
From NZ's Grand Canyon we set off to its highest peak – Mt. Cook, or Aoraki as it's known to the Maori. In addition to being a much cooler sounding name, Aoraki translates to "cloud piercer," which is just awesome. And after a day in the Aoraki National Park its clear to see how it got its name.
We encountered less-than-ideal conditions while we were there, but we waited out a few clouds to hike the Hooker Valley for some great landscapes of glaciers, and after our hike through the valley we saw ol' cloud piercer earning its name with a few quick glimpses of the peak as we left the park.
Before making our way for the east coast, we set up camp just outside Lake Tekapo at the closest thing to a trailer park we encountered in the country. Picture this – we pull into town as the sun is setting, the one campground in town is full so we stumble across a chain-link gate that supposedly leads to another campground outside of town. About 5km later on a bumpy gravel road we pull into said trailer park where you can hear a pin drop. We're talking there-might-be-a-sniper-in-the-trailer-next-to-us, creepy silence. So yeah, good luck sleeping. From the moment we arrived to the moment we left, the only signs of life we saw or heard were a pack of sheep that walked by in the morning. Ah, the great outdoors.
A small town in the middle of nowhere, Tekapo is a stargazer's holy land. Go enter "Earth and Sky Tekapo" into the Googles and you'll see that this place is world famous for its star-filled skies. We've seen some amazingly clear skies for stargazing this year, but all pale in comparison to this place. It's actually designated as a dark sky reserve. I'm assuming you're like us and had no clue such a thing even existed, but after a few seconds of letting your eyes adjust under the blanket of stars above here you'll quickly understand the designation.
From Sound to stars with a little hill known as Mt. Cook in between, the scenery train it kept a rollin'. Quickly, our three weeks felt as if they'd gone by in three days. Could we really be on the last leg to return the van before leaving? Yes. The answer is yes. It was time to soak up the last few days of this glorious and gorgeous country in Akaroa and Christchurch.