Livin' La Vida Lima in the City the Airlines Picked
by Noelle
April 1 – 5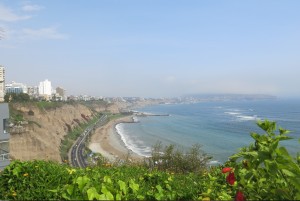 We didn't plan on Lima. Sitting in Mendoza a week before, with only 5 weeks left on the itinerary, all we knew is we wanted to spend the majority of our remaining time in Colombia. So after about 7 hours of Dave doing his best Chloe O'Brian (…we really need to make more 24 references), we determined there was no affordable option to get ourselves to Colombia from Mendoza that didn't involve risking dangerous border crossings in Ecuador and/or 64 hours of bus transfers through Chile and Peru. So, after some more high-level hacking, we netted out with the decision to bus over to Buenos Aires (which you can read about here) and then to hop a cheap(ish) flight to Lima, onto Colombia (takes deep breath). This is how we ended up spending 4 days in the improbable coastal desert.
The tipping point may have been the "You have to go to Lima…the food is SO GOOD," uttered from the phenomenally talented Chef Mun when we dined at his restaurant in Mendoza.
Who are we to doubt a great palate??
So go and eat we did.
With incredibly tender pollo a la brasa from Don Belisario and enough ceviche to feed a blue whale (our favorites being the tangy ceviche at La Canta Rana in Barranco and taste-bud tingling mixto at La Red in Miraflores), we thought it couldn't get any better. Then we heard about Chez Wong.
One of the more unique dining experiences I've ever had, we arrived at an unmarked door precisely ten minutes before 1 pm, as instructed. Ushered into a small, 10-table room in a squat house on a residential street, we immediately loved it. The Chef was exactly as we'd pictured (someone somewhere referred to him as an Asian Samuel L. Jackson, and we reeled at the accuracy), and the ceviche was as fresh as promised. Usually marinated in lime and various juices for hours, the fish in the famed Peruvian ceviche is always dripping with flavor that puckers your pout. That's why, when we watched Chef Wong filet a grouper in front of our eyes, cut up some octopus and onions and dunk it in the lime-based marinade and serve it minutes (EDITOR'S NOTE: Nay, seconds!) later, we were hesitant. But it. Was. Heaven.
As for the "hot plate" dishes that followed (there is no menu, you eat what the Rock Chef is cookin'), I must say, did not live up to the same hype as the ceviche, but we were still distracted enough not to care. But as there was no menu, I can not totally account for what was in the dish. I recognized fish, cantaloupe and mushroom but the wrinkly black somethings were beyond my culinary range or recognition.
Before our visit, we'd tried diligently to find out the price of such a mysterious meal, but it seemed Chez Wong's meal cost has the same #1 rule as Fight Club. You don't talk about Fight Club Chez Wong.
As to not anger our main alpha male, Brad Pitt, we'll keep to the rules. Who am I kidding? Screw that guy (this is for you, Jennifer Aniston!). Our bill jaw-droppingly (to us) came to $100 – with, mind you, no drinks. Notsomuch in a backpacker's lunch budget. Good thing we had that stock of granola bars.
To burn off all the savored calories, we spent full days exploring the various neighborhoods and walking along the coast. The filmy haze was annoying, but you still got pretty great Pacific views for hours of hoofing it along the coastal pedestrian paths (well done on those, Lima. Mendoza, take notes).
Another amazing perk of our unexpected side-trip to Lima was meeting up with Dave and Janelle, friends of my friend Paige and her husband from when they lived in Cartagena, Colombia a few years ago. Dave and Janelle now live in Lima with their two adorable kiddos, and we had the pleasure of spending an evening at their home early in our stay. Home-cooked Lomo Saltado (a national favorite stirfry dish of beef, potatoes and veggies), local Edam cheese (I'll take whatever I can get) and several bottles of wine later (us, not the kids, COME ON!), we were fast friends.
So much so that they made more time in their busy schedule for us the evening before we left. We shared stories over a couple Cusqueñas in Larcomar (a beautiful outdoor shopping mall literally built into the side of a cliff overhanging the Pacific Ocean) before they taught us the ways of Peruvian bar food. Armed with Chilacanos (pisco-based drink which is basically like a less-sweet margarita and comes in lots of funky flavors like purple rice, etc), we snacked on causa (looks like lasagna, tastes like potato salad), pork and lomo taquitos and fried aji de gallina (hot peppers, chicken, and a cream sauce) croquettes.
We can only hope they visit Chicago someday so we can return the favor with a tour de Deep Dish and Wiener Circle.
So if you can look past the pollution and the lingering doubt of personal safety, I highly recommend including Lima in any Peruvian vacation itinerary.
Thank you, travel gods (and Aerolineas Argentina). You made this one easy.