Que Syrah Syrah: Our Mendoza Romance
by Noelle
March 17 – 25
Ah, Mendoza. Where the wine flows like…wine.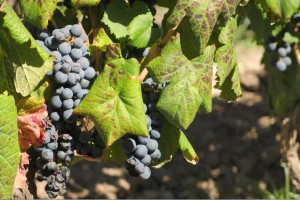 A land ripe for a holiday romance, and oh, dear readers, did we have one for the history books.
It started in Chile. We had fallen head over heels for our travel partners, Caitlin and Jeff, and we were ready to bring it to the next level as we hit the Mendoza border.
The stage was set with a romantic eight hour ride on the most comfortable bus we'd been on in 12 months (seriously, the accidental $3 upgrade the boys made in the catawampus Spanglish conversation they had with the bus company paid off in spades. We were sitting pretty in plush first class seats as we cruised through the Andes), but our sweaty palms betrayed our fear of rejection. Did they feel the same? Then, as we hit the border crossing and the Immelways held the bus while I was being questioned about the visa that no longer matched my last name, we finally exhaled (for more reasons than just feeling relieved I wasn't thrown in a Chilean prison). We were finally sure the feeling was mutual.
Arriving to our palatial love nest near the Mendoza "suburb" of Chacras de Coria (located in the popular Luján de Cuyo wine region), we settled in for a few days of nothing but blue skies and good company.
Turns out we'd have to settle for the good company.
This year's rainfall and cold temps has sent viticulturists into a tizzy with fears that they'd miss the harvest window. No joke, the region saw more rain in a handful of March days than they usually see all year (the dry climate is one of the reasons the region is usually so ripe for wine growing). However, with four A-type personalities, there was nothing to do but soldier on with our bicycling winery tour plans. Plus, what better way to solidify this budding romance than with a jaunty wine-tasting tour of the countryside?
Donning cute dresses (Dave and Jeff, of course) and hopping on our seemingly trusty 2-wheeled steeds for the day, we set off for a day of wine tasting in this mountainous region of Argentina.
Spoiler Alert: It would only end in tears (again, Jeff and Dave).
Not only was it about 50 degrees (rendering the dresses absolutely ridiculous after 5 minutes), but most of our ride was on uneven gravel roads with no bike paths to be found, meaning we weaved precariously between traffic as we navigated the miles between vineyards. A flat tire and missing bike pedal later, we were ready to give up on Mendoza wine tasting. SERIOUSLY. YOU'RE TOTALLY RUINING OUR DATE!
To be fair, the three wineries we visited were really wonderful. The first, Vistalba, was a picturesque vineyard that literally made you stop and say, "We should get married here." (Which we did propose…to the Immelways. They were oddly tentative.) (EDITOR'S NOTE: Let the record show that the first wine tasting was at 9:30. In the morning. Because wine apparently takes priority over time of day in these parts. So when in Rome…) With a dimly lit cellar and atmospheric tasting room (complete with a glass wall giving a peak at the rocky soil that somehow makes Mendoza wines so ridiculously delicious), this place was exactly what you wanted an Argentinean vineyard to look like.
After a quick change to jeans and long sleeves (SO not what I pictured for my South American wine-tasting ensemble), we made our way to Pulmary, the family-owned, organic vineyard that churns out a mere 40k bottles each year (in context, the vineyard we would visit next bottles 2 million per year).
But before that, we obviously (as the day's events had been trending) got lost. Shockingly, the hand drawn map by our Mendoza host (who lived in the house next door) was NOT as clear as we had insisted it was. A moment of clarity: our host hand drew the map because maps of the area don't exist. WHAT SORT OF WINE TASTING REGION DOESN'T HAVE WINERY MAPS?
Our many detours paid off in spades as we rolled into Pulmary (after a personal, near-death experience with an SUV), and took a tour of the humble winery led by one of the owners, Ramiro. Tasting wine from a cask, a wine thief (a long metal syringe that pulls wine from barrels – brilliant name) and unlabeled bottle, we were sold. Add to that an incredible grilled meal in the winery's gardens with a bottle of their Torrontés (a white wine grape grown only in Argentina and Chile and frequently called Liar's Wine because you expect it to be sweet, but upon taste, it's dry) and we were back in our happy place.
A final stop at Alta Vista Vineyard capped off the day with a "mass production" experience (robotic tour, industrial feel, but EXCELLENT tasting), and we were on our way home. Our 1 ½-hour, sweaty, unpaved way home.
Not to be deterred from our seduction tactics (and really, it was an amazing day, despite the continued comedy of errors), the next day, we hobbled into town (seriously, you spend a day on a bike, and we'll talk) we headed into downtown Mendoza to see what exactly "downtown" had to offer. A stroll through town showcased lovely greenspaces, beautiful tree-lined streets and – of course – delicious culinary offerings.
First up on our continued commitment to eating our way through the city was Anna Bistro, where we lazed in their vine-draped courtyard for a delicious meal of ojo de bife (ribeye), stuffed ravioli and lasagna (luckily, we're all sharers). Burning the calories with a quick stroll through the massive city park, we quickly returned to our wonton ways in the form of a couple penguin-shaped carafes of wine at Palenque.
This was followed by what can only be described as knock-down, drag-out A+ meal meal at Siete Cocinas. No really. If you're in the area, make like Nike and just do it. The meal started with succulent sweetbreads clay oven cooked on molasses and purple pizza made with Api dough, arugula, cheese and pistachios, both of which were immediately shamed by the veal tail tortellini, rabbit confit in leek soup, clay oven roasted Patagonian lamb and roasted goat main courses. The chef made a regular hangout of our table, and we left with drool-crusted chins wishing we could take Mendoza home with us when we went.
And to really test the boundaries of consumption, the next day we visited MUN restaurant at Casarena Winery. Located on the sprawling, 249-acre vineyard with stunning views of the snow-streaked Andes, we would have been pleased enough with spending time on the patio alone. But when a glass of champagne was put in my hand as I crossed the entry threshold, I was happy to oblige the move inside.
The 5-course tasting menu paired with local wines brought palate surprises dish after dish. Not only did we gaze out on the Andes as we supped on fresh sushi, perfectly prepared filet and crisp, flavor-fueled greens, but we did so as we sipped on the best wine in the land. This holiday romance was shaping up to be one for the long haul.
We spent that final evening in the most picturesque country hotel in the area – a surprise treat from Caitlin and Jeff that we lapped up like a kitten and its mother's milk a fine Argentinean Torrontés (that felt more appropriate here). We have some pretty great friends. A last supper spent in the quiet kitchens of our scenic abode and hours chatting and laughing over more good food and great wine, we felt pretty damn lucky. We had met…The Ones.
And then just like that, it was over.
You can imagine the scene. Anger and betrayal bled to desperation and begging for a second chance. Heartbreak set in when we realized the split was for keepsies.
We waved goodbye to our dear friends as they boarded a bus heading back to Santiago to catch a flight. Drying our tears we realized we were, once again, alone. Our holiday romance had ended.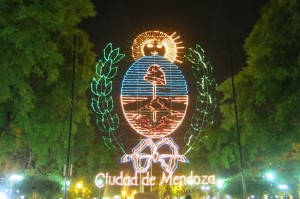 Left in pieces, Dave and I spent another 4 nights in the little town we'd learned to love, giving us time to nurse our broken hearts. We were listless, with no clue of our next move. We had spent our time in New Zealand, well, enjoying New Zealand or planning the visit with Caitlin and Jeff, and in any free time, drawing hearts around "Immelways + Bauers 4Eva." Now we were left stranded in Mendoza with 5 weeks left before we had to return home ourselves.
It was time to reevaluate our future without them. Head north to Salta for more wine tasting and national parks? Head south to Patagonia to brave the cold as we hiked peaks as Dave longed to?
Well, we'd have 5 days for that sort of contemplation, and between long hours spent online and nose deep in our SA Lonely Planet book, we managed to enjoy Mendoza to its fullest capacity. Already satiated on red meat and wine tasting, we spent the next few days…well…eating red meat and wine tasting. (IT'S MENDOZA PEOPLE, WHAT'D YOU EXPECT?)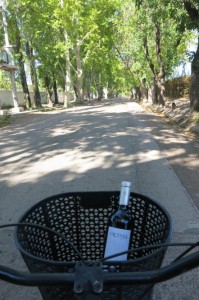 After our last experience with wine tasting in this yet-to-be-finessed rocky region, we were tentative (and yet, oddly determined) to venture out into the second wine "suburb" of Mendoza – Maipu. 5 hours, 2 bicycles, many potholes, countless angry, honking cars, one closed restaurant AND ONLY 2 VINEYARDS later, we had to accede that perhaps Mendoza could benefit by spending a little more time on its wine tourism industry that is currently focused on exportation (not that we don't TOTALLY appreciate those efforts while in America, shopping the rows and rows of Mendoza wines at Binny's). But just a little more road maintenance and consistency in hours could do wonders for this grape-rich mecca.
The two vineyards we did get to were really lovely. Carinae had a peaceful garden where we enjoyed one of their incredible Octans wine after the tasting (sold only from the vineyard) and an impromptu basic, but tasty chorizo and cheese plate (see above: closed restaurant). This respite was necessary as it took nearly an hour and a half to pedal to the vineyard from our bike rental pick-up spot. Sigh.
And with just enough time to enjoy the last tasting of the day at one of the oldest vineyards in Mendoza, Familia Di Tomasso, we gladly sipped their delicious Malbecs and Cab Savs and admired their nearly century-old brick fermentation tanks. More importantly, we proved to ourselves that we could find happiness outside the confines of the Immelway vortex.
So the visit was absolutely not all for naught, but we were ready to throw in the towel. The rest of the wines during our stay would be purchased from the local liquor store.
But as they say – all can be cured with a bloody slab of red meat. You know them. They're always saying that.
And while some would say that missing our beloveds had made food lose its flavor, we're more in the camp of "eat to make you forget." So not wasting any time, we booked a tasty meal at Azafran, consisting of ceviche, orange-infused risotto (amazing) and a perfectly-cooked pork dish. However, the real star of the place was the wine room. Before you order your meal, you're invited to peruse their wine room to select the bottle of wine for your meal (assisted, of course, by the on-hand sommelier). Nice move Azafran.
And just when we though our foodie adventures couldn't get any tastier, we went to the Mendoza institution, 1884. Chef Frances Mallman's signature restaurant is in an old winery (established in – yep – 1884) and accessed only through an unmarked door, giving the whole experience a very mysterious and romantic air. Known for his fire-based cooking, a quick walk in the gardens reveal traditional Argentine barbecues and the chefs at work. It was here we had arguably the best steak in Argentina. After our innocuous arrival, we dined on marinated prawns, prepared-to-perfection ojo de bife and the succulent seven-hour grilled lamb. Had we found our new perfect match??
Perhaps not, but we were back in the saddle. Literally. We made the decision to spend our last day a little closer to the mountains we'd ogled at from a distance for so long. We rode horses through the Andes. And yes, it was as awesome as it sounds.
Picked up by Nacho, our very own gaucho (the equivalent of our "cowboys" but way more badass), we and a minivan full of other lasso-dreaming outlaws headed to the foot of the Andes for an afternoon of hoofed adventure and asado (like our BBQs, but again, more badass). Poor Dave was partnered with feisty Maria who seemed determined to make him work for his dinner, while I was seated on obedient – although sassy enough to earn my affection – Gus.
An added bonus to the already awesome evening was our unexpected post-Immelway rebound – Dee and Zarius, a funny Irish girl (again with enough sass to make me love her), and a South African Matthew Fox (true story). We built a solid foundation on red table wine and grilled meat, and developed it further over fireside dancing. You know, the usual.
After sharing a final lunch of a greasy lomo completo the next day (the perfect meal for the day after such activities), we bid goodbye to our new friends (this time on our terms). Realizing we were finally ready to open our hearts again to the unknown, we hopped a bus to a place not even previously on our radar.
Buenos Aires.