We're Going to Uruguay?
by Dave
March 30 – 31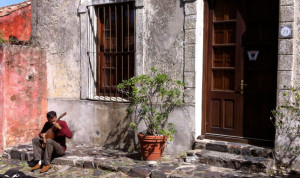 Talk about unexpected stops. At no point ever did we anticipate exploring this small South American country tucked between Brazil and Argentina on the continent's Atlantic coast, but there we were. Due to a random flight search that revealed an unbeatable fare from Montevideo (the capital of Uruguay, but you already knew that…) to Lima, we worked in two days in Uruguay on the tail end of our Argentinian exploration.
After a quick ferry from Buenos Aires, we settled in for 36 hours in the UNESCO World Heritage site city of Colonia del Sacramento, more commonly just called Colonia.
Colorful cobblestone streets and squares, old architecture, cafes and local food (namely Chivito, a heart attack waiting to happen on an overflowing plate) filled up our day and a half in this charmer before we hopped a bus to Montevideo for our flight out of the country.
And now we can say we've been to Uruguay. So we've got that going for us. Which is nice.