Cartagena and the OTHER 4 C's
by Noelle
April 6 – 14
As shiny as a precious gem, Cartagena shimmers on Colombia's Caribbean coast, a beacon of the country's recent progression.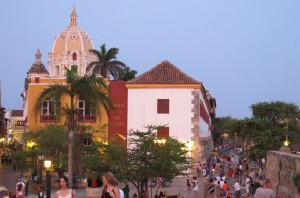 Founded in 1533 by a Spanish explorer (and as it turns out, an enterprising pirate), the town soon became a hideaway for all the booty the conquerors stole from the continent. The mounds of shineys naturally drew the attention of women everywhere other thieves and pirates, so the settlers – finding no other solution to protecting their loot – eventually built the town's impressive fortified walls in the 17th century that still stand today. The colonial-styled city within the walls is a UNESCO World Heritage Site – our last and millionth (legal disclaimer: perhaps a slight exaggeration…but really? Only slight.) UNESCO-designated site visit of the trip.
And, while diamonds may be Marilyn Monroe's (and probably the pirate's) BFF choice, Cartagena brings serious competition. Also like the coveted jewel, it comes with it's own set of 4 C's.
C: Caliente! 
From the moment we stepped off the plane, the heat of this coastal town knocked us off our jean-clad feet. Cartagena's average daily temperature is 80 degrees. ALL. YEAR. LONG. So, immediately upon arrival at our apartment in El Laguito (the southwestern most neighborhood perched at the end of the city's skinny hangnail peninsula), we traded our jeans for our bathing suits and hit the rooftop pool overlooking Cartagena Bay.
We found a few other tricks to escape the heat – mainly by seeking bodies of water, sipping cool cocktails or making our way through the maze of narrow, cobbled and most importantly, shaded streets of the city's Old Town in search of air-conditioning. Our first score came in the form of Abaco Libros, a bookshop/café serving up a Cartagena classic, limonada de coco. This frozen lemonade with a touch of coconut tastes like an icy piña colada and is a perfect antidote to the sweltering heat.
Those looking to score a break from the stifling heat can also hit the walls. A stroll atop the two mile stretch of 400-year old stone walls is not only a powerful historical experience, but provides an excellent breeze off the crystalline waters. And if the breeze dies off, you can always stop off at Café del Mar and surrender to the heat with a cold beer among the canons.
Sitting outside at night can be another way to casually cool off. On the recommendation of our friends Paige and Eric, who lived here for two years and were a wealth of knowledge (seriously, we followed their list of recommendations like you follow an IKEA instructions manual…if you've ever put something from there together, you get what I'm talking about – you don't veer from that sh*t.), we headed to Plaza Santo Domingo and snagged a seat at a table out in the square. Within minutes we had a bottle of Ron Medellin (the rum of choice and unbeatable in price) and a couple of coca cola lights, spending the next two hours sipping on cuba libres and people watching.
And if all else fails, head to the Hilton Hotel and cut through the lobby to the pool in the back. American families living in Cartagena use the hotel like a country club, so no one even looked our way as we strolled through the lobby (despite the elaborate story we'd spent the last hour preparing…in Spanish). We spent our last afternoon basking in the Colombian sun, surrounded by a clientele that made it easy to mistake our location for SoCal.
C: Colorful Calles
The historic heart and soul of this city lies in its maze of cobbled calles (streets) and the charming, brightly colored buildings that line them. Mainly colonial style, the color palate of the buildings that crowd Old Town shifts and shimmers from ochre to blood red and blue to gold. With a grid-like system and a walled perimeter, you can confidently get lost for hours among the horse-drawn carriages, friendly street vendors and boutique shops knowing you'll eventually wander your way out.
Equally as atmospheric is the working-class neighborhood of Getsemaní, where we spent our final nights in Cartagena. Better bargains (for both accommodations and food), this neighborhood was the place to be to really feel (and taste) the flavor of the city. We spent the evenings mingling with Cartagenans in the local square and in the streets enjoying the cool night air.
C: Caribbean Coast
One of the most wonderful things about the city is its proximity to the beautiful, rippling Caribbean waters. The coast frames the city, creating a playground for children and adults to sun their bodies, frolic in the water, take in a stunning sunset, enjoy a dinner al fresco or merely stroll the languid stretch of white sand.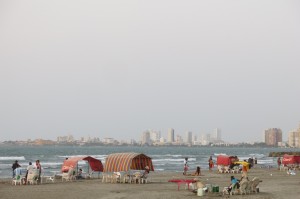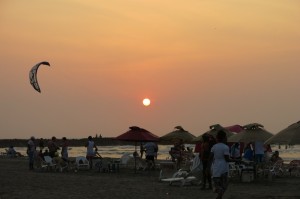 After a week in Cartagena, we decided to explore more of this beautiful coastline by heading 5 hours northeast to the port city of Santa Marta. The first Spanish settlement in Colombia, it lays claim as the oldest surviving city in the country, and wears its much-earned dilapidation with pride. We spent three nights in the lackadaisical town, which more than outstayed our welcome. As a destination to slow down, eat good food and visit beaches, Santa Marta was an excellent choice. But as far as things to see, the choices are limited. Add to that the gale force winds (merchandised as "peaceful sea breezes") that tormented our impossibly hot hotel room's flimsy windows all night and we were more than ready for our escape back to the fairy-tale land of Cartagena.
In fairness, most people use Santa Marta as a stopover en route to the idyllic escape of Tayrona National Park. But low on time and money, we made the ill-fated choice to skip the scenic side trip. Touché, Tayrona. Next time we'll listen.
We made the most of it by endlessly exploring the chaotic streets, snacking on local fare and spending a day at the crowded resort area of El Rodadero which turned out to be relatively horrific (Remember those gale force winds? Add to that the millions of grains of sands and 90 degree heat and you can predict the end of this horror flick. We had less a chance of survival than the Sexy Naïve Babysitter character).
C: Cool Culinary Climate
As always (seriously, if you didn't know food pics were coming, you've never read our blog), we enjoyed the local food and drinks as we spent our week meandering through the romance-drenched streets of Cartagena. A few of our favorites are below:
Arepa con huevos: These fried corn cakes are stuffed with egg and cheese and served up cart/table/beachside. Absolutely delicious. Beware of their cousin, arepa con queso, which tastes like dirty feet.
Lunch here is really interesting…and the cheapest route is to go with a restaurant's set meal of bone broth soup, and whatever thin meat they're serving that day, accompanied by beans, rice, fried plantains and – to keep it healthy – a spoonful of lettuce. If you find yourself in El Laguito, be sure to visit Riquisimo – where you get all of this for $6.
The food is a bit different than the rest of Colombia, due to the coastal flavor influences. It's also just really simple (as seen in the lunch selection above). This means lots of fried fish, rice, plantains, rice, coconut, rice, lime and rice (did I mention rice). One of my favorites discoveries was arroz con coco (caramelized coconut rice).  Throw in some salt, cilantro and olive oil and you've got the Cartagena culinary palate covered.
Fruit is available on every corner and is a common walking snack as you roam through the atmospheric alleys. A new find was a type of small plum, a bit earthy and eaten in a few bites.
Cuba Libres: Learn it, live it, love it. Ron Medellin Anejo with Coca Cola Lights and a squeeze of lime. If cocktails ain't your thing, you can always opt for a cold cerveza.
You've been weighed, measured and magnified, Cartagena, and we find you quite brilliant. Who needs cut, color, clarity and carat?
Now, where'd I put my cuba libre?