by Noelle
January 27 – February 1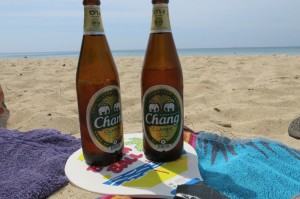 Koh Lanta is a southern Thai island, filled with endless potential for adventures: elephant rides, cooking classes, waterfall hikes and a lax natural drug protocol ripe for partying all night long.
If that sounds like what you're looking for, go ahead and close the browser.
You still with me? Good. Because what we did for 6 full days on Koh Lanta was a whole lot of…nothing.
All it took for this A-type gal with OCD tendencies (but really, who doesn't like clean counters??) to get down with lazy was for them to forcefully pry her work phone from her cold, dead fingers her to quit her job and travel the world. Now I can totally relax for at least 5 – 7 days without bribing old coworkers to send me emails with phrases like "at your earliest convenience," and "I look forward to an update on that status," for weeks at a time. (EDITOR'S NOTE: If excessively cleaning counters is the worst we have to deal with when we get home – you know, being unemployed and all – I think we are in pretty good shape.)
So, without further ado, I bring you, "The Lazy (Wo)Man's Guide to Koh Lanta:"
1. Spend an afternoon on the idyllic Bamboo Bay Beach. It's a bit remote, which is what makes it so wonderful. Rocky and sexy, it was by far our favorite spot to take our daily baptism in the Andaman Bay.
2. Set aside a whole day for Kantiang Bay. Start with breakfast taken on a hammock or beanbag at The Drunken Sailor (we recommend the Sunrise Sandwich), then head to the beautiful white sand beach for an afternoon of self-baking. For lunch, stop by Pad Thai Rock & Roll for the best Pad See Ew you've had in your life (the Pad Thai ain't shabby either), cleansing your palate after with an incredibly refreshing fruit smoothie. Head back to the beach for some easy swimming in the blissfully warm waters before grabbing a seat at the Why Not bar for a Chang Beer or two (or whatever). Sunset isn't great from the beach, but the ambiance (and Changs) make up for the slight. If so inclined, live music starts at 9 p.m.
3. Have dinner at Time for Lime. They have a kick-ass tasting menu that included marinated shrimp wrapped in wild pepper leaves, their signature soup made with pumpkin/lemongrass/onion/red curry paste/lime juice, crispy deep fried papaya, and marinated king fish in a red curry sauce, all which left our palates buzzing. They also offer a full curriculum of cooking courses, but we've discussed the Bauer anti-activity agenda, and so we merely reaped the benefits of other's hard work.
4. Stroll Long Beach at sunset. Better yet, get a blanket and sit your lazy ass down and watch the sun sink below the horizon. You'll likely have company from one of the beach resort mascots.
5. Wade blissfully into the Andaman Sea at Waterfall Bay. The stunning stretch of sand broken only by a few hotels and bars was the picture of peace. The rocks under feet at the coastline may not make for the best wading, but be patient, fellow lazyman, and you'll clear the stones and swim to your heart's content.
6. RENT A MOTORBIKE. This is a must. Must. Must. For approx 250 baht a day (an easy $5 USD), you can cruise the few roads that crisscross the island and glimpse the lush landscape this paradise has to offer.
7. Stop off anywhere along the west coast to catch sunset or just take in the views. Order a smoothie or curry, sip and enjoy.
8. Stop by one of the Long Beach bars at night, settle into a twinkly-light-strung cabana set up with views of the sea and enjoy the most happening "scene" on the island. More specifically, head to Treehouse Bar, just off the beach, as we did with Dave's friend, Steve, with whom we had the fortune of spending an evening. (EDITOR'S NOTE: And Noelle had the misfortune of sitting through our reminiscing about the high school sports days – we were robbed back in '03 – but thankfully she is easily distracted by twinkly lights, which were in abundance.)
In related news, pad thai does NOT, in fact, make for good drunk food.
9. Eat at Red Snapper. We actually bunked in one of their bungalows for the week, but their food draws people from around the island. Despite being one of the more expensive options around, after filling our bellies with menu items like spicy crab croquettes, red roasted pork tenderloin with fried chorizo, jalapeño cream and coriander vinaigrette and a smoked salmon with kalamata olives and horseradish beet root cream (all by recommendation from the chef, who earned our slavish devotion after the first course), we couldn't resist an encore visit.
10. Have dinner in Old Town. On the eastern shores of the island, it's really the main access to the East Coast for tourists. The views over the seas as you amble along the wooden docks make for a pretty setting, and there are tons of cute restaurants perched along the coast.
So there you have it. 10 ways to do nothing in Koh Lanta. We loved everything about it, even what I've dubbed "island logic" that we found everywhere. Example: We had the exact same breakfast at the same place 3 separate times and the bill came to 3 different totals. Island. Logic.
Absolutely a must visit during a trip to Southern Thailand. Even midday on the most crowded spot on the island (Long Beach) at high season, we were shocked at the lack of tourist crush that so often plagues the Thai islands. In some of the more remote bays, we practically had the beaches to ourselves.
So run – don't walk – to Koh Lanta. Leave the laziness for your arrival.